FREIGHTLINERS CITY FARM, ISLINGTON
Freightliners Farm 
Sheringham Road,
London
N7.8pf,
Tel: 020 7609 0467

A working farm open Tuesdays through Sundays year round, with goats, rare breeds, ducks (Indian Runners and Muscovies), chicks, lambs. The cows are Dexters from Ireland, small and friendly.
Honeybees from the Farm's beehives pollinate the fruit and veg served in The Strawbale Cafe. Their prize winning honey is on sale from the Farm Shop, along with beeswax furniture polish and candles.
The farm occasionally has courses during the year related to beekeeping and bee care. "We can all help by growing pollinator friendly flowers in our garden and containers."
Nicola Baird interviewed some of those working at the farm for her Islington Faces Blog:
www.islingtonfacesblog.com/2012/10/31/freightliners-farm-country-life-in-the-city/
Visit the farm's own website to see what's on, how to volunteer or sponsor an animal, check on opening times.
Mayor's Charities: Freightliners Farm
Released for Christmas 2018, this CD by Richard Rhys O'brien, local resident, singer/songwriter & economist, remembers & celebrates the Highbury Barn Pleasure Gardens. Drawing on over 150 years of its existence, Richard has written 18 songs, all  performed with friends from Highbury's Eclectic Voices & musicians from the Harmony Orchestra. The CD comes with a full-colour booklet of illustrations, maps & lyrics to the songs.
 Proceeds from sales, £3,500, went to the Mayor's Charities, Freightlliners Farm & CARIS Islington.
https://www.facebook.com/RichardRhysOBrien/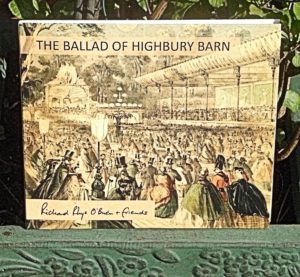 https://store.cdbaby.com/cd/richardrhysobrien8
https://www.islingtongazette.co.uk/news/heritage/the-ballad-of-highbury-barn-a-musical-tribute-to-pub-s-rich-heritage-1-5799366