THE PARKLAND WALK

The Parkland Walk is a Local Nature Reserve, a Site of Metropolitan Importance for Nature Conservation. It follows the course of a railway line which ran between Finsbury Park and Alexandra Palace, with stations at Stroud Green, Crouch End, Highgate and Muswell Hill. At one spot, the old platforms of what had been the Crouch End Station have been left in situ. Since the line's final closure in 1970, many trees and wildflowers have colonised the Parkland Walk, and wildlife is plentiful. Birds, bats, hedgehogs, squirrels, foxes, even muntjac deer make their home here.
Parkland Walk is in constant use by the public. Joggers, dog-walkers, cyclists, parents pushing children in prams and those just out for a quiet stroll all come and go along this green corridor. Guided walks have been popular, many led by Conservation Ranger Richard Meyers. Dawn chorus walks, fungal forays in the autumn, and bat walks in the wee hours… much nightlife on the wing (bat and moth) overflies the Nature Reserve.
Looking down on the Parkland Walk, from its place high up in one of the brick alcoves, is the Spriggan. This sculpture, by Marilyn Collins, appears to be climbing out of the brick wall. See Wikipedia's site, SPRIGGAN, where a photo of Marilyn's sculpture is the first image you see. In folklore they are Cornish spirits guarding ruins, barrows and the sites of buried treasure, small mischief makers able to shapeshift themselves into giants. They have been put into video games, where they are obstacles to be overcome.
Parkland Walk's Spriggan and its sculptor have had to deal with a spot of vandalism, and its arch has been re-decorated at ground level by spray-can artists … But it still has a presence, as shown here:
These photos, from 2nd September 2012, were taken on 'A Wild Walk Through Two London Boroughs'. Richard Meyers and Gordon Peters led the walk, which began at the top end of Alexandra Park near Muswell Hill and moved downhill, through woodlands separated by roads, along the Parkland Walk to Finsbury Park, across Seven Sisters Road and up the stairs into Gillespie Park, finishing at the Ecology Centre for lunch. Afterwards there was a talk by Norman Bissell, Director of the Scottish Centre for Geopoetics, who had come down from The Hebrides for the event.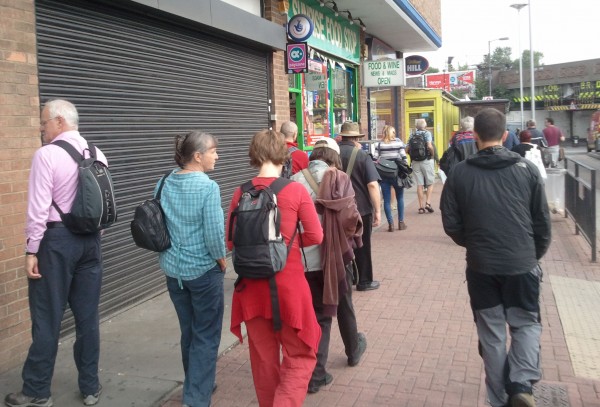 Geopoetics asks whether an urban environment has to be 'de-natured'; for more details, the website is
2014: The Unexpected Loss of Conservation Ranger Richard Meyers

VOLUNTEERING
Parkland Walk is one site where volunteers can learn and practice some of the skills involved in managing the nature reserve … Hedge-laying, putting woodchip on paths, clipping back overgrowing vegetation, pulling out Japanese Knotweed… Details available from the Ecology Centre: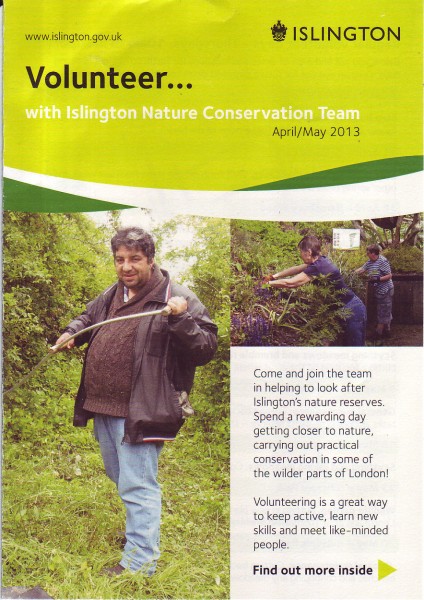 For Wikipedia's extensive entry for the Parkland Walk, go here.