Walls, fences and hedges – the boundaries between our properties – are not barriers to pollinators.
A bee going from flower to flower will take no notice of a wall or fence between  gardens.
But when the second garden is concrete, or its flowers have no pollen or nectar, pollinators have no reason to visit.
BEES ARE IN TROUBLE
Our most important pollinators, the honeybees, are in trouble. Beekeepers are dealing with 'colony collapse disorder' & a parasite, the varroa mite. Chemical pesticides used in gardens & countryside leave the bees disoriented, unable to remember where they are & forgetting the way back to their hives. Bumblebees too are in trouble, with numbers declining.
If plants in our gardens or windowboxes attracted honeybees, bumblebees & other pollinators, drawing them along a virtual river of wildflowers (see Bees Favourites pages for some suggestions) we could be working together to get Britain buzzing again. Wherever you are, if there are birds, bees, or butterflies flourishing nearby, you should be able to plant something that will bring them into your windowbox, onto your patch.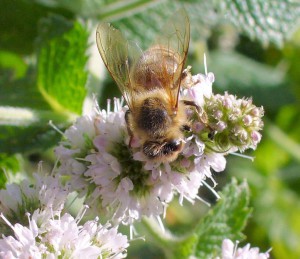 http://www.foxleas.com – THE POLLINATOR GARDEN
Gardener and ecologist Marc Carlton created this clear & extensive website, based on his experience of bringing more wildlife into his south London garden. He wants it to be printed &/or downloaded for personal or non-commercial use.  Now living in Chepstow, Marc Carlton welcomes emails & will usually be available to give talks in the area (Bristol and North Wales).  In THE POLLINATOR GARDEN, you will find:
* How insects feed from flowers
* A planting list for pollinators
* The basics of nature-friendly gardening
* Garden meadows
* Recommended reading lists
* Links to helpful sites
* Nature gardens in Holland and Germany, and a North American page for readers in the USA/Canada
Planting lists from THE POLLINATOR GARDEN will, we hope, be used by those in charge of parks and gardens as well as gardeners. We can all choose wildlife-friendly plants that offer the most pollen and nectar to our bees.

The BBCT is a small charity working to raise public awareness about the plight of UK bumblebees. The Trust, with members & volunteers,  examines the dangers facing our bumblebees & creates strategies to help them.
BBCT supports a "future in which our communities and countryside are rich in bumblebees and colourful flowers, supporting a diversity of wildlife and habitats for everyone to enjoy".
Author & scientist Prof. Dave Goulson founded the Trust after finding a link between bumblebee deaths & Nicotine-based pesticides (Neonicotinoids or Neonics). Bumblebees visiting flowers treated with these toxic substances become confused, losing the ability to find their way back to their nests.
The Government currently supports a ban on these pesticides for a number of crops, following recommendations from the UK ECP (Expert Committee on Pesticides.)
Dave Goulson was interviewed by Jim al-Khalili for BBC Radio 4's series The Life Scientific on 11 Nov 2014. He chatted about life, science, bumblebees & the case against Neonics. You can download this programme, which is 13MB and lasts for 28 minutes :   www.bbc.co.uk/podcasts/series
Support for The BBCT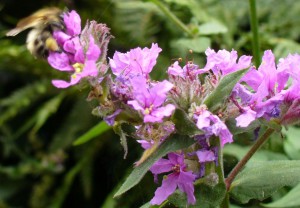 * SCHOOLS ARE HELPING BEES : POLLI:NATION

In this innovative biodiversity project, 260 UK schools, community groups & individuals are helping pollinators. Secondary & Primary school pupils survey their garden or school grounds to learn what pollinators need, making sure there is plenty of food & shelter.
Young people have been making school grounds into pollinator havens – creating vertical green walls & night-blooming flower beds, debating pesticide use & lobbying to change school maintenance regimes.  BBCT is involved. Read more about the Polli:Nation scheme :
  http://www.polli-nation.co.uk/about/
* EASYFUNDRAISING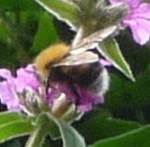 Over 3,700 UK retailers have registered with this site to raise funds for BBCT. When you shop online, (for groceries, train tickets, hotel rooms & more) retailers from Apple to Waitrose donate a percentage of what you spend to the charity.
Go to http://www.easyfundraising.org.uk/invite/2P51H7/ & click to sign up. Look through the easyfundraising website, choose a retailer & click on your purchase. The retailer will give you a cash reward that easyfundraising turns into a donation for BBCT, as well as an extra £1 from your first donation at no extra cost to you.
 * THE 'BEES KNEES' –  Show Garden by Martyn Wilson