Living with North London Wildlife
North London wildlife includes birds large and small : Crow, Jay, Woodpigeon, Feral Pigeon, Magpie, Woodpecker, Starling, House Sparrow, Great Tit, Blue Tit, Treecreeper, Chaffinch, Goldfinch, Robin, Wren, Blackbird, Wagtail and Dunnock.
Frog and Toad,  Fox and Grey Squirrel live here, and Cat… domestic cats, although well-fed, much-loved pets, still can have an effect on wildlife. And, although Highbury is a cat neighbourhood, there are still mice…
On Arsenal Matchdays,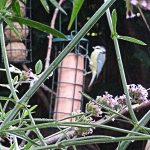 working horses carry the police up and down local streets, helping with crowd control.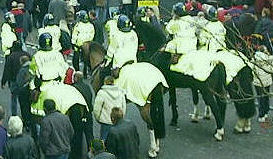 ---
But nowadays, after centuries of grazing cattle in rural Islington, the only cows in the area are to be found at Freightliners Farm (follow link for more info)…
---
GREY SQUIRREL
In Britain, the European or Red Squirrel dominated our forests from the time of the Wildwood until the introduction of the
Grey Squirrel (Sciurus carolinensis) from North America. Highbury's Grey Squirrels are adept at climbing houses, drainpipes, guttering and roofs. Their back paws rotate 180 degrees. Leaping from tree to tree, they occasionally miss a branch; falling from a great height, they will bounce up instantly and spring back into the tree. They must be made of solid muscle.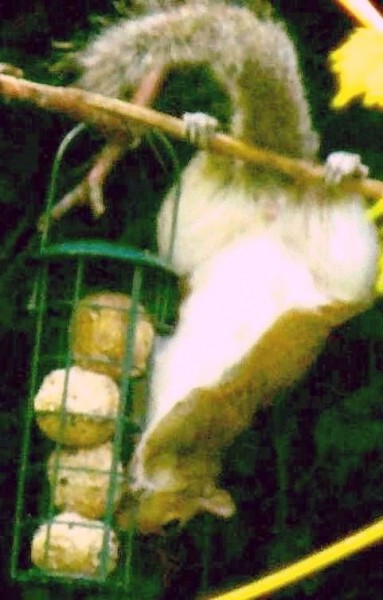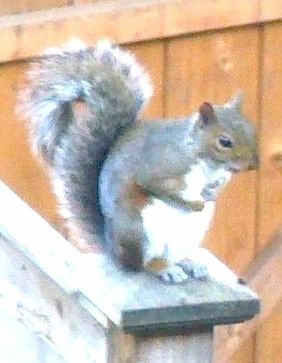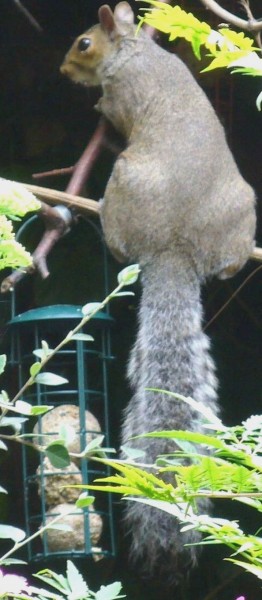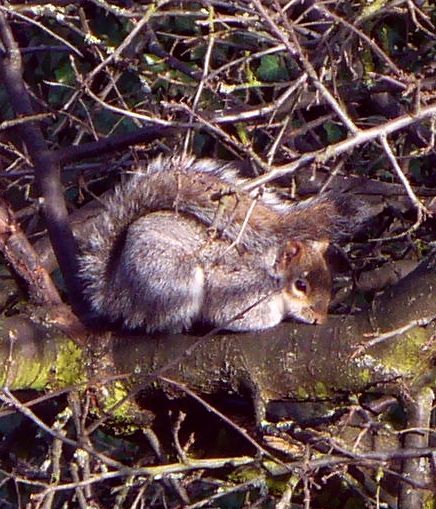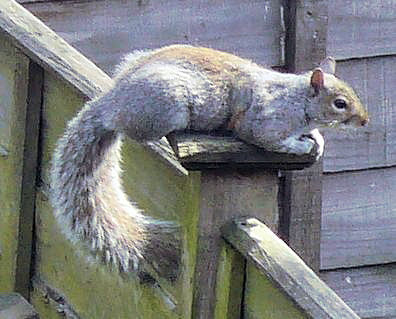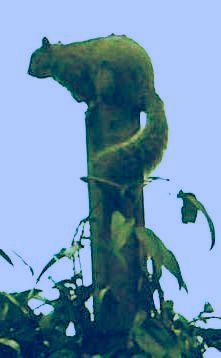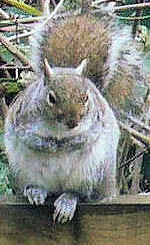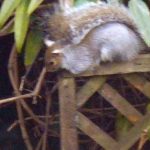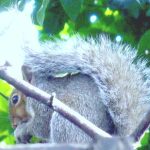 …………………………………………………………………………………………………………………………………………………………………. Squirrels dig in bare earth, burying seeds and nuts. RF put shiny decorative stones in his pots, covering the surfaces to keep them out. I put heavier rocks in my second floor windowbox; squirrels shifted the rocks and trashed the plants. Vandals. Some of our birdfeeders have metal cage 'guardians', to deter them.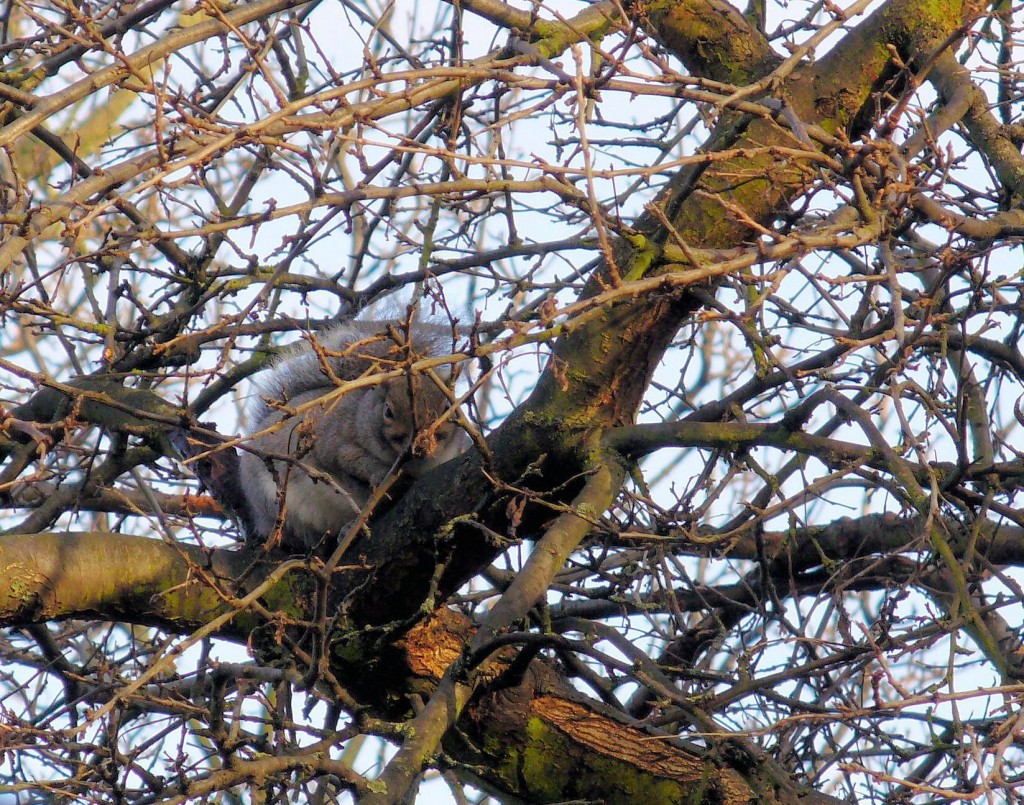 RF planted sunflower seeds. The squirrels must have been paying attention; when a seed sprouted, they must have waited for the stem to grow tall, for a flower to appear at the top and the seeds in the flowerhead to ripen.
The day would come for a squirrel to play lumberjack, biting into the base of the stem till it toppled over. Timber! Once on the ground, the sunflower was chewed from its stem. The squirrel would spring onto the low brick wall with the flowerhead in its jaws. All we found later was Exhibit A, a heap of shells on the wall by a seedless sunflower.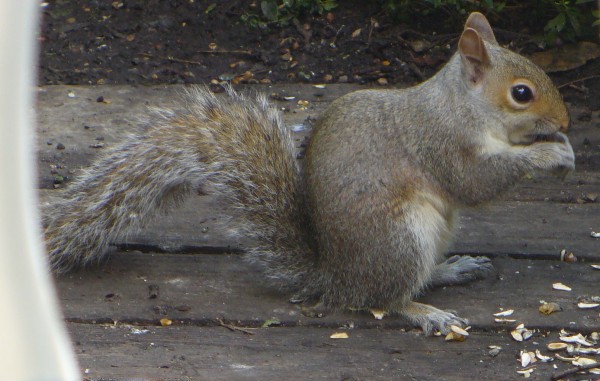 ………………………………………………………………………………………………………………………………………………………………..
One day two squirrels  came into the garden with some sort  of white gunge on their heads. Last year Springwatch showed a viewer's video of a mother squirrel on a roof with her offspring, grasping it tightly to her and leaping off. Something similar may have happened here.
There is a lot of building work going on around the neighbourhood. One very senior squirrel, with shapely curves and a fine bushy tail (papa? mama?) and one thin-tailed adolescent squirrel may have plummeted from a roof together and landed in a pail of… whitewash?  Plaster? Or it may have been a chase that went horribly wrong. They were able to scratch the stuff  off with their claws, but it took them over a week to do it. ………………………………………………………………………………………………………………………………………………………………… vids: [hana-flv-player video="http://highburywildlifegarden.org.uk/wp-content/uploads/2013/12/v008.flv" splashimage="http://highburywildlifegarden.org.uk/wp-content/uploads/2013/12/v008.jpg" /] [hana-flv-player video="http://highburywildlifegarden.org.uk/wp-content/uploads/2013/12/v009.flv" splashimage="http://highburywildlifegarden.org.uk/wp-content/uploads/2013/12/v009.jpg" /]
The Highbury Squirrel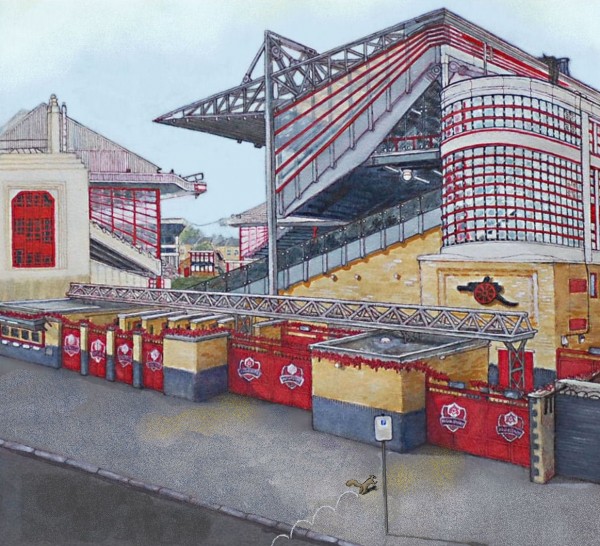 It was the 18th of April 2006. In North London, a squirrel scuttled across the roof of a house on Avenell Road. It slid down a drainpipe, hopped to the ground and made its way out to the pavement. It bounded across the road and squeezed into a gap under one of the front gates of the old Highbury Stadium. Some had wondered whether squirrels were using the stadium as a meeting place, possibly making plans for world domination: Today Highbury, Tomorrow The World!
On days that were not Matchdays the stadium often stood empty, but for its groundskeeping crew and the neighbourhood's Chief Crow, who liked to rasp out his caws from the North Bank's roof struts.
This April day was, indeed, a Matchday. The illustrious old stadium was in the last throes of its life. Its replacement, a larger stadium five minutes' walk away, had been built and was now ready. Highbury Stadium was doomed to be pulled down and replaced with flats. Its last ever night game was a Champions League semi-final, Arsenal v Villareal of Spain. Kickoff was set for 7.45pm. The hours went by.
Local Squirrel Becomes Celebrity
The usual sell-out crowd and a phalanx of camera crews and press photographers packed into the old stadium. The game began. Ten minutes had passed and it was nil-nil when a squirrel leapt over the advertising hoardings onto the pitch and joined the game.
On Radio FiveLive, Alan Green shouted 'THERE'S A SQUIRREL ON THE PITCH! They'll have to stop the game!'  'Poor little tyke', he said, Thinking the squirrel had buried its nuts in the Highbury pitch.  'Doesn't he know this place will be a demolition site in a month's time?
The game went on. Fans enjoyed the pitch invasion. 'Squirrel! Squirrel! Squirrel!' they chanted. The squirrel scampered across the pitch and tried to block a dribbling Diego Forlan, Then, with the world's sport photographers snapping away, it made its way over to keeper Jens Lehmann's goal. After eight minutes of squirrel-on-pitch action, the game was stopped by the referee. The squirrel left under its own steam.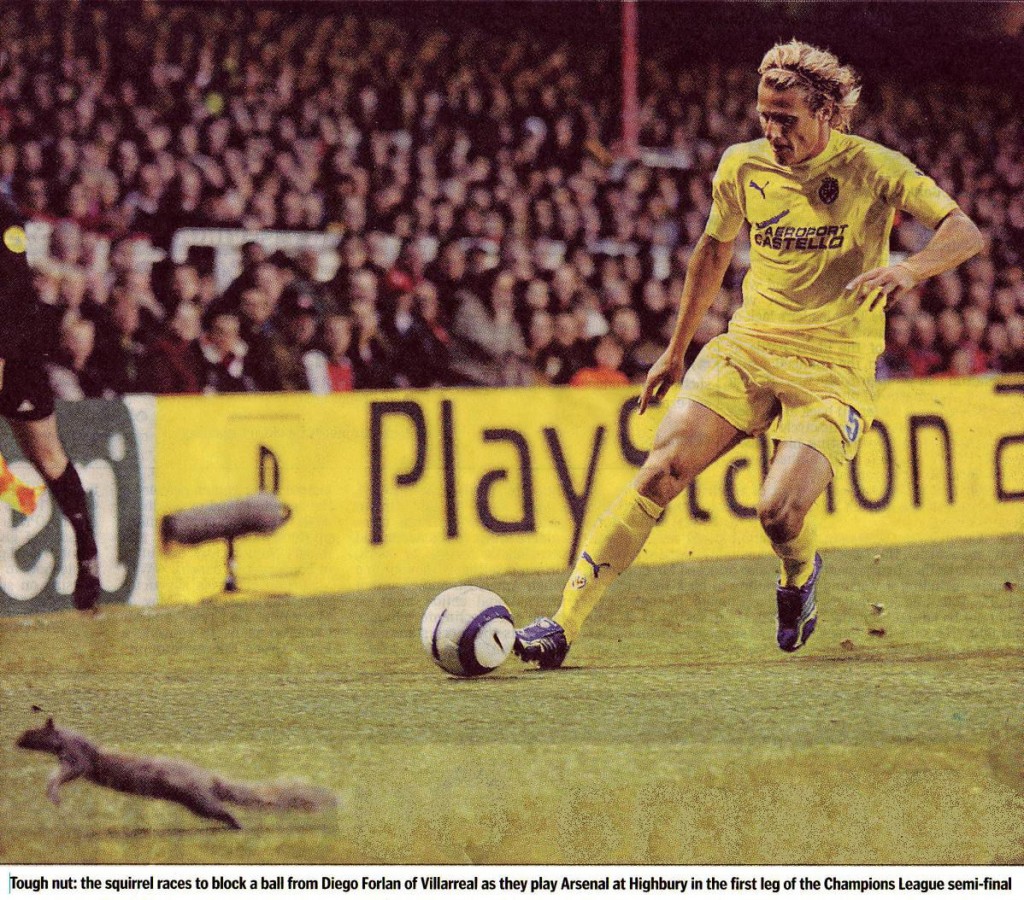 Credit photographers
---
---
Arsenal went on to win the game 1-0. That night 'Internet chatrooms were buzzing' as fans shared photos, videos and squirrel stories of young Tufty,  or Nutkins, or Squirrelinho… A video of the squirrel barreling down the Highbury sideline was put up on youtube.
 Next day a press photographer came to the Ecology Centre in Gillespie Park, looking to get a shot of the now famous pitch invader relaxing at home. He was shown round the park by a Conservation Ranger, but not a squirrel showed itself.
The front page of one newspaper, The Evening Standard, featured two photos: one of the Queen, celebrating her 80th birthday, and one of the Highbury Squirrel on the Arsenal pitch. Most other papers kept the feisty squirrel on the sports pages. Headline writers enjoyed themselves: 'Tufty the Squirrel thought he was going to watch Nuts County' ' The Squirrel Nutmeg' 'Arsenal fans go nuts over latest signing'… The squirrel's work rate on the pitch was assessed, along with team players. Manager Arsene Wenger was quoted: 'He was a good dribbler'.

At the next Arsenal press conference, keeper Jens Lehmann was asked about the 12th player helping defend his goal in the semi-final. He spoke of the upcoming World Cup in Germany: 'We have many squirrels. Brown squirrels…' An obvious drawing card.
 The next Premiership game at Highbury was with old rivals Tottenham. Even the broadcasters were thoroughly searched as they went into the stadium. 'Just checking  for squirrels', said a steward…
---
---
---
 CATS! CATS! AND STILL MORE CATS!

CATS are much loved pets here, and it is a cat neighbourhood. After the cats' meeting place, the little woodland behind our house, was cut down, the cats came to visit our gardens more and more. They balance on the fences like circus performers on a high wire, not looking down, walking nonchalantly along a surface only as wide as one paw. Often one of them will sit on the fence, all of its legs tucked in, looking as relaxed as though it were resting on a cushion. You see this with dancers and figure skaters. While doing something incredibly difficult, they smile and make it all look so easy…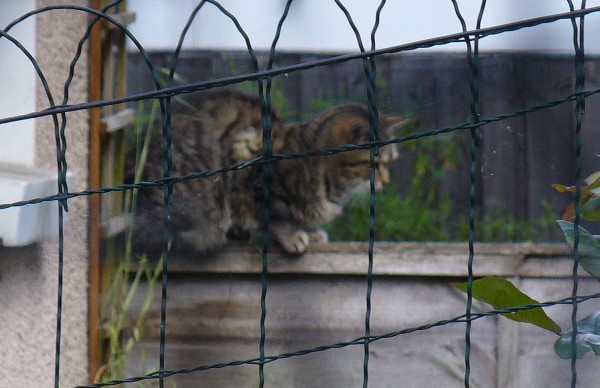 ---
ZOOM CAT VIDEO
---
" [hana-flv-player video="http://highburywildlifegarden.org.uk/wp-content/uploads/2013/12/v002.flv" splashimage="http://highburywildlifegarden.org.uk/wp-content/uploads/2013/12/v002.jpg" /]
This elegant mushroom tabby cat became acquainted with our neighbour's garden when the builders were working on their house. It found a sunny spot to curl up in, on the Clematis Armandii mound, just above the bank where suet feeders are visited by the birds. I once saw the cat wake from a sleep; it yawned, stretched, and pounced at a nearby woodpigeon who just managed to flap out of its reach. I have seen it catch one young starling and one of the smaller birds.
---
Highbury Wall Art with Cat
---
In the summer this painting appeared on the side wall of one of our local shops. Could it have been done by Banksy, we wondered – or by someone called Loretto? Within a week it was, sadly, covered over with grey paint. A speech balloon over the grim reaper might have read 'Do you know who I am?' The cat's speech balloon might have said 'Ha! I have nine lives, you know.'
---
 FOX
These fox photos are from a decade ago. The little woodland was still alive behind our new fence, so it must have been the winter of 2002/2003, before the developer… The Ecology Centre had a pinboard in the foyer, on which people pinned photos of wildlife in their gardens.. There were very good fox photos. We will be putting photos of current foxes on this bit of the North London Wildlife page, and hope to capture some videos. Foxes are most often seen and heard after dark around here… fox calls at night are other-worldly. But they can be seen during daylight hours as well, walking along the pavement or resting on the roofs of garden sheds…
Two brothers who lived near the fish and chip shop put bread out under their car each night  for the foxes, who came along to eat it. When foxes were coming into our garden, we saw that one had mange – missing fur and a generally ragged appearance. We got in touch with a fox charity run by volunteers, and were sent a vial of medicine, with instructions:  'Put two drops on a jam sandwich and leave it out for the fox at night. Cats don't like sweet things, they won't touch it. Every night, another jam sandwich with medicine for the fox… When the vial is empty, just post it back to us so we can refill it and send it to someone else'. We did, and it worked, and the fox's coat grew back…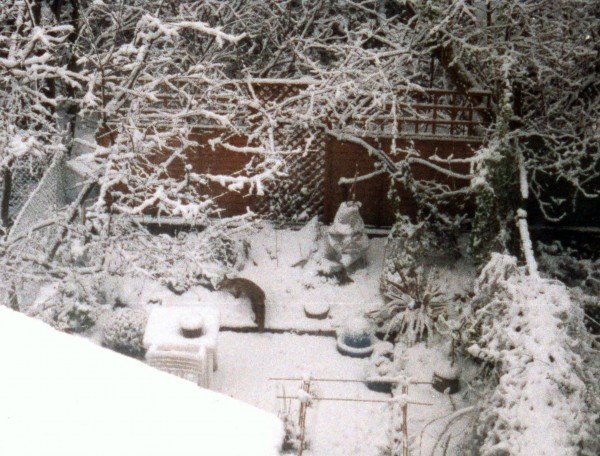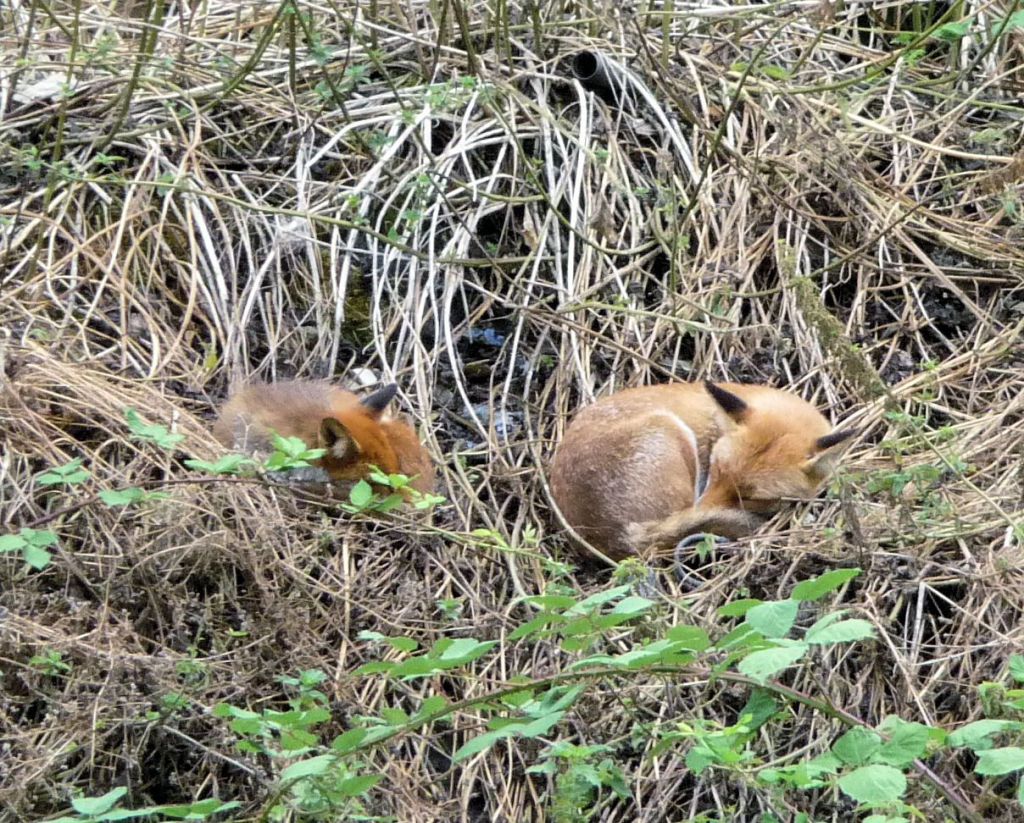 PAUL WAS BURGLED: The Case of the Vanishing Chocolate Biscuits
It was a warm summer evening in the Garden Flat, and Paul's window was open. He ate a few chocolate digestive biscuits and twisted the paper packet closed at one end. Sitting the packet down on his keyboard, he went out. A few hours later, he returned and brewed himself some coffee.  He fancied a chocolate biscuit to go with it and looked on the keyboard… But the packet was gone!
He went upstairs and carried on looking… Was he losing his memory? Had he been working too hard? Could he have been burgled? Who would take only a packet of half-eaten chocolate biscuits, and nothing else? Then he saw that his neatly-made bed had been slightly disarranged, and his wooly hat was gone from its usual place between spread and pillow…   He spent a good 45 minutes searching the flat, found nothing, and finally gave up… He drank his coffee and turned in for the night.
Early next morning, Paul awoke. Looking out of his window, he saw a fox cub frolicking on top of the Ivy hedge… in its jaws was a nappy bag, which it was thrashing from side to side, as a puppy would. Down in the garden, Paul saw his wooly hat and three of his trainers… all had been removed through his open window… one object at a time? By the fox cub working alone, or did it have an accomplice? Another fox cub? A squirrel?
By the time Paul got out to collect his belongings, the cub was gone, leaving the nappy bag behind. This could have been a  trade-off for the chocolate digestive biscuits. No trace of them was ever found.
Postscript: Paul closes and locks his window now, when he's going out… Just in case.
---
 WOODPIGEON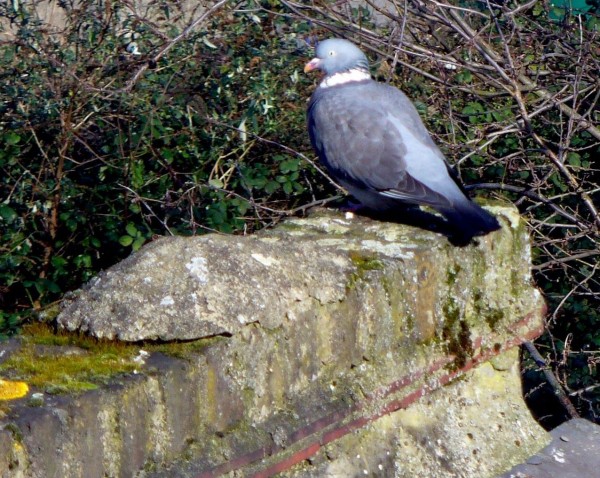 There has been a tribe of Woodpigeons here since at least 1995… Large and stately, they are placid around other birds but can be quite fierce with each other… They were especially fond of the Elderberries from the old Elder tree, venturing far out onto the branches to reach them.
In the confines of this small garden, Woodpigeons struggle to take off because of their size, leaving them vulnerable to foxes and cats. They have a habit of landing on the birdbath, taking a drink, turning round and leaving a poo in the water… In Amsterdam Jo, with the same birdbath model, says that Dutch pigeons do the same thing.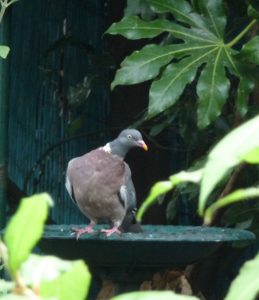 ---
 STARLING
Starlings visit this garden for food: mealworms, suet pellets and grated cheese. They forage  under the leaf litter and in the vegetation for slugs, snails and worms.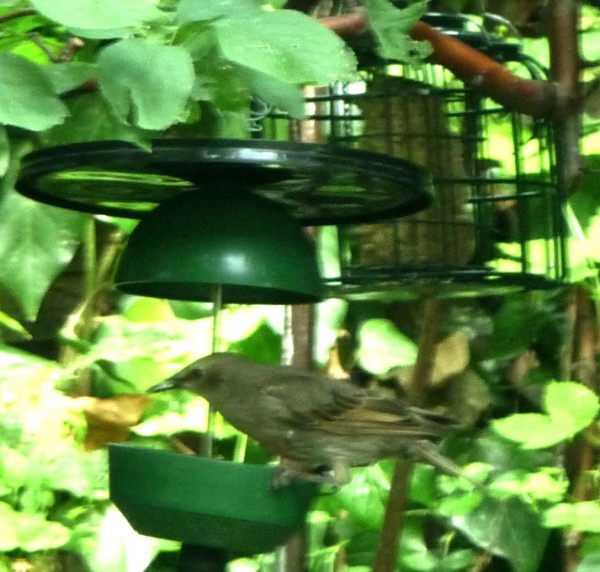 They make a racket, buzzing, whistling and clicking. One adult includes a mobile phone tone in its song.
Starlings like to splash in the birdbath. Afterwards, they fly to the top of the Damson tree and dry their feathers in the sun, if there is any sun.
Clouds of starlings mass and soar in the skies  over the Somerset Levels, Brighton and elsewhere. Here in Highbury a few Starling families  perform a smaller  version of the same aerial ballet over our the site of our little woodland.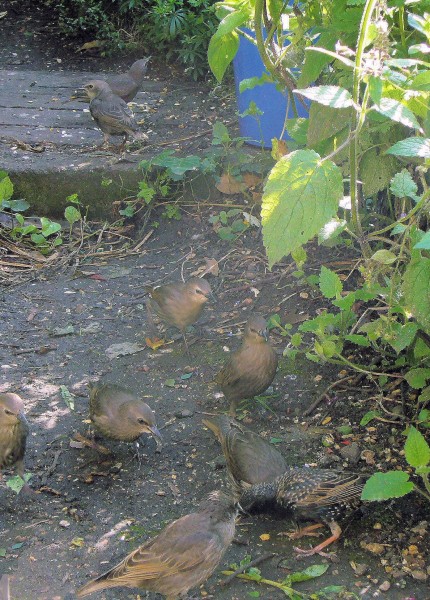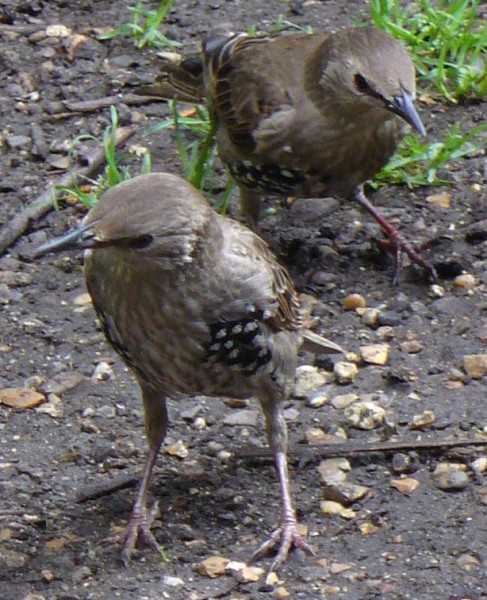 ---
 ROBIN
Robins fight ferocious territorial battles in springtime, so there is only ever one pair of Robins visiting the garden… They look for insects, spiders, slugs and worms, and are happy to accept grated cheese, suet pellets and mealworms from the RSPB and Garden Bird Supplies… Often a Robin is first on the scene in the morning, on its own, before the crowds of starlings and sparrows arrive. They sing a mournful song, a waterfall of warbling notes…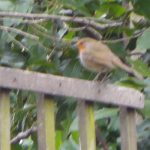 My friend Slin married John, who is Greek… They were living in Virginia when John said  'Your Robin! So big!'  as they looked out at a thrushlike North American Robin… quite sizeable compared with our 'British Robin', who is a European Robin and may flown in from the continent…
---
     FROG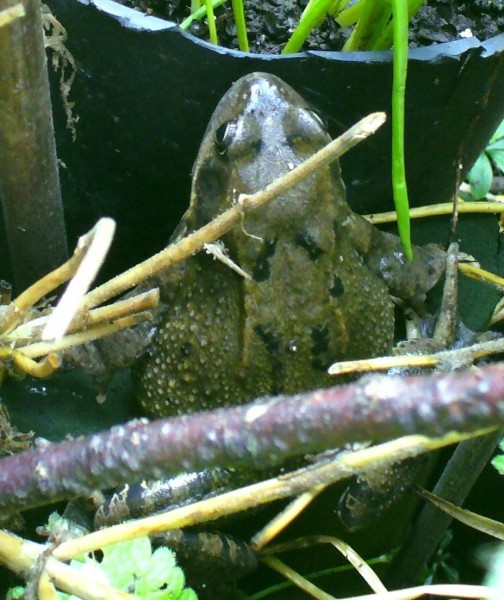 VID 1 –  frog in Sergei's pot, Betony VID 9 – frog's eye view of path scan info tag of frog n toad house
---
The Frog Enclosure
When a frog was spotted under a stack of roofing tiles as we were redoing RF's garden, it was obvious that giving up the blue snail pellets years ago had been the right thing to do. Where had the frog come from? We have no pond. Do any neighbours have a pond? The nearest known ponds are in Gillespie Park. As the tiles were set to go to the Recycle Centre, something had to be done to give the frog some shelter.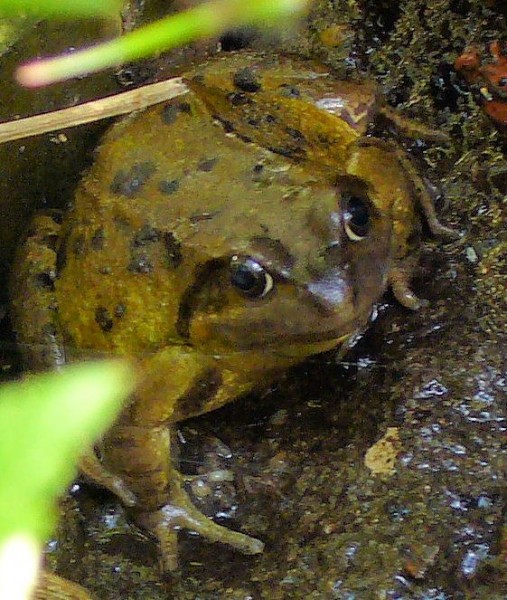 We got a Frog/Toad house. One of these wooden houses was on display at the Ecology Centre. The wood used in its construction is from forestry protected sources. It has two entrances, one with a wooden floor, one with no floor, open to the soil. There is a tile in the roof.

The instructions were to keep the tile moist by watering the roof when there is no rain. Over the house and the green casserole dish, which sits next to it and is kept filled with water, is a barrier of canes and branches to keep cats and foxes out. Climbers are being trained up this framework. Froggy access to the Earthwork, their happy hunting ground, is only a few hops away, so the old tiled path is now our own Frog Lane. [See Gillespie Park page for more on Frog Lane.]
Note to self: When weather is hot and dry, don't forget to water the frogs!
Frogs have been seen in Baytree Corner, near the blue egg and the wood pile, on the earthwork, in the casserole dish of water on a hot day, and on the bank under cover of the Persian Ivy. In the corner where the Bittersweet grows, under the shade of the table and hidden by pots, a larger, orange frog was seen… Perhaps a female?  The Bittersweet Frog.
photos – Jill/ Centre
---
 HOUSE SPARROW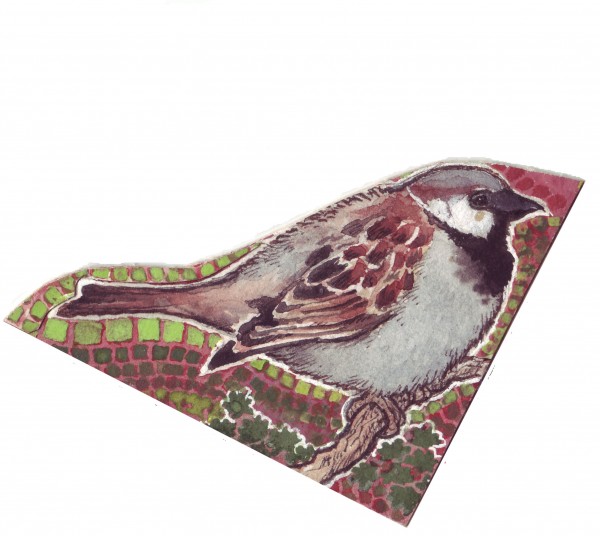 ---
---
---
 CROW
On the week of the summer solstice, 2013, a noisy young crow is being taught in Crow School by its parents… How vital it is, to be at the very top of the trees, to perch on roofs and chimneys and aerials, to make the loudest, most raucous noise…
---
 HOUSE MOUSE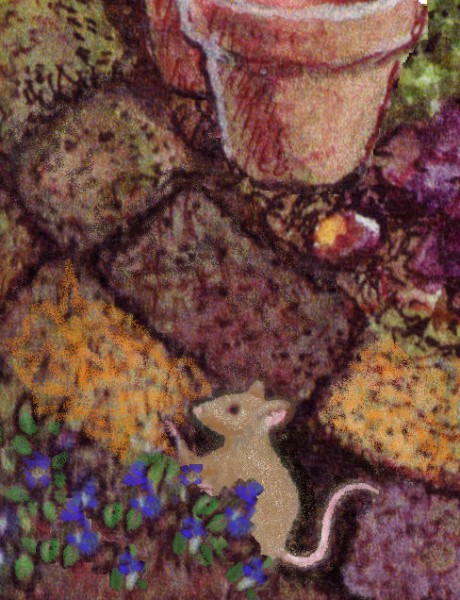 For years, seeds planted in our garden – Love-in-a-Mist, Ragged Robin, Poppy, Cornflower and others – failed to produce flowers. We blamed slugs and snails. Bulbs such as Alliums and Snake's Head Fritillaries managed a few leaves, but none planted in open ground ver managed to send up a flower. We blamed squirrels.
Then, on one episode of BBC Gardener's World, presenter Toby Buckland said that seeds he had planted hadn't come up. It had been a hard winter and, he said, the mice must have been hungry. There were small holes in the soil showing where seedlings had pushed through, each in the bottom of a small depression the size of a mouse's nose. This made us wonder whether our garden, too, had been visited by mice, probably driven out of the little woodland behind the gardens when the developer chopped and burnt it all down.
The first mouse we spotted was whizzing in and out of the Lamium like a wind-up mouse; weeks later one was seen scooting across the path, diving between the mint planters… In warm weather, as we sat at the blue table, we saw one moving behind the brickwork, pausing in gaps between the bricks to watch us as we watched it.
The house mouse appears to be part of the food chain now, in our garden and in those of our neighbours. When Scurvy was living in the garden flat, he said he'd been at the kitchen sink when "one of the neighbours' cats marched past with one of OUR MICE in its jaws! It  hopped over the wall and got away!"
Another day, while filling a birdfeeder by the fence, I saw what could have been a sparrowhawk in next door's concrete garden. When it flapped up into the air there was something in its beak; the limp tail dangling out of one side was an obvious clue to a take-away meal of House Mouse.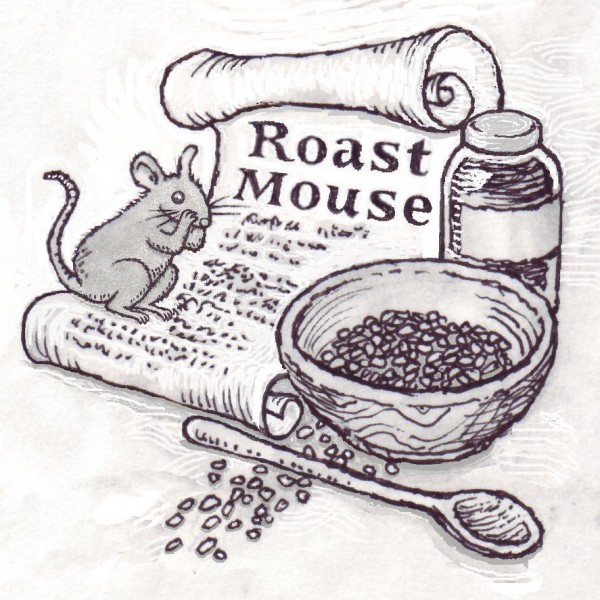 " Despite our best (worst) efforts, mice persist in getting into our homes and workplaces. The earliest house-mouse records in Europe date from the Iron Age (7th Century BC). So where did these little animals live prior to houses being built? The answer lies probably on the steppes of Central Asia or in the Middle East, both of which have varieties of the species. Needless to say, with so familiar a creature we have a wide range of folklore. Unhappily for the mouse, much of it involves eating: roasted, boiled or stewed mouse is a remedy for everything from bed- wetting to whooping cough.  "
Nature's Forgotten Folklore: Myths and Magic in Islington, Richard Meyers, Islington Council
---
 DINOSAUR
Many dinosaurs may have roamed across Highbury in the long ago…  (see Highbury's Past in the drop-down menu for some Jurassic and Cretaceous Era dinos)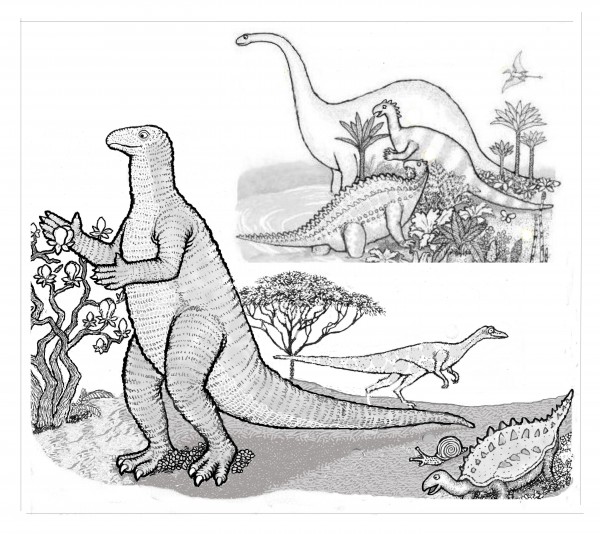 But there is now only one local Dinosaur left in the Borough, a working Dinosaur called Gunnersaurus. A subspecies of Iguanodon? Possibly. A vegetarian or herbivore sort of Dinosaur? No-one knows.  Gunnersaurus is in demand for personal appearances, as in these photos from the Gillespie Festival: (photo of Gunnersaurus-Rex- to be credited)
---