AGASTACHE 'Black Adder' (Giant Hyssop, Bubble Mint)
North America
The blue-green foliage of this aromatic plant is aniseed-scented. From June to first frosts its BLUE-BLACK spires are covered with LAVENDER BLUE flowers. In well-drained soil the Giant Hyssop will grow to over a metre in sun or part shade.
 Bees' favourite.
The small tubular flowers of Agastache 'Black Adder' are much visited by honeybees & bumblebees. This plant appears on the internet in its own youtube video, looking fabulous in an apparently shady location. Also recommended for growing in containers.
https://www.youtube.com/results?search_query=agastache+black+adder
The City Planter, the magazine for urban gardeners, rated this one of summer's best bee plants:

'Agastache 'Black Adder' – a great all-rounder which attracts many insects'

 …"the honeybee population in London has doubled in the last four years and we now have about 5000 colonies in the Greater London area – by contrast, New York has only 600 colonies. This is despite the fact that the vegetated areas of urban back gardens, which cover 24% of the City, have declined, with almost 70% of those garden spaces now made up of hard surfaces such as decking or pavement or short cut grass. Only 11% of private back gardens have flowering plants and shrubbery which may be useful to pollinators."

July 8 2013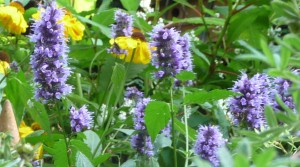 The London Beekeepers Association (www.lbka.org.uk/) has their own list of recommended pollinator plants. Agastache 'Black Adder', they say, is especially good for honeybees:
"Giant Hyssop 'Black Adder': Recent research shows this plant is the favoured source of nectar for Honey Bees. The plant produces an abundance of sweet nectar which bees make a bee-line for once discovered by the hive."
This photo is one of a number taken by writer and blogger Elizabeth Hawksley on her August visit to Kew Gardens. The Kew gardeners have obviously given Aga 'Black Adder' a fine expanse to itself, & Elizabeth can attest that bees have found the spires.
"Broad Walk: the bees love this"
"I love the way that the planting has plainly been designed with bees in mind – there is a constant buzzing around the flowers – and butterflies dance around."
Elizabeth, a friend and gardener, has eclectic tastes which she likes to share. Her other recent blogs have included the Secondhand Bookshop Boat on the Regents Canal, The Importance of Left Handed Mugs, and a visit to the Kings Cross Development Site (which includes The Skip Garden & the restored gasometers.)
  http://elizabethhawksley.com/blog/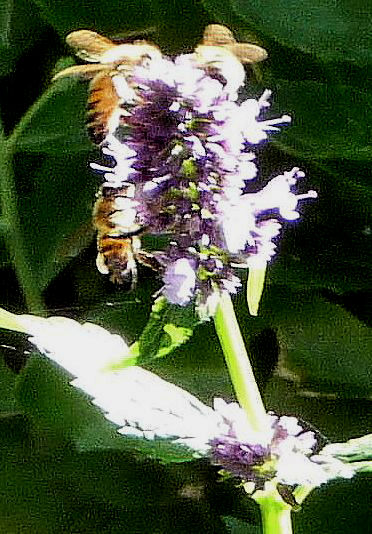 In 2015 we ordered two Giant Hyssop plants from the Specialperennials website (specialperennials.com). One we grew here in Highbury soil, while friend Mimi trialled the other in a container on her balcony in Shepherdess Walk. Our plant, on a south-facing slope, got full sun for six hours a day. Two flower spikes were broken by heavy rain; another stem broke lower down, victim of possible squirrel damage. A cage was built round the plant with sticks & string. Nipping off spent blooms made our Aga Blackadder bushier, with many flower stubs rather than spires.
Honeybees Discover Highbury's Agastache 'Black Adder'
In nearby Plimsoll Road, we have been told, there is a hive of honeybees. When our first Aga Black Adder stub came into bloom, a passing honeybee must have found it, buzzed back to the hive & waggled the news to the others. The photo (left) shows the early bees jostling for position on the stub.
Honeybees & bumblebees came to the Aga Black Adder for the rest of 2015. Small snails nibbled away at its lower leaves; any birds or frogs who ate them could surely taste the licorice. The flowers, untouched by pests, bloomed on till November in that mild London autumn.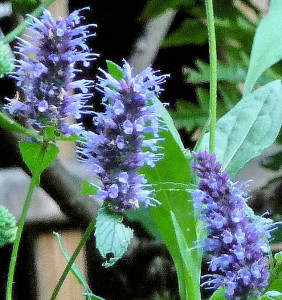 Agastache 'Black Adder' Blooms on Shepherdess Walk
Mimi's balcony faces east, where it gets morning sun. Her Giant Hyssop had to contend with its new provider going away on holiday, & relying on a neighbour to water it. Even in these quite different conditions, it too was a success. 'It brought bees for the first time in years – which is terrific!' said Mimi. Her photos (below) are from mid-September, after the plant had had its best blooming moments.
We can both recommend the Aga Black Adder to you. We have each had success, with local bees buzzing to our blooming beauties. Seeds of our plants may be shared with friends, in a yet-to-be-formed club called the 'Fans of Agastache Black Adder' (FAB). If more of us could find a place for it in our lives and manage to grow it, we could help bring the buzz back to Britain.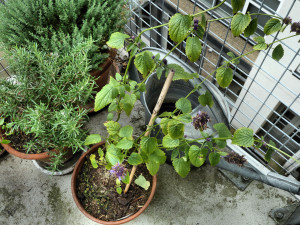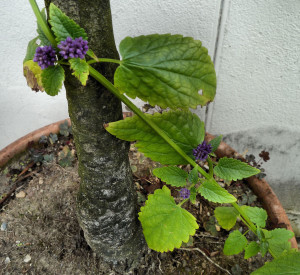 Spring 2016: No sign of Aga Black Adder growth on Shepherdess Walk or here in Highbury, where wildlife will have eaten any seeds.
Autumn 2016: Neither of us replaced our plants this season, owing to circumstances… But there is no shortage; we see them on offer on the internet. Roll on 2017.
davesgarden.com
On this North American website, the Agastache Black Adder page has 34 positive reader reviews and 4 that are neutral (each referring to its prolific self-seeding). Readers say that their plants return in spring after winters of snow and ice. Our wet British winters are different, and the Giant Hyssop does not like to stand in waterlogged soil.
Dave recommends putting a paper bag over the spent spires, so the seeds when dry have a place to fall. Some of his readers have let their plants self-seed, leading to 'groves' of Agastache Black Adder.
Here is one review:
On Nov 29, 2006, Rotegard from Minneapolis, MN wrote:

"Our anise hyssop patch is 2 years + in the Minneapolis LaSalle Community garden and very hardy here in zone 4. The flowers and leaves have a black licorice odor that is unrivaled for bees and butterflies. In 2005 we harvested much of the foliage for a fine melissa/agastache tea served at the Barebones Halloween festival. Mixed with chocolate mint it is the basis for a pungent licorice cordial."
Read more: http://davesgarden.com/guides/pf/go/134/#ixzz3luq76ftt
2017:
This Agastache Black Adder was ordered from Coblands and delivered to the front door by courier. It spent a successful year in the garden and brought in many pollinators:
https://www.coblands.co.uk/