BEE BALM (Monarda didyma)
N America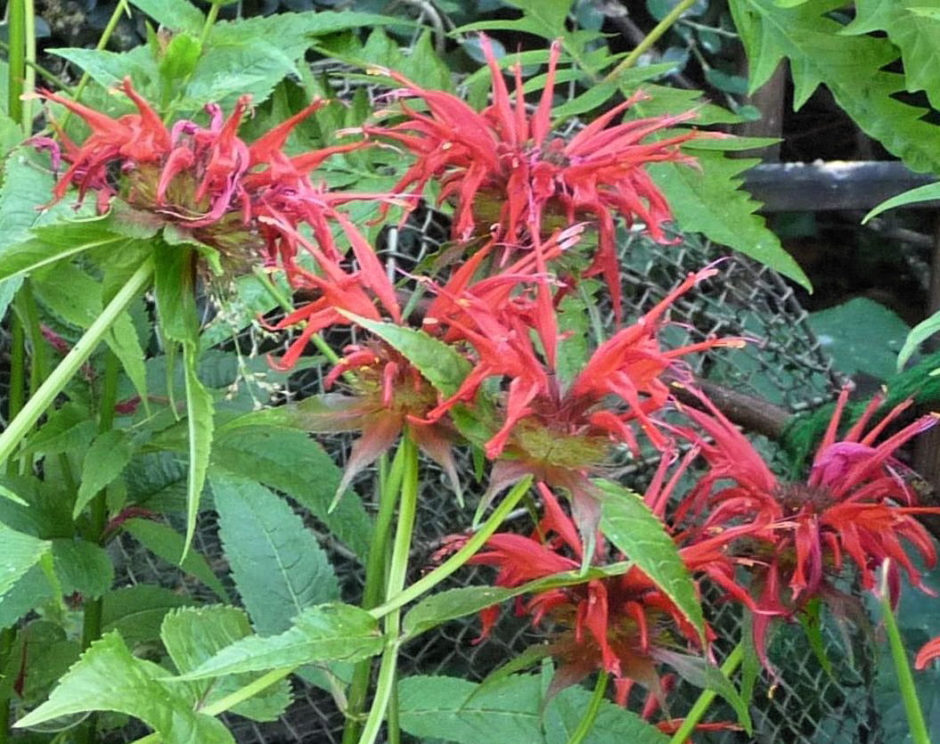 Monarda didyma is a tall, aromatic herb that flowers from mid to late summer. Its dramatic CRIMSON flowers, each one looking like a cross between a mop and a firework, grow along stream banks and ditches in their native North America. In gardens they prefer moist soil and sun or light shade, growing to 2 to 4 feet in height.
The genus was named for the Spanish botanist Nicolás Monardes, who wrote a book in 1574 describing plants of the New World.
wikipedia
Tea made from Monarda didyma is an aromatic aid to digestion, calming and relaxing.  It is known as Oswego Tea in America and Canada; in France it is called Gold Melissa Tea.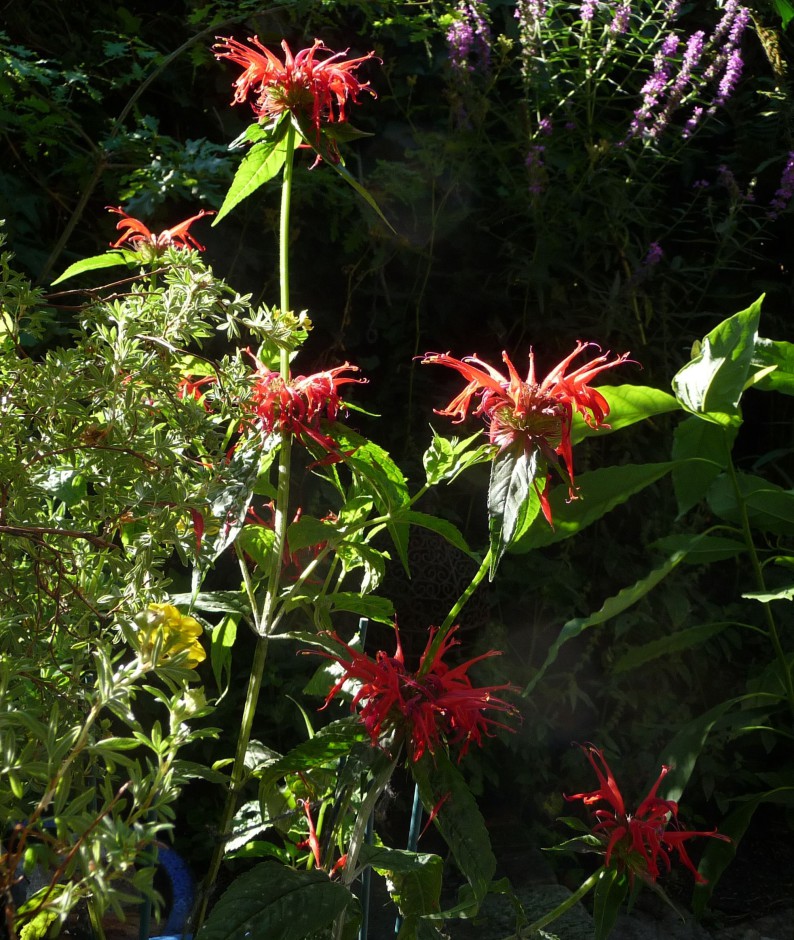 Bees' Favourite.
This is a plant which appears on gardening programmes with clouds of bees buzzing round its showy flowers.
Other names: Bergamot, Crimson Beebalm and Scarlet Beebalm.
"The Oswego Indians of western New York prepared an herbal tea from dried out fragrant Monarda didyma leaves. This was picked up by the early colonial settlers, who used these leaves as a substitute for imported tea, which was in short supply following the Boston Tea Party.
The Shakers believed that Oswego tea has the aptitude to treat colds as well as tender throats effectually. On the other hand, some settlers steamed the entire Monarda didyma plant and breathed in the vapour to unblock sinuses."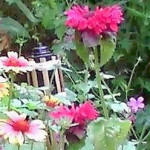 Our first Bee Balm, with its MAGENTA flowers, was a late addition to 2012's garden. Brought back from the Hornsey Pet and Garden Shop in Crouch End, it was a casualty of winter in 2013.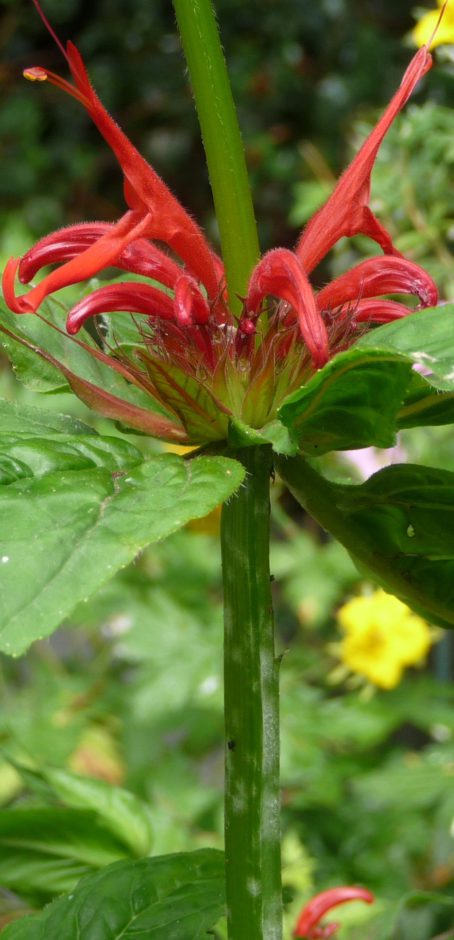 In 2015 we ordered a RED Monarda, 'Squaw' from Specialperennials in Cheshire. ("Please note", they advised, "our plants are not suitable for eating, infusing nor medicinal use".) 'Squaw' arrived in the post, was planted up in a deep ceramic pot, and went on to provide a season of vivid CRIMSON RED flowers. But it had no visitors, no pollinators at all.
We wondered whether the bee species who visit it had been affected by the long hard winter and wet spring. Perhaps 'Squaw' resented being planted in a container. We hoped that its second season would prove bee-friendly.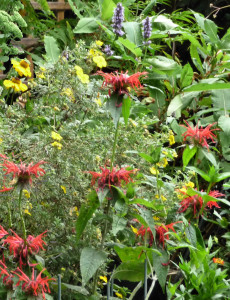 February 2016 : Many small Monarda leaves cover the soil surface in the pot. All have holes from slugs or snails, not a problem if the new blooms flower as they did in 2015.
September 2016 : In its second season, Monarda 'Squaw' grew to 3 feet in height and did indeed welcome the pollinators. Small snails carried on nibbling the leaves, till picked off and put on the birdtable. Bees, dangling from the red flowers, were unbothered.
The RHS website says Monarda is prone to slug damage, and should not be allowed to dry out in summer or succumb to winter wet.
https://www.rhs.org.uk/Plants/11181/i-Monarda-didyma-i/Details