BLEEDING HEART (Dicentra or Lamprocampnos spectabilis)
Siberia, China, Korea and Japan
This elegant plant was formerly known as Dicentra spectabilis. It prefers moist, fertile, well-drained soil & shelter from strong winds. No pests or diseases trouble it. Here in North London, in the dappled shade of our north-facing ivy wall, its foliage lasts into late summer. After flowering the plant gradually subsides & disappears, leaving a gap in the border until the following spring when it rises again.
Other names: Asian Bleeding Heart, Coeur de Marie, Dutchman's Breeches, Hearts on Strings, Lady in the Bath, Lady in the Boat, Lady's Eardrops, Lady's Heart, Lady's Locket, Lady's Purse, Lady's Shoe, Lockets and Chains, Locks and Keys, Lyre Flower.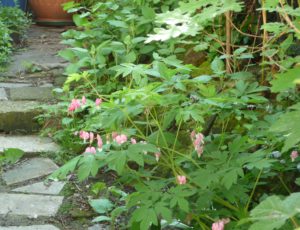 Our first Dicentra, from a small garden centre on Corsica Street, grew in a pot on the balcony of my old flat. It came here in 2001, was planted out, and for years its rosy hearts dangled over the garden path, providing the first spring colour. We lost it one bitter cold winter a few years ago, and this is its replacement.
2020. No appearance of the Dicentra, which seemed to have been eaten by rodents when it raised itself above the cold soil. After about a month its feathery foliage came up, over a foot from the path. This carried on through the growing season as always, but the floweriing time had been missed & there were no dangling hearts this year.
Bees' Favourite
Dicentra flowers are pollinated by Bumblebees and other insects with long tongues. These images of a Bumblebee visiting the lockets are from 2015.
Roger Brook holds the National Dicentra Collection. See his website for propagation tips and photos, including 'Valentine', a rich red Bleeding Heart that is now his favourite.
www.nodiggardener.co.uk/2014/05/my-bleeding-heart.html