BUDDLEIA DAVIDII (The Butterfly Bush)
China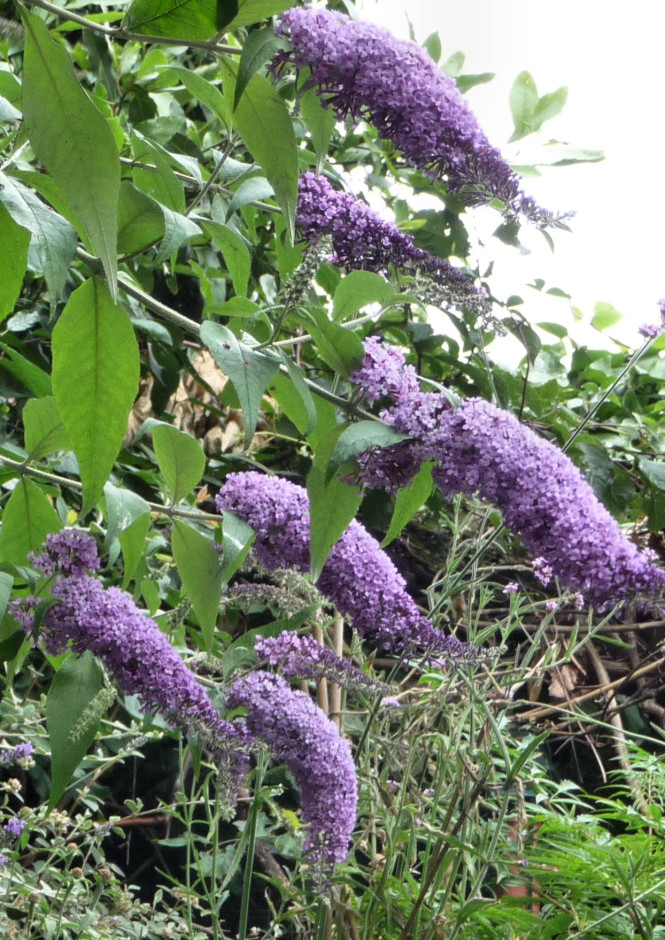 Buddleia Davidii is a large, robust shrub, discovered in China in 1869 by planthunter Pere Armand David.
In China it grows in forest clearings, rocky stream banks & stone outcrops. Left to its own devices, this plant forms a substantial mound that can be four metres high. Here in the UK it has adapted to gardens & urban infrastructure alike.
Buddleia Davidii's long leaves are grey-green & sword-shaped, making a dense shrubby mound. From July to October,  wands of tiny LAVENDER flowers are produced at the stem tips, with the intensely fragrant perfume of vanilla.
On a still day the perfume hangs in the air around Buddleia panicles dangling over front walls here, giving us scent & colour late in the growing season.
  Buddleia needs little care and attention from the gardener. While neighbouring plants may require mulching, deadheading & general high maintenance, Buddleia does not. It grows in virtually any well drained soil & suffers from no pests or diseases.
Richard Meyer, conservation ranger at the Islington Ecology Centre, recommended cutting some of the  Buddleia back hard in late March to encourage late flowering; this will help late-season pollinators find nectar in the autumn.
Wildlife Friendly

Flowers of Buddleia Davidii are nectar-rich. This plant is a magnet for beneficial pollinators – especially butterflies – & is known as The Butterfly Bush. Butterflies attracted to it include Brimstone, Comma, Large White, Meadow Brown, Painted Lady, Peacock, Red Admiral, Small Tortoiseshell & Small White.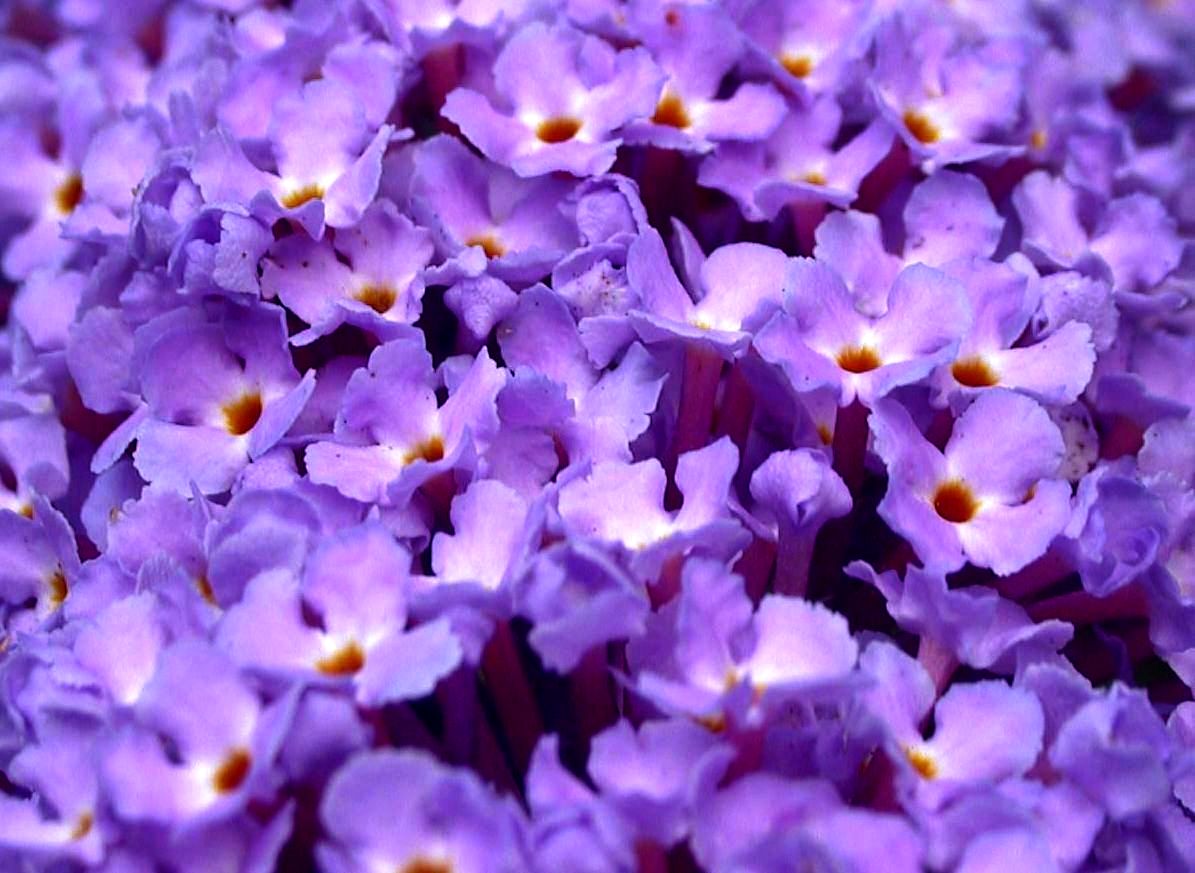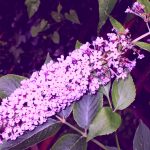 Buddleia in Highbury
Buddleia Davidii 'Empire Blue' (panicles of fragrant LILAC flowers with RED-ORANGE centres) is our local Buddleia. Its blue-green leaves remain through London winters.
The Butterfly Bush can be found all round Highbury and adjoining neighbourhoods. It grows between paving stones, out of brick walls, on bare earth. Before its redevelopment, a small Buddleia grew high up on the art deco facade of Highbury Stadium's East Stand.

Monty Don, writing in The Mailonline in 2013, said "Buddleja davidii, in particular, will colonise ground that is primarily loose stone, like the shingle on the edges of mountain streams in its native Sichuan in south-west China. They also particularly like lime, hence the predilection for the mortar in brick walls, or an untended back yard and the fact that they relish the thinnest chalky soil in a garden."
http://www.dailymail.co.uk/home/gardening/article-2407071/Its-time-bit-butterflies-Buddleia-grow-just-good-news-wildlife-says-gardening-expert-Monty-Don.html
The Buddleia outside Gillespie Park's Ecology Centre, cut back quite hard every season, is now a Buddleia tree rather than a mound of shrubbery.
Problems With Buddleia

Ecologists say that, while UK Butterflies may drink Buddleia Davidii's nectar, it is not a food plant for them. No eggs are laid on, or caterpillars feed on, the leaves of Buddleia Davidii. Gardeners need to grow other food plants nearby to help butterflies to complete their life cycle.
Tanya Gupta, writing about Buddleia in July 2014's BBC News, said 'Sprouting from seemingly every derelict building, it stakes an increasingly plausible claim for the title of Britain's national flower.'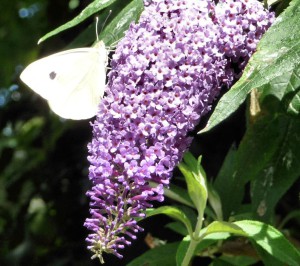 'Network Rail says Buddleia has a habit of growing in walls where it can interfere with overhead power lines and obscure signals.'
'Butterfly Conservation .. recommends planting Buddleia for its summer nectar but warns that it can cause serious problems on conservation sites. It advises against planting Buddleia where it may be unmanaged and recommends gardeners remove seed heads. "It spreads incredibly quickly," says spokesman Liam Creedon.'
' Buddleja davidii, to give its latin name, which originated in China, is viewed by the Department for the Environment, Food and Rural Affairs (Defra) as an invasive non-native species. Gardeners are being asked by Defra to remove seed heads after flowering to prevent its spread before it becomes "ubiquitous".'
Tanya Gupta, BBC News, Buddleia Dominates Britain's Railways           http://www.bbc.co.uk/news/magazine-28196221
Invasive
Other Names:  Orange Eye, Summer Lilac.

"Hands off Britain's Buddleias!"
Nigel Colborn asks some probing questions about Defra:
"Officials at the Department for Environment, Food and Rural Affairs (Defra) consider buddleia an 'invasive alien'. What a pejorative term for such a beneficial plant. The phrase conjures up man-eating space monsters or foreign tanks roaring up our beaches.
Gardeners are grateful for this undemanding plant. It's easy to grow & copes with poor soil & wanton neglect. Trees & shrubs that flower in spring are two-a-penny. But late-summer colour, particularly that dazzling purple, is rare.
And never forget the butterflies. No other plant is such a magnet to them. On warm days, flocks of tortoiseshells, peacocks, red admirals & other species will feast to such excess that they become sleepy & stay put, even if you breathe on them. Species that hibernate need the food to help them through the coming winter.
Buddleias provide nectar and pollen to bees and other insects. On a warm, still night, you'll find as many moths feeding as there are butterflies by day.
In fact, I believe that Defra itself, rather than those delightful buddleia bushes, is more worthy of a cull. This monolithic mega-ministry, created by the Blair government in 2001, results from an unholy merging of previously separate departments — including Environment, Agriculture, Fisheries, Nature Conservation and the nebulous 'Rural Affairs'. The result is a cumbersome monster whose short history makes depressing reading."
In the link below Nigel Colborn cites Defra's record on Japanese Knotweed, Ash Dieback Disease, subsidy payments to farmers, excessuve verge-mowing and the destruction of hedgerows and meadowland.
http://www.dailymail.co.uk/debate/article-2702210/Hands-Britains-buddleias-Its-fragrant-favourite-butterflies-love-says-NIGEL-COLBORN-So-Government-got-buddleia.html
Buddleia:  The Highbury Garden Experience
During RF's time as gardener here, he had a self-seeded Buddleia. As time went by it became quite a size, taking up sunlight meant for smaller plants, & RF decided to cut it down. What with one thing and another the stack of Buddleia branches sat where they had been left until one day it was obvious several of them had taken root where they had fallen.
So this plant, which is the bearer of many seeds at every bloom, can also regenerate easily from cuttings.
We have a young Buddleia in the garden now. It grew from a seedling that landed in one of our windowboxes. Planted out in 2010, it is being trained to arch over the path & flower above head height. Bring on the butterflies!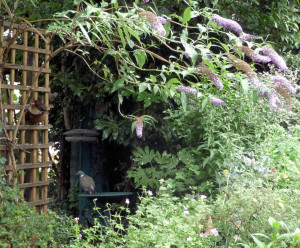 A good read : May Theilgaard Watts, visiting London in the years following the Second World War, found Buddleia growing in bomb craters with Canadian Fleabane, Coltsfoot, Elder, Oxford Ragwort, Plantain & Rosebay Willowherb.
READING THE LANDSCAPE OF EUROPE, May Thielgaard Watts, Harper & Row, New York 1971.