BUDDLEIA (The Butterfly Bush)

China
A perennial shrub that self-seeds freely, the Butterfly Bush can be found all round Highbury. It grows between paving stones, out of brick walls, on bare earth. Before redevelopment, a small Buddleia grew high up on the art deco facade of Highbury Stadium's East Stand.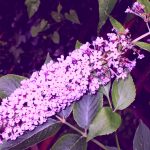 There are a number of cultivars, but Buddleia Davidii 'Empire Blue' (panicles of intensely fragrant LAVENDER flowers with RED-ORANGE centres) is our local Buddleia. Blue-green leaves remain through London winters.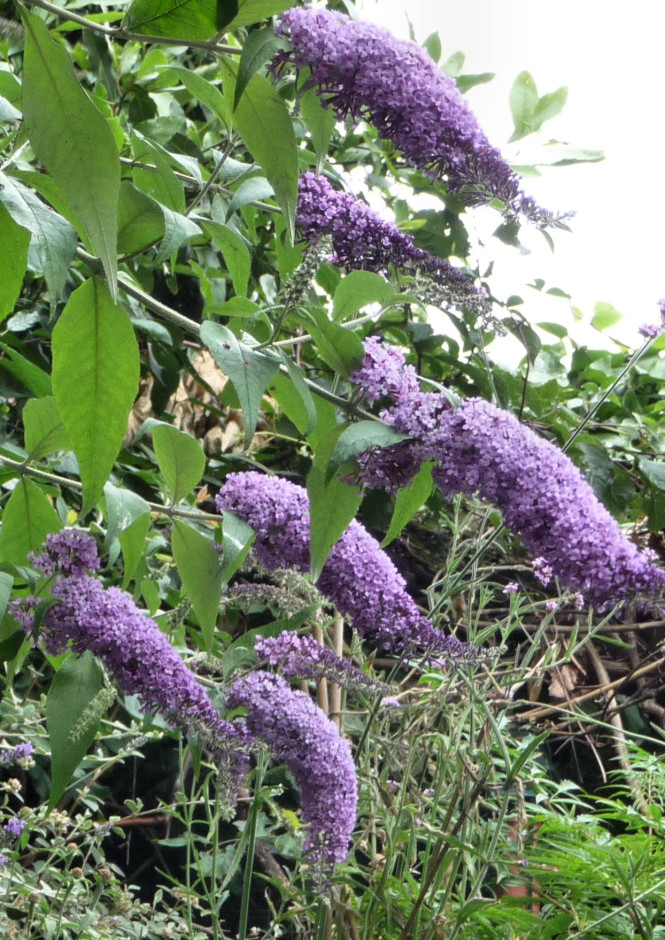 To encourage late flowering, cut back hard in late March. This will help late-season pollinators to find nectar in the autumn. Grown in enough soil and allowed enough space, the Butterfly Bush makes a shrubby mound four metres high. A number of these mounds grew in our little woodland before the developer trashed it.
We have a young Buddleia in the garden now. It grew from a seedling that landed in one of our windowboxes. Planted out five years ago, it is being trained to flower above head height. Bring on the butterflies!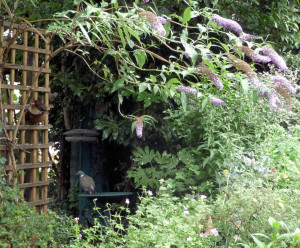 May Theilgaard Watts, visiting London in the years following the Second World War, found Buddleia growing in bomb craters with Canadian Fleabane, Coltsfoot, Elder, Oxford Ragwort, Plantain and Rosebay Willowherb.
READING THE LANDSCAPE OF EUROPE, May Thielgaard Watts, Harper & Row, New York 1971.