CHRISTMAS BOX (Sarcococca), Fragrant sweet box
Asia and The Himalayas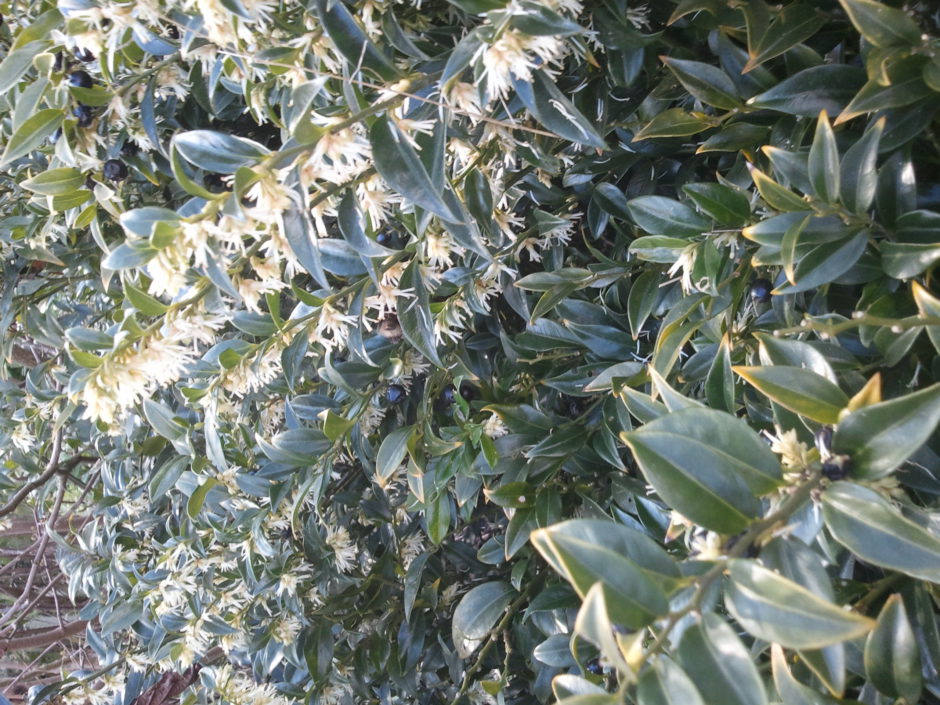 Sarcococca is a species of winter-flowering evergreen shrub from Asia.  Its lance-shaped leaves are a glossy leathery dark green. Its flowers, appearing in winter, are small, CREAMY WHITE & intensely fragrant. They are followed by shiny black berries in the autumn.
The Christmas Box adapts to many situations. Best grown in a spot protected from cold winds, in moist soil. It will also do well in full or part shade & adapt to poorer soils, as long as enough moisture is provided.
Seasonal Gardening – Growing Sarcococca for UK Gardens – https://www.seasonalgardening.co.uk/shrubs/sarcococca.asp
Where it Got Its Name
The Genus Sarcococca is named from the Greek sarka (flesh) and kokkos (berry) for its fleshy fruits. Christmas Box, a shrub in the family Buxaceae, is so named because it comes into bloom around Christmas time.
Bees Favourite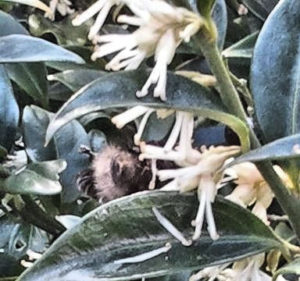 A few winters ago I saw a large early bumblebee being blown about Finsbury Park Station's concrete concourse by a relentless wind. I leaned down & offered it an open palm to crawl onto. Once it had settled there, I covered it lightly with the other hand, then carried it across Seven Sisters Road to the stairs leading up to Gillespie Park. In warmer months, wildflowers such as Buddleia – where a faded bee might be placed to revive itself with a drink of nectar – can be found flowering at the top of the stairs.
But nothing was in bloom on this cold winter's day. We carried on along the path towards the Ecology Centre, with the wind blowing constantly across the railroad tracks & the bumblebee holding itself flat to my palm with all its strength.
I reached the Centre & showed the bee to a member of staff, who suggested placing it in the Christmas Box by the rock garden for a reviving drink of nectar. This I did; as soon as the exhausted bee took a drink from one of the flowers it became visibly stronger & crawled down into the shrub. (photo, left)
Bumblebees of the same species were visiting flowers on nearby Sarcococca shrubs, drinking in the Christmas Box's winter nectar. This was obviously THE place to come for early bees. Christmas Box, a true bees' favourite.
Sarcococca in Paghat's Garden
"Starting in February & throughout late winter, the little shrubs are covered with tiny creamy-white tubular flowers that release sufficient perfume to really spice up a shadily enclosed garden. Ours are planted at the entry to a shaded corridor-garden between house & garage, an area that holds in the perfume very nicely.
The shrub is self-pollinating. The male flowers have pink anthers; the female flowers have two styles. Flowers are followed by purple-black berries which add considerable ornamental value."
Paghat's Garden (Paghat the Ratgirl)
 Paghat's Garden is a northwest Pacific US site, but she has much to share with those of us who live elsewhere.
http://www.paghat.com/sarcococcahumilis.html
"Perhaps the most desirable of all the sarcococcas is S. hookeriana var. digyna, which has narrow, pointed leaves that make it look very graceful."
http://www.telegraph.co.uk/gardening/howtogrow/3296342/How-to-grow-Sarcococcas.html
Mary Keen, Telegraph, 5th Jan 2002
At Capel Manor Enfield, where I did my gardening course, our class walked out into the grounds one cold, crisp winter's day. We rounded a corner of the main building & the intensely sweet fragrance of a large, flowering gumdrop-shaped Christmas Box (they grow from 3 to 7 ft) virtually knocked our socks off. Fabulous perfume in the cold open air, all round the shrub.