CIRSIUM RIVULARE 'Atropurpureum' (Plume Thistle, Brook Thistle)
C & S Europe to Russia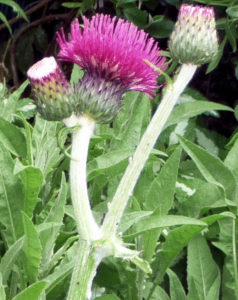 Flowers of Cirsium rivulare 'Atropurpureum' are a rich RUBY RED. Enjoying full sun, this dramatic Thistle blooms from June to September. In moist neutral or acid soil, it will grow from 4 to 5 feet in height.
Bees Favourite.
The Royal Horticultural Society rates Cirsium rivulare 'Atropurpureum' 'RHS PERFECT FOR POLLINATORS'. In the Highbury Wildlife Garden of 2015, bees quickly discovered the first flower to come into bloom. Throughout the growing season there was often competition amongst several bees at a time for landing space on the thistle heads, and Bumblebees tended to remain browsing there for quite a time.
'Handsome, long-flowering, easy, healthy, and loved by our pollinating insects – if you don't already have it in your garden, you should!'
Sarah Raven
Sarah Raven says that Cirsium rivulare 'Atropurpureum' was much used in Chelsea garden design ten years ago, less so now. Perhaps gardeners have had problems with the plant's vigorous self-seeding tendencies. In our garden the  wildlife usually gobbles & pecks up seeds of prolific plants before they become plantlets. Come springtime 2016, , we shall see whether any baby thistles survive round the site of this year's successful plant.    2016: No Cirsium rivulare seedlings, no new plants.