CLEMATIS ARMANDII
China, Northern Burma
Clematis Armandii, also known as Armand Clematis or Evergreen Clematis, is a robust evergreen climber. Its dark green leathery leaves are up to 6 inches long, making a dense screen. It can grow from 6 to 15 feet or more.
It requires free draining soil with a full or part sun exposure… the sunniest position will produce the finest fragrance. The highly perfumed flowers of Clematis Armandii appear in early spring, when masses of CREAMY WHITE flowers that smell of vanilla cover the green leaves.
The blossoms carry on for several weeks, & may sometimes reflower in August.
 Any pruning should be done after flowers have finished, as this plant is in Clematis Group 1, flowering on shoots produced the previous season. One assumes that there will be no August flowering if this is done.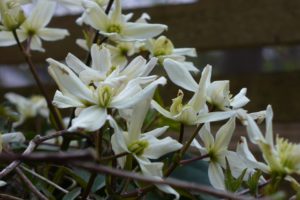 Good for Wildlife
After the woodland at the back of our garden was cut down, RF the gardener chose to let his climbers grow wild for the wildlife. Clematis Armandii, planted in the southeast corner, has now 'gone bonkers'. Where it once grew to a reasonable size – 15 ft high by 10 ft wide  – it now climbs over the small Damson tree on the bank, part of the side fence, the back fence, a self-seeded Sycamore & part of the Bay tree. It is left unpruned, except by Squirrels.
By covering the Sycamore behind our garden, Clematis Armandii serves as a windbreak. As such it has also provided a place of refuge for local birds who lost nesting sites when the developer trashed our little woodland behind the gardens. Spring birds flying in & out of the Clematis mound in 2015 were Blackbird, Starling, Sparrow, Wren, Robin, Great Tit & Blue Tit. The dense blanket of waterproof, leathery leaves offers good cover.
Bees' Favourite.
Buds of this elegant Clematis appear in December. By early spring, they have become large, fragrant CREAMY WHITE flowers, attracting early Bees for whom there may be few other nectar sources in the neighbourhood. Clematis Armandii is without doubt a bees' favourite.
Where Did it Get its Name

Clematis Armandii is one of a number of plants named for  Jean Pierre Armand David (1826-1900). a French Catholic missionary, naturalist & plant hunter.
Pere David had been teaching science for 10 years in Italy  before being posted to the far east in expeditions to Mongolia, Tibet & China, collecting specimens for the Musee d' Histoire Naturelle in Paris.
He sent over 100 plant species back from China to the Jardin des Plantes in Paris, all of which were new to Europe. Thank you, Pere David.
  PlantExplorers.com  Mozilla Firefox
Plant Names Tell Their Stories: Who is the "David" behind Davidii, Morris Arboretum, University of Pennsylvania, Katherine Wagner-Reiss, Blog.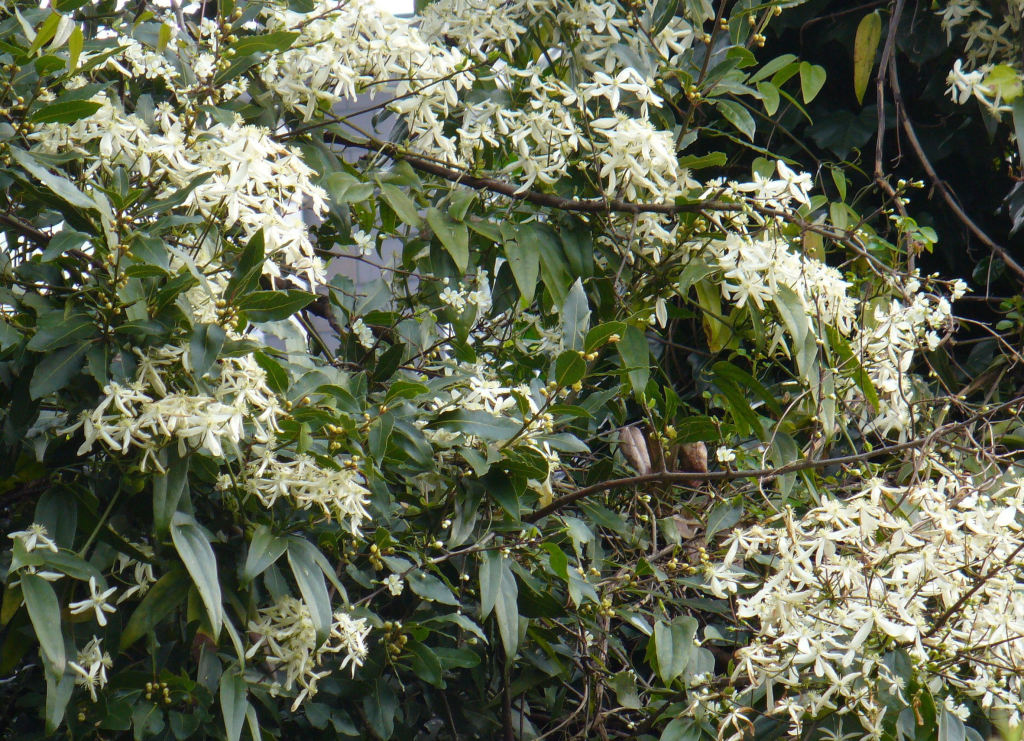 If you are looking for a Clematis to cover a tree, Armandii will put on a show in spring & be good for wildlife throughout the year. But if you plan to let it grow wild rather than prune it, the Clematis may cover the tree in time.


2016: A terrible year for the Clematis Armandii. A long cold winter extended into spring – temperatures rose, then plummeted again. Bees and early flowering plants were caught out, with few blossoms on this climber.