CLEMATIS ARMANDII
China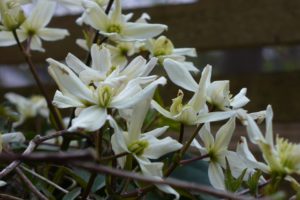 Bees' Favourite.
Buds of this elegant Clematis appear in December. By early spring, they have become large, fragrant CREAMY WHITE flowers, attracting early Bees.
Good for Wildlife
The leaves of this rampant climber are large & evergreen. By covering the Sycamore behind our garden, Clematis Armandii has provided a place of refuge for local birds who lost nesting sites when the developer trashed our little woodland. Spring birds flying in & out of the Clematis mound in 2015 were Blackbird, Starling, Sparrow, Wren, Robin, Great Tit & Blue Tit. The dense blanket of waterproof, leathery leaves offers good cover.
After the woodland at the back of our garden was cut down, RF chose to let his climbers grow wild for the wildlife. Clematis 'Armandii' has now, in his words, 'gone bonkers'. Where it once grew to a reasonable size – 10/15 ft high by 6/10 ft in diameter  – it now climbs over the small Damson tree on the bank, part of the side fence, the back fence, a self-seeded Sycamore & part of the Bay tree. It is left unpruned, except by Squirrels.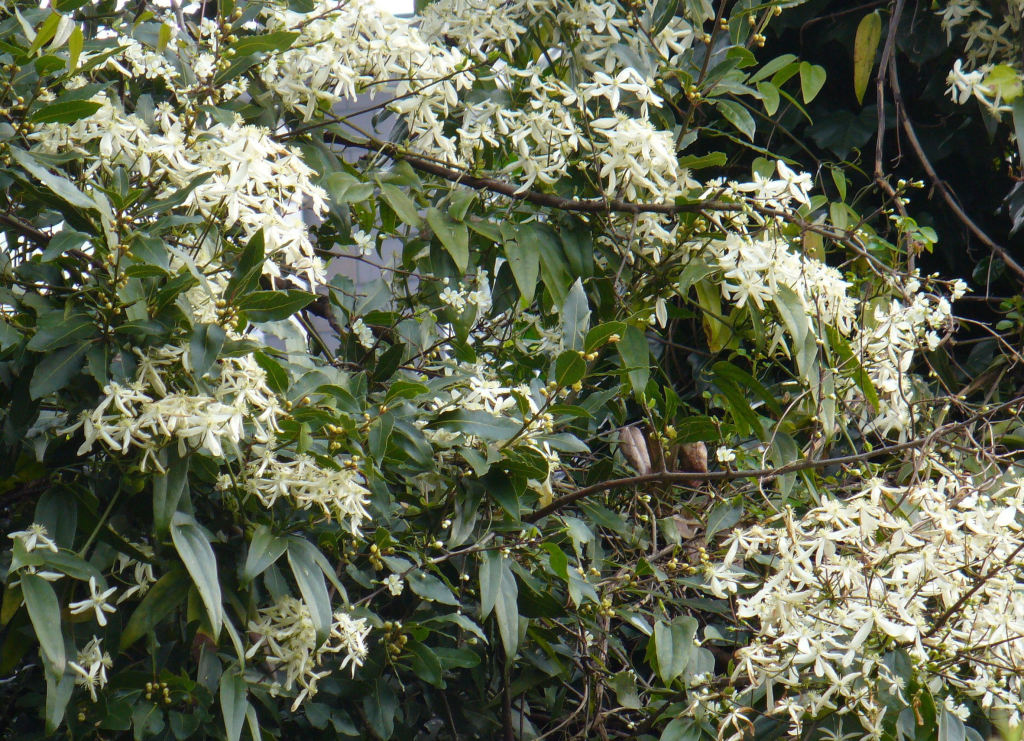 If you are looking for a Clematis to cover a tree, Armandii will put on a show in spring & be good for wildlife throughout the year. But if you plan to let it grow wild, the Clematis may cover the tree in time.

2016: A terrible year for the Clematis Armandii. A long cold winter extended into spring – temperatures rose, then plummeted again. Bees and early flowering plants were caught out, with few blossoms on this climber.