CLOVER – Dutch or White (Trifolium repens)
Europe, C Asia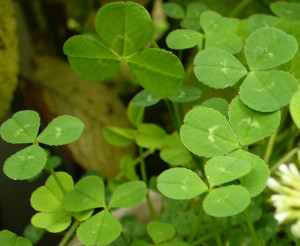 Instead of having lawn in our small garden, using storage space for a lawnmower where a plant might have lived and grown, we thought clover might be an alternative that required no mowing.
White, or Dutch, Clover is in flower from May to October. It is a native of Europe & Central Asia, & grows throughout the British Isles.
It has been introduced worldwide as a forage plant, & its WHITE or PINKISH flowers are visited by bees.  It seemed a good plant to draw bees to our garden over many months.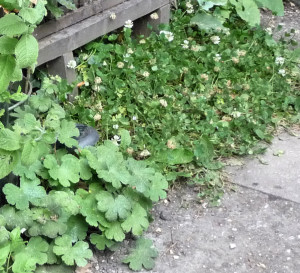 Bees' Favourite.
Trifolium repens is a food plant for Butterflies (the Clouded White and the Common Blue), & both White and Red Clover are nectar sources for Honeybees and Bumblebees.
'Many of our so-called 'weeds' are beneficial to wildlife, providing food for nectar-loving insects and shelter for minibeasts. Try leaving wilder areas in your garden, such as patches of White Clover in your lawn and Stinging Nettles near the compost heap, and see who comes to visit… To find out more about wildlife-friendly gardening, visit our Wild About Gardens website: a joint initiative with the RHS, there's plenty of facts and tips to get you started.'
http://www.wildlifetrusts.org/species/white-clover

 We bought five White Clover plants at an Ecology Centre wildflower sale and planted them by the Damson tree. The little clover mat they formed brought in a steady clientele of bees at first. But then other wildflowers moved in, and the Clover patch became a place where squirrels could dig and cats could scentmark.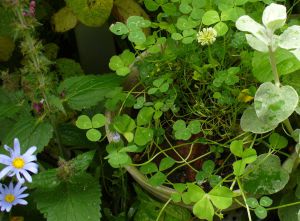 Years ago, clover planted in a windowbox on the top floor of the house was found by hungry mice – they can climb brick walls, and were probably driven out of the woodland at the back when a developer chopped it down. Every last morsel of clover, even what had dried round the edges of the windowbox in intense sunshine, was eaten.
Our small patch of Dutch Clover grows in a container for the time being.
See the Plants For a Future (PFAF) website for much more about this and other edible plants:
http://www.pfaf.org/user/plant.aspx?LatinName=Trifolium+repens
Other names: Baa-lambs, Feathery Shamrock, Herb Trinity.