CLUSTERED BELLFLOWER (Campanula glomerata) (Danes' Blood)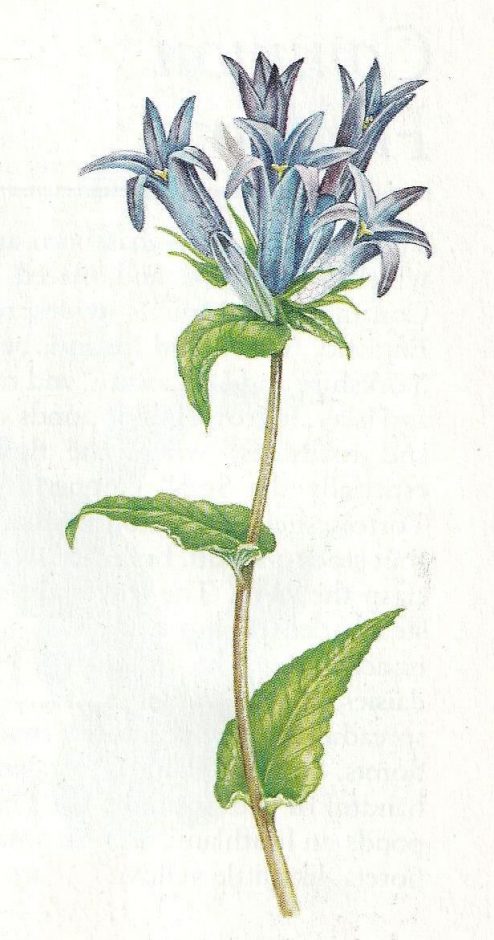 North Temperate Zone, from Britain to Japan
This wildflower, native to the UK, is also found throughout Europe, Anatolia & Turkey as far east as Central Asia. Tubular VIOLET-BLUE bells (campanula is Latin for 'little bell') gather at the top of its crimson stems. The leaves have a fine toothed edge & a matt surface.
Natural habitats for this Campanula are forests, dry grasslands, scrub, open woodland & grassy places. Here in the UK,
"it is particularly common on the chalk downlands of southern England and limestone grassland as far west as Bath in Somerset… locally plentiful on sea cliffs and sand dunes.. "
*David Lang, The Illustrated Wildflower Finders Calendar, Ebury Press, London, 1983.
*Illustration by Linden Artists
Campanula glomerata grows, in sun or part shade, to 65cm x 30cm (BBC Gardener's World Magazine). Its best flowering time in the UK, according to Plantlife, is June, July, August & September. It is perennial & hardy in winter down to -45 degrees F. It prefers soil that is well drained & rich in nutrients.
Mix with sand before planting. Keep moist. Remove stems when flowers are done to encourage further flowering. Cut to ground level at season's end to prevent seeds forming. Divide every 6 to 10 years.
Video below shows cutting back of Clustered Bellflower:
Edible
Campanula glomerata's tuberous rootstock is edible with a taste similar to parsnip. The plant's young leaves were also eaten in salads in the past in the Nordic countries. 'The leaves are said to have a mild, sweet flavour and can be cooked or eaten raw as a salad ingredient. The flowers are also edible'. UK Plant Passport (plant identity tag)
Bees Favourite.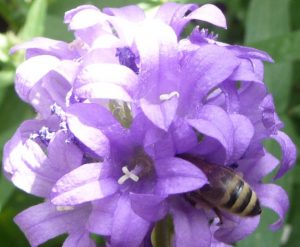 Bees & other beneficial pollinators love the Clustered Bellflower. It is Perfect for Pollinators.
"The RHS Perfect for Pollinators mark is only given to plants that support pollinating insects in gardens. Bees, butterflies, moths, hoverflies and many others visit flowers to feed on nectar and pollen; while doing so they transfer pollen and increase seed set
and fruit development"  wildflowersuk.com

Historical, legendary
"In the county of Cambridgeshire, the plant is known as Dane's Blood, because it is said to grow prolifically on the Bartlow Barrows, said to have been thrown up by the Danes to commemorate a battle fought by Edmund Ironside and King Canute in 1006. "        UK Plant Passport (plant identity tag)
"Its red stems are said to be stained with the blood of Norsemen buried beneath ground."         PLANTLIFE
Part of the Jorvik Viking Festival finale battle celebrating a millenium since Canute claimed the throne of England', the video below shows Boar snout attack Canute vs Edmund Ironside – Filmed by Rebecca Hill, who comments: 'The Danish army gather into a Boar Snout formation and charge at the English Anglo-Saxon army.'
More about the Jorvik Viking Festival on our webpage, 'Vikings at the bottom of our gardens' (Highbury's Past)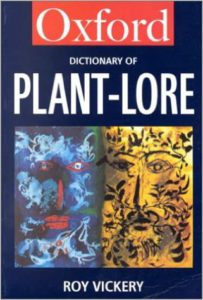 Folk names – other plants also known as Dane's Blood in the UK
Plant-Lore looks at several other plants also associated with battles with the Danes…
Sambucus ebulus (Dwarf Elder), Pulsatilla vulgaris (Pasque Flower) and Eryngium campestre (Field Eryngo), with a mention of Fritillaria meleagris (Fritillary).
https://www.plant-lore.com/plantofthemonth/danes-blood/
WARNING – Can Be Invasive
The Clustered Bellflower can be invasive when it finds conditions to its liking. Picture it clinging onto sea cliffs with its fine fibrous roots… growing in sand dunes…  It has been introduced into other countries including the USA.
Some gardeners, having tried to grow it & lost it, welcome any advice on how to keep it. Others have been hard pressed to remove it from their gardens. One US website, Dave's Garden, has a chat page where gardeners share their experiences.. the word 'aggressive' crops up frequently..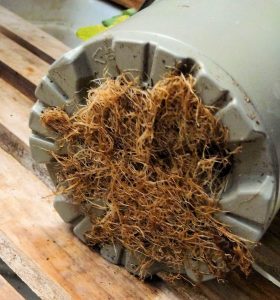 fluffygrue from Manchester, United Kingdom (Zone 8a) wrote: ' I was hopeful that this might do well in our garden, as rockery campanulas are rampant here. Sadly this large plant was decimated by slugs/snails within a week of planting, so I wouldn't recommend it for anyone with good slug/snail populations. Shame. '  April 26, 2006
 No problem with invasiveness, just keeping the plant alive.

On the other hand, myrtleferndyke from Corning, New York wrote:  'I am out there, day after day, no longer caring what else I destroy; I will eliminate this plant from my yard. Yes; it is pretty, but I want other plants, too. My soil is heavy clay, and it, apparently, loves the often wet conditions caused by poor drainage. Judging from my yard, shade or sun is fine, too. The leaves coming up this spring were as thick as grass on a lawn. I kid you not. The roots will grow under stone walk ways, the timbers of raised beds. Since I am an organic gardener, perseverance, a shovel and a trowel are my only weapons'.  May 22 2022
hekdek from Columbus, Ohio wrote 'very striking plant. Blooms for 2-3 weeks here in early summer.  Can be invasive so plant where it can be controlled'.  April 13 2009
Marlina from Blaine, Maine wrote 'very aggressive here …  depends on what you want, whether it is a blessing or a curse.'  Aug 7 2009
Those fine, fibrous roots growing from the bottom of our small pot were seeking a place to make their tubers. Perhaps for some of us it is best to treat this plant like a mint & only grow it in a container.
Other Names:  Angstoppklocka (Swedish); Campaneta (Catalan); Campanilla (Spanish); Campanula agglomerata (Italian); Campanule a Bouquets (French); Ciucure (Romania); Clychlys glwstwr (Welsh); Csomos Harangvirag (Hungarian); Dane's Blood (British – Cambridgeshire); Dzwonek skupiony (Polish); Gronjasti zvoncic (Slovak); Ja ju kkot bang mang i (Korean); Kampanoula (Greek); Kerakell ukas (Estonian); Klobcasta zvoncica (Slovene); Kluwenklokje (Dutch); Knauelglockenblume (German); Livadna zvoncika (Croatian); Lulekambane (Albanian); Nogleblomstret klokke (Danish); Peurankello (Danish); Stars (British – Wiltshire); (Toppkiokke (Norwegian); Yatsushiroh-so (Japanese); Yumak cani (Turkish); Zvonek klubkaty (Czech).
Dane's Blood Comes to Highbury
This is our first season growing the Clustered Bellflower (Dane's blood). We hope it will succeed here, as it is a bee's favourite & a winter hardy perennial. And we would like to commemorate the very probable battle between Danes & Saxons around 800AD a few streets from here. (See our 'Vikings in the Bottom of our Gardens' page for more.)
We ordered our plants from Hetty's Herbs & Plants, a family-run independent business based in the Lincolnshire fens. Plants are packed w/ newspaper & straw, biodegradable substances rather than bubble wrap & plastic. Since their launch in 2018, Hetty's have supported charities. The Hedgehog Preservation Society, The Peterborough Hedgehog Hotel & Up the Garden Bath have all benefited from plant sales.
The no-signature-required delivery was by DPD (ZAPZERO LIMITED) who photographed the Hettys box sitting on the front doorstep. Inside the box, with the plants, were instructions which included not planting up the Bellflowers straightaway… Allowing them to recover from the shock of transport.
Clustered Bellflower at Gillespie Park
After replanting all four of the Bellflowers from their 4in pots, two of the replanted Dane's Blood Campanula were given to the nature reserve at Gillespie Park on 24 June 2022. A volunteer planted them out next day. We will be following their progress & taking photos.
Triumph of the Molluscs
The Bellflowers were attacked by slugs and snails straightaway. There was nothing left of them by the time these photos were taken. We were left with a bit of red tape to mark the spot where they had been planted. Highbury slugs and snails are as formidable as those in Manchester, it seems. (fluffygrue of Manchester, Dave's Garden quoted above, April 26, 2006). A pity.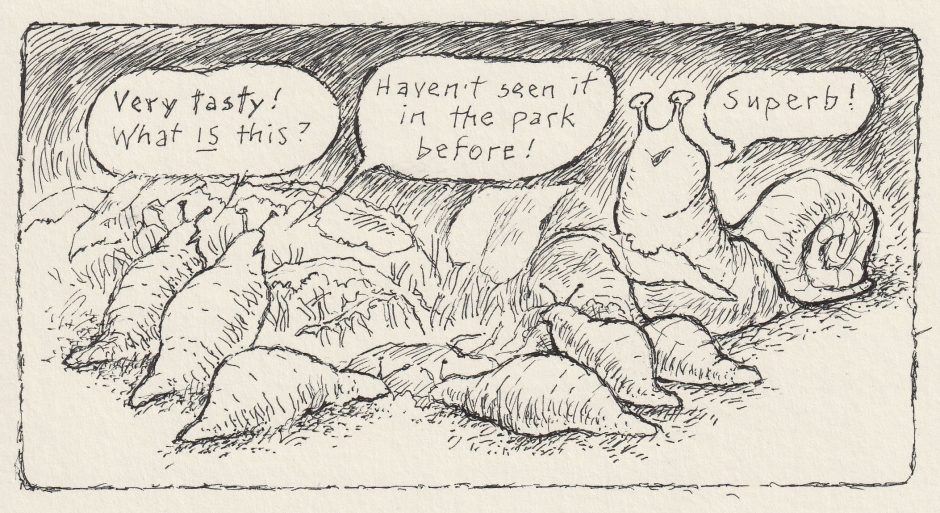 Our Bellflower Blooms
Here in our garden one of the two repotted Bellflowers shows no desire to flower. Its many leaves may still be recovering from the shock of transport.
The other plant sent up a deep, rusty red stem : one can see how those finding this plant growing on the site of a battle might connect the red stem with the blood of fallen warriors. By 11th July the stem had reached its full height, & the buds at the top opened into a cluster of eight PURPLE Campanula bells.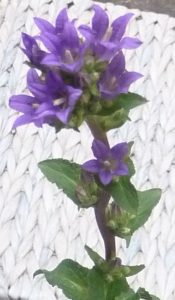 Bees Discover the Bellflower
The Bellflower catches the morning sun on the bay window sill. After a few hours it is moved to the sunniest corner, where it spends the rest of its day with Purple Loosestrife & other bee-friendly plants. It seems safer to keep the plant near the house overnight, when foxes, cats & mice visit the garden & things may be knocked about.
We have squirrels – pots have been knocked over during cat fights & squirrel chases … I have seen squirrels chew on sunflower stems & avocado stems till they snapped.. This is our wildlife doing its thing. Hopefully not doing it to the Bellflower.
It is a beautiful wildflower. Digital camera photos are not true to its colour. The purple flowers register as blue in shade or a washed out lavender in sun.
Gardeners writing to Dave's Garden said the plant looks 'weedy' & 'ratty' when it has finished flowering. No sign of that yet.
On 14 July 2022 the Bellflower was discovered by garden pollinators and welcomed. Its visitors are primarily small bees.
The leaves project all round the stem, with buds sitting in the axils of the upper leaves. The flower cluster at the top of the stem opens first, followed by buds below, going down the stem. Unlike the nearby Purple Loosestrife which opens its flowers from the bottom up.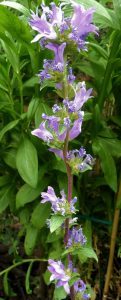 27 July 2022… Danes Blood flowers are now going over. The Bellflower has been repotted, and in accordance with instructions the stem will be cut down, in anticipation of a second possible flowering stem  going into August. We shall see.