CRIMSON PINCUSHION (Knautia Macedonica)
Central Europe, The Caucasus, Iran to Central Asia and Siberia.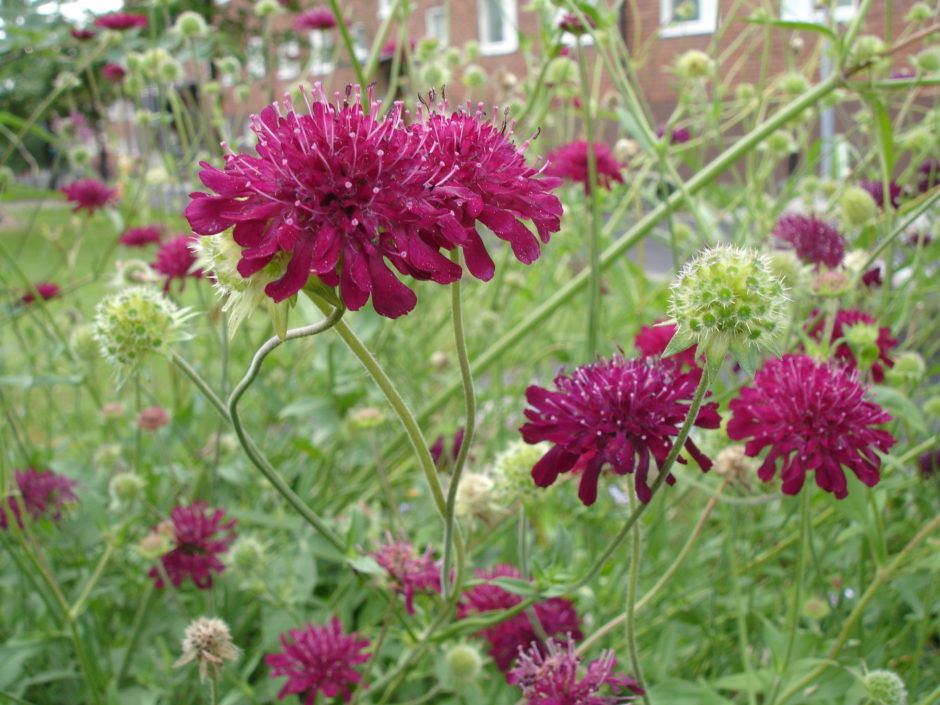 This aromatic, evergreen wildflower blooms in the UK between July and September. Its flowers are small, DEEP BURGUNDY pincushions on an open framework of tall wiry stems.Knautia Macedonica likes full sun & well-drained soil but will tolerate drought. Its light, airy structure will not block the light from anything planted behind it.
The plant takes its name from 17thC botanists Christoph & Christian Knaut & its native habitat of Macedonia.
Other names: Beemdkroon (Netherlands), Crimson Pincushion Flower, Macedonian Scabious, Scabiosa rubelica, Widow Flower.
The Crimson Pincushion has made an impact in the Chelsea Flower Show, where garden designers use its rich colouring and the airy placement of its blooms to good effect. The pincushions resemble a fleet of dark, tufty flying saucers hovering over wildflower meadows.
' The plant spreads out from a central rootstock into a broad, chalice-shaped bush, each shoot branching again and again to form a broad wiry network of stems. Every shoot and side-shoot terminates in a flower, of which established plants produce literally hundreds in a season. Individual pompoms last no longer than a fortnight before turning into spherical seed-heads of magical symmetry. In a good growing season clumps of knautia become so vast – even bullying other plants in late summer, unless grown on a corner or at the front of a bed – that it's tempting to shear them right down and let them start again.'
Carol Klein in THE TELEGRAPH
The Knautia's flowers are at the top of long stems, up to 80cm. The shape of the flowerhead provides a 'landing pad' for pollinators, attracting bees, hoverflies & butterflies such as Meadow Brown, Gatekeeper, Small Tortoiseshell & Painted Lady. Butterfly Conservation's Sussex Branch has a webpage with their top flowers for attracting butterflies, & the Scabious family with Knautia Macedonia comes in at Number 10.
http://www.sussex-butterflies.org.uk/gardening/nectarbutterfly.html
CRIMSON PINCUSHION IN HIGHBURY: The Story so Far

In 2016 we tried Knautia Macedonia, ordering plug plants from Rosy Bee, a firm that specialises in plants for bees. We planted some in the front of the house and some in the back garden.
Plants growing out front, partly overshadowed by our neighbours' loft conversion scaffolding, succumbed to downy mildew, but those in the back garden managed to bring in a few bees.
As plantlets, they took too long to reach their full height & had to struggle with surrounding plants to claim their share of sunshine. Between autumn 2016 &  spring 2017, any Knautia seeds were presumably eaten by wildlife.
Spring 2017 – Scaffolding down in next door's front garden. No sign of the Knautia, no new plants appeared.
August 4th 2017 – Whilst moving the recycle bin in our front bit of paved garden, what should appear but a Knautia Macedonica growing from a crack in the concrete. It must have come from a seed dropped by birds, or blown by wind from the spot between properties, six feet away, where its predecessor had been planted. We hope that seeds from this plant may live to produce pincushions in 2018.