DANDELION (Taraxacum officinale)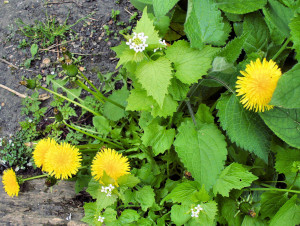 Eurasia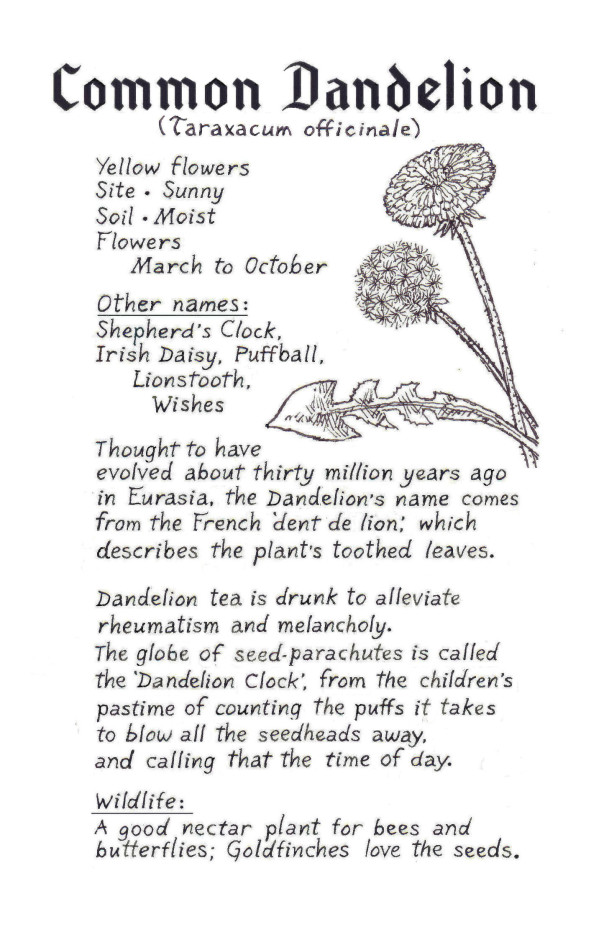 The familiar bright yellow of the Dandelion is unwelcome in most gardens. Dandelion roots are notoriously difficult to dig up, & any bit of root left in the ground will grow another Dandelion. If this wildflower appears on your patch, it will most likely have come as a seed blown on the breeze, not one planted by yourself from a seed packet.
Wildlife friendly
In a woodland garden, or part of a garden left to grow wild, the plant can be appreciated for its wildlife-friendly qualities. Butterflies ( Peacock, Speckled Wood, Orange Tip & Brimstone ), bees & other insects visit the Dandelion for its nectar.
Moths ( Buff Ermine, The Shears, Cream Wave, Gold Swift, Clouded Buff, Northern Rustic & Great Brocade ) & beetles use taraxacum as a food plant. The flowers close overnight, & during rain.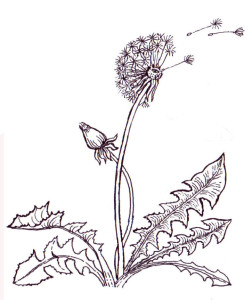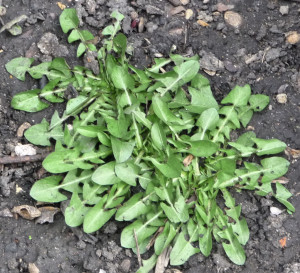 "To blow the seeds off the dandelion is to carry one's thoughts to a loved one".
Jeanne Rose's Herbal, HERBS & THINGS, Grosset & Dunlap, Workman Publishing Company, New York 1973.
Other names: Barbed Arrows and Fishhooks, Combs and Hairpins, Conquer Moors, Crow-parsnip, Dashel, Dazzle-flower, Devil's Milkpail, Dirt-abed, Farmer's Clocks, Fortune-teller, Golden Sun, Gramfer Griggle-sticks, Lady of Spring, Lie-a-Bed, Lion's Teeth, Monkshead, One O'Clocks, Four O'Clock, Peasant's clock, Stink Davie, Twelve O'clock, Wild William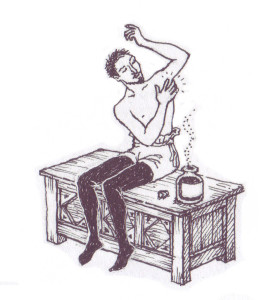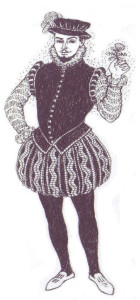 16th century Herbalist Matthiolus: "Magicians say that if a person rubs himself all over with (the decoction of the whole plant), he will everywhere be welcome and obtain what he wishes" (!)
NATURE'S FORGOTTEN FOLKLORE: MYTHS and MAGIC in ISLINGTON
Richard Meyers for Islington Council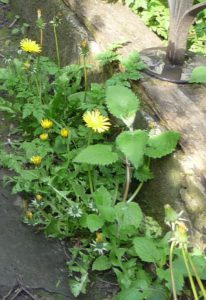 "The ingratitude shown to the dandelion is almost unbelievable. We should be inviting it in to our gardens with low bows, rather than uprooting it with imprecations. Few gardeners take note of that word officinale, which points to the fact that the dandelion should be treated with respect as a herb used in medicine.
Perhaps if we mentioned in passing to our neighbours that our Taraxacums were doing well this year, we might do a little to reinstate what is, after all, quite a handsome flower. But no, its old-fashioned names of Piss-a-bed in the United States and England, and Pissenlit in France, would rise, a guilty secret from the past, to SMIRCH its already tarnished good name…"
"Dandelion wine is famous for its potency, but dandelion coffee is, well, dandelion coffee."
GREEN MAGIC – FLOWERS, PLANTS and HERBS in LORE and LEGEND
Lesley Gordon, Ebury Press, Webb & Bower Ltd, Exeter.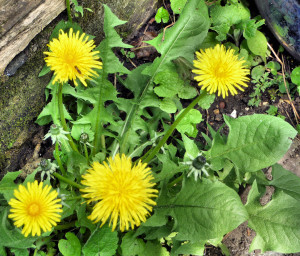 This experience of the dandelion was posted to the Plant-Lore website:
"I grew up in New Zealand (born 1944) where dandelions are considered the lawn-grower's enemy. Very surprised to be served them in France in 1973 as a salad. Salade de pissenlits with a good vinaigrette is considered quite a delicacy – seasonal, of course. I loved it but I can understand that children would not like the bitter taste". [e-mail, Australia, January 2013].
http://www.plant-lore.com/?s=dandelion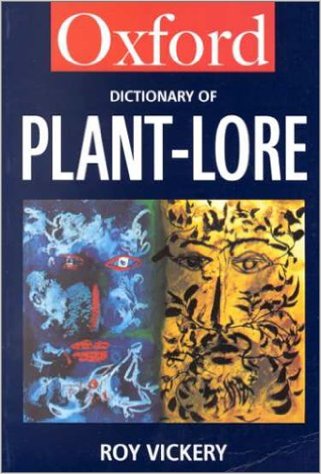 Plant-Lore is an Archive of local names, herbal remedies, sayings, riddles, tales, legends & more. Botanist, lecturer & author Roy Vickery, The Compiler of the Archive, was born in rural Dorset but now lives in South London. On his extensive website he keeps up with local traditional activities – Autumn 2016 included walks (which he leads), Apple Day, rushbearing & the Tooting Common Pumpkin Parade.
Roy Vickery welcomes information on plants from all parts of the British Isles, ethnic groups settled in the British Isles, & comparative material from overseas, no matter how widespread and well-known you consider it to be. A copy of all material received will eventually be placed in the care of the library of The Natural History Museum.
See the website for details.
Plant-Lore. Collecting the folklore & uses of plants

Roy Vickery, 9 Terrapin Court, Terrapin Road, London SW17 8QW.