ENGLISH IVY (Hedera helix)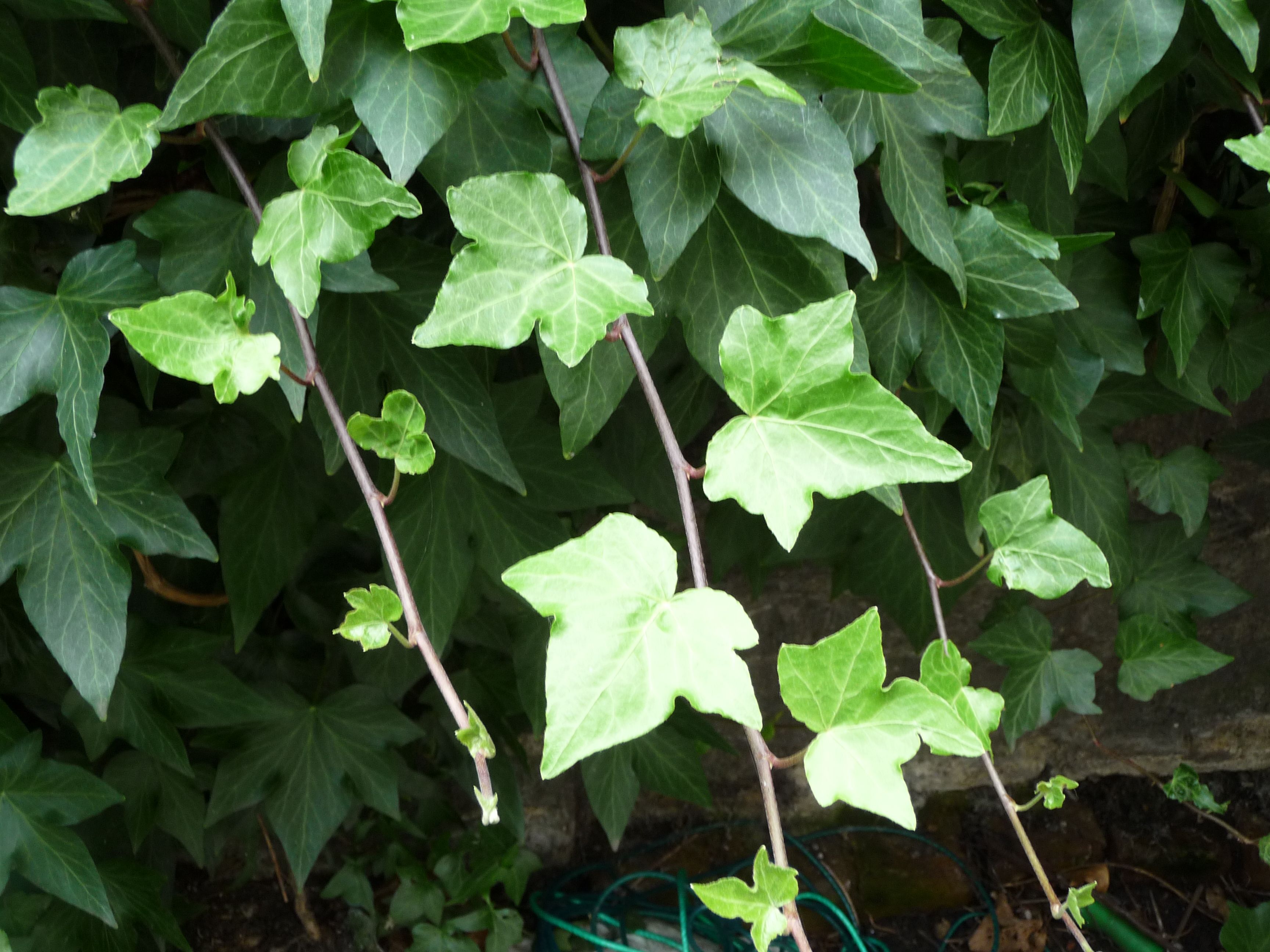 Europe, W Asia
This is the essential plant for a wildlife-friendly garden, according to naturalist and gardener Chris Baines in his book HOW TO MAKE A WILDLIFE GARDEN.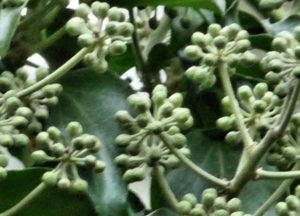 Our native Ivy offers an evergreen backdrop to other plants, while giving shelter to insects and other creatures. Easy to grow all year round, English Ivy can reach 10m x 5m or more in sun or shade. But you can shape its size to suit your own garden, patio, or windowbox.
Wildlife
If you let your Ivy grow to maturity, more wildlife can make use of it. Insects visiting Ivy flowers include Moths, Butterflies (Red Admiral, Speckled Wood & Comma), Honeybees & other bees. In our garden, Wrens dive into the Ivy to forage for spiders and small insects, as do Robins, Sparrows & Bluetits. Ivy berries are an important food source for birds in winter, when little else may be available to them.
"Research has shown that trees with ivy growing up them accomodate more wildlife than those without. Instead of assuming that all ivy must be cut away, it is better to be pragmatic about it. Investigate first whether it is really causing any damage. Most healthy trees can withstand at least some ivy growth before being cut back. The wildlife will appreciate it!"

http://www.buzzaboutbees.net/plants-for-bees.html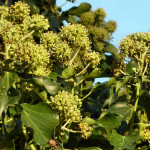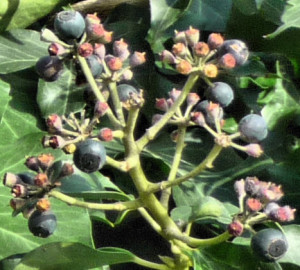 "Hedera helix is common in woods and hedges throughout Europe and western Asia. YELLOW-GREEN flowers, rich in nectar, appear during autumn on mature plants, followed by globose, BLACK berries.
Ivy was sacred to Dionysius (Bacchus), the god of wine; if bound to the brow, it was supposed to prevent intoxication. Wreaths of Ivy symbolize fidelity and were part of the marriage ceremony in ancient Greece. They were banned by the early Christian church as a pagan custom."
RHS ENCYCLOPEDIA OF HERBS, Deni Bown, 2008
'GARDENERS URGED TO LET IVY FLOURISH TO  SAVE BEES'   
 Growing ivy in gardens may help to prevent the decline of honeybees
'Scientists have found that Ivy is one of the most important plants to provide nectar for bees. They found that honey bees rely upon ivy for the majority of the pollen and nectar they collect during the autumn months, a crucial time when the insects are trying to build up stores for the winter and feed their young. 

The researchers are now urging gardeners not to rip up ivy when tidying their gardens this summer. Honeybees have suffered large declines in Britain with numbers halving in the last 25 years while wild bees such as bumblebees are also suffering.'  

Science Correspondent Richard Gray, in his April 25 2013 column for The Telegraph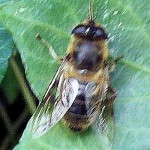 Richard Gray quotes Guy Barter, chief adviser at the RHS: 'As gardens have become smaller, old buildings have disappeared and gardeners become more tidy minded, I suspect the amount of mature ivy has been decreasing'…
http://www.telegraph.co.uk/gardening/beekeeping/10206225/Radar-antennae-reveal-how-disease-and-pesticides-are-harming-bees-navigation.html
  Scientists at The University of Sussex want to encourage the public to identify insects that visit Ivy flowers, to help monitor pollinator numbers. By tapping into their website you can take part, read about their work and download their pamphlet Appreciating Ivy and its Insects
http://www.sussex.ac.uk/lasi/resources/education/ivyvisitors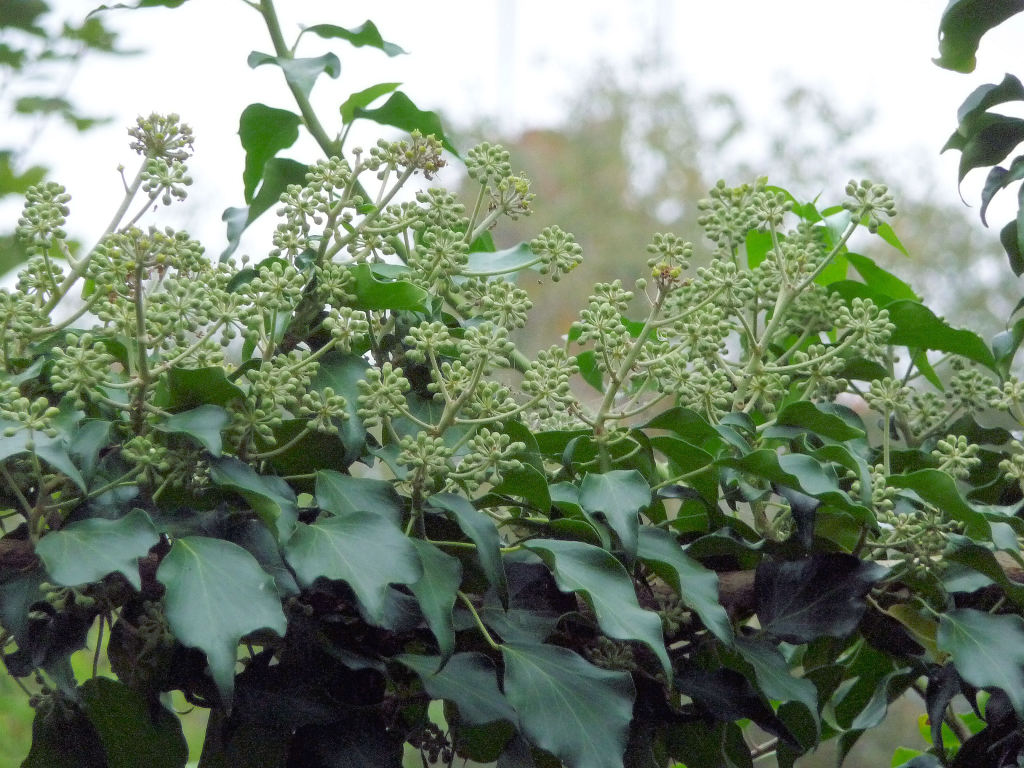 Ivy that is constantly clipped does not flower. When allowed to grow freely, Hedera helix's leaves change shape – from five lobes to something more oval – and it produces globose flowers on stalks.
Other names: Bergflétta, bindwood, common ivy, Efeu, gort, gum ivy, ifig, kissos, lovestone, true ivy, winter-green, winter-grunt, woodbine.
 We make a point of not being as TIDY MINDED as those (often property developers, tidying up a property they want to sell) who rip up mature ivy in local gardens & toss it into skips to be carted away.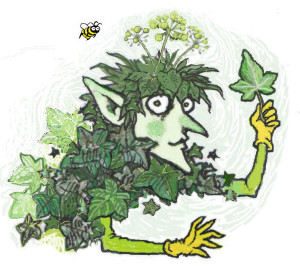 The spirit of our wildlife garden is called Hedera Vetch. When a plot of soil presents itself, seemingly crying out for some colourful blooms, Hedera Vetch will ask "Have you got enough Ivy? Do you really want to give that spot to something that will cease to bloom come autumn, offering nothing to our bees? Why not indulge in a little Hedera helix?"
RF, our first gardener, planted Ivy to grow along our brick walls down the years, providing shelter for many creatures, berries for birds & nectar for bees in the shank of the year… Thank you, RF!