FOXGLOVE (Digitalis purpurea)
Europe
The Foxglove's tubular flower bells hang from spires that can reach six feet in height. Flower colours vary from PINK to MAGENTA with black and white markings inside the thimbles. The plant flowers in midsummer, in full sun to part shade. This is a wildflower that looks at home in a cottage garden or any garden.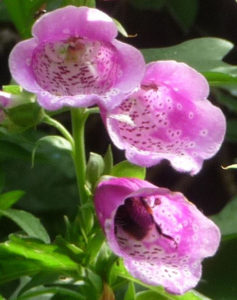 Digitalis purpurea is biennial, blooming every other year, capable of producing over a million seeds. Yet the 'self-seeding' that some gardeners take for granted never happens here, & we have no Foxglove dynasties. Foxglove seeds must be tasty treats for North London wildlife.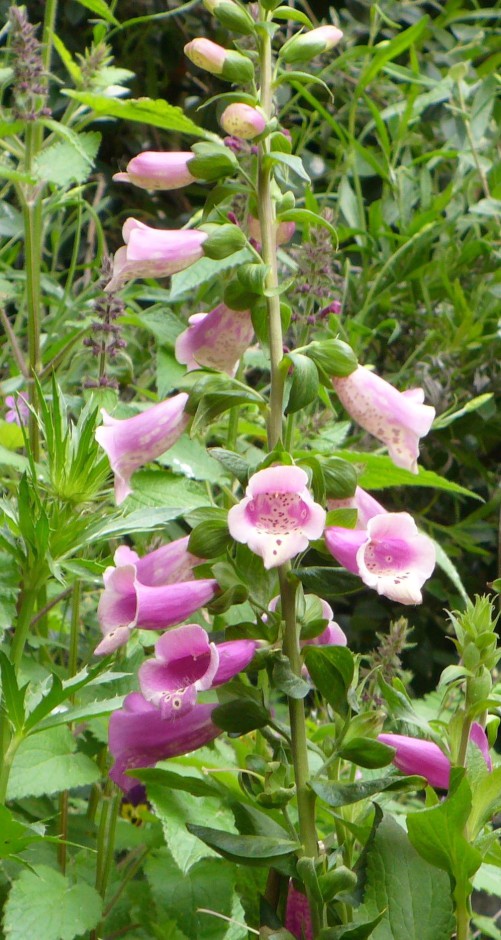 Bees' Favourite.
Bumblebees are the chief pollinators of the Foxglove. The joy of having one of these wildflowers in your garden is seeing the bumblebees buzzing slowly in and out of the thimbles.
One year we had a hybrid Digitalis; it produced beautiful blooms for months, but not a single bee came to visit its fairy thimbles. In a small garden, a Foxglove that is not bee-friendly is a waste of garden space. Digitalis x mertonensis, with the pinky purple blooms shown in these photos, has done well for us.
Go to Dave Goulson's lab at Sussex University for their selection of flowers (including the Foxglove) rated best for bees :
http://www.sussex.ac.uk/lifesci/goulsonlab/resources/flowers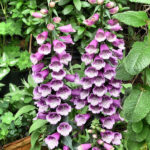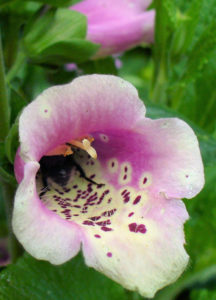 "If you want a foxglove that will last more than two years, then Digitalis x mertonensis may fit the bill…  'the progeny of a mixed marriage between Digitalis purpurea and Digitalis grandiflora – it was raised in 1926 at the John Innes Horticultural Institution in Surrey. The flowers are the colour of strawberry sorbet made from fresh berries and each bell is slightly squashed and broadened, an inheritance from Digitalis grandiflora. The basal leaves are large with a slight sheen. And it breeds true from seed."
Carol Klein in The Telegraph
http://www.telegraph.co.uk/gardening/howtogrow/3300521/How-to-grow-Foxgloves.html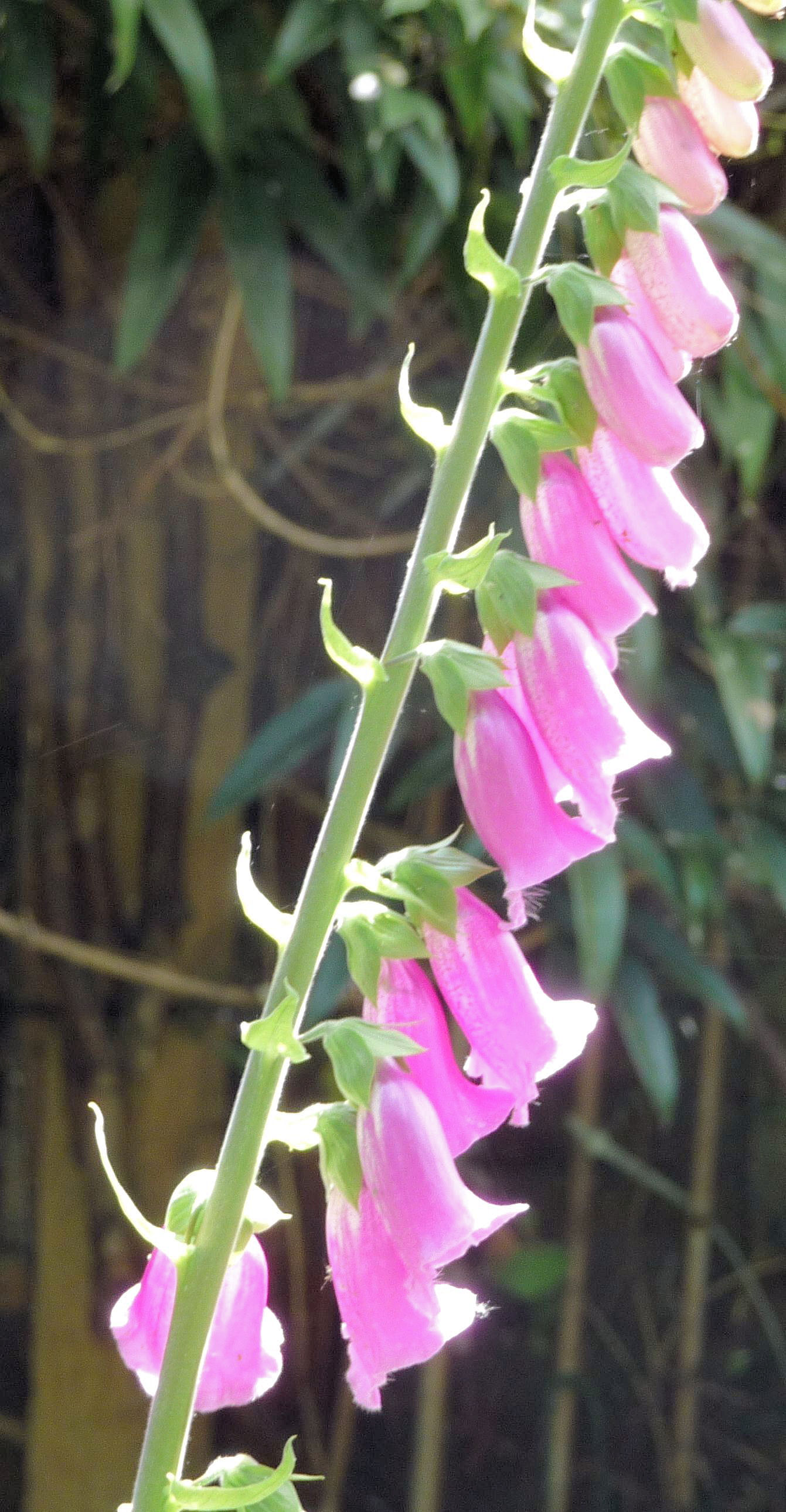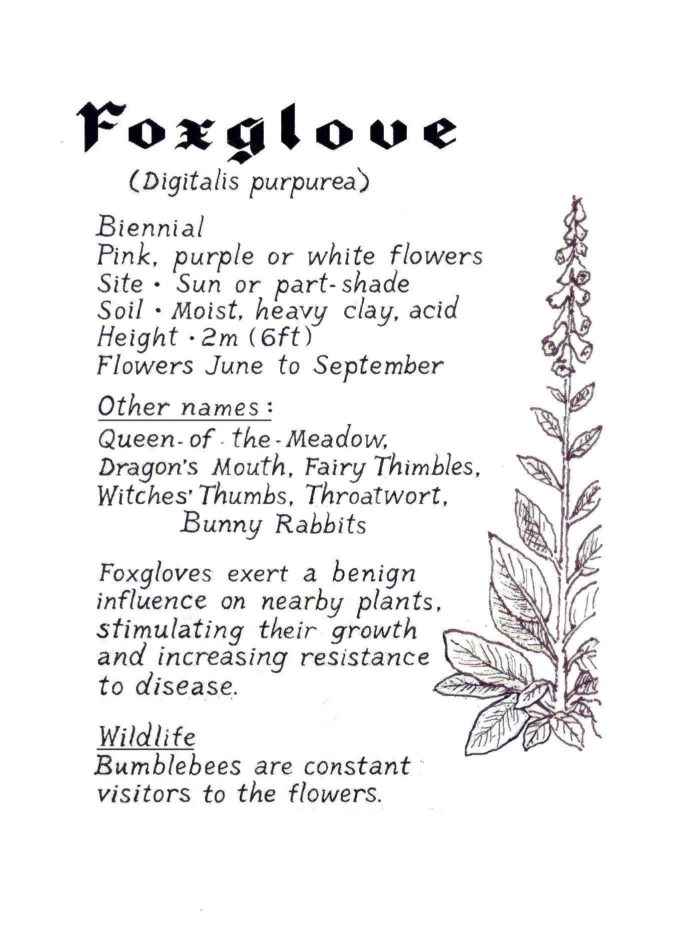 The Foxglove was discovered by William Withering to contain digitalis, a substance useful in the treatment of heart conditions.
http://www.kew.org/science-conservation/plants-fungi/digitalis-purpurea-common-foxglove  
Doctor Foxglove
"They will improve the storage qualities of such things as potatoes, tomatoes and apples grown near them."

THE COMPLETE OLD WIVES' LORE FOR GARDENERS, Maureen and Bridget Boland

The Bodley Head, London 1977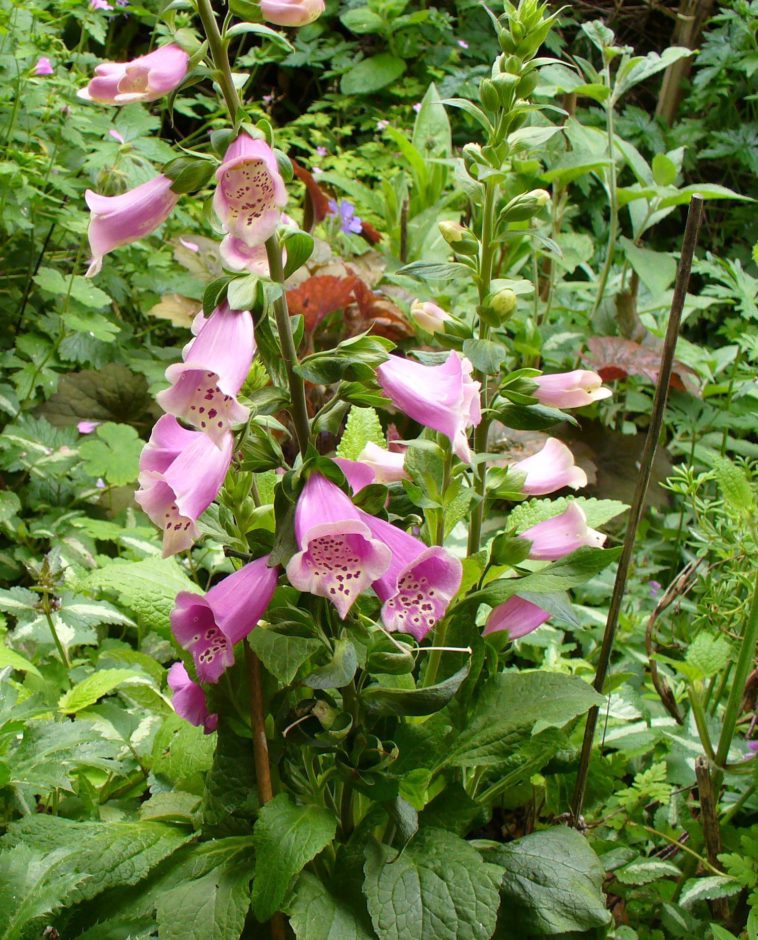 Other names: Bee Hives, Dead Man's Bells, Dead Man's Thimbles, Duck's Mouths, Fairy Bells, Fairy Fingers, Fairy Gloves, Fairies' Petticoats, Flap Dick, Flap Dock, Flappy Dock, Flock, Goose Flops, Granny's Bonnets, Granny's Gloves, Hedge Poppy, Hill Poppy, Lady's Slipper, Lady'sThimble, Tod-tails.
2016 : This season, when our Foxglove had gone over, we planted a Chinese Foxglove from Camden Garden Centre next to the spot it had occupied. Rehmannia 'Magic Dragon' was said to be attractive to bees, & its MAGENTA PINK flowers do look like palatial versions of our native Foxglove. Bees did discover & visit the Magic Dragon, & the plant bloomed on until October.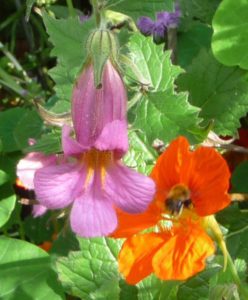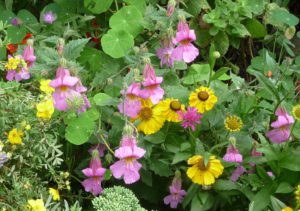 We found a number of sites on the internet with advice on Rehmannia.
Rehmannia Walberton's Magic Dragon: http://magicdragonplant.info/