FOXGLOVE (Digitalis purpurea)
Europe, Asia, Northeast Africa

Digitalis purpurea is a tall, elegant wildflower of woodlands, hedgerows and cleared land.
The Foxglove does well in part sun or shade. This plant is a biennial – in its first year it puts out a rosette of leaves close to the ground.  The following year a flower spike arises which may reach 5 feet in height.
Buds on the spike open into thimble-shaped bells with freckled interiors. The freckles are 'honey guides' which act as signs for bees landing on the lower lip, pointing the way to the nectar at the back of the thimble.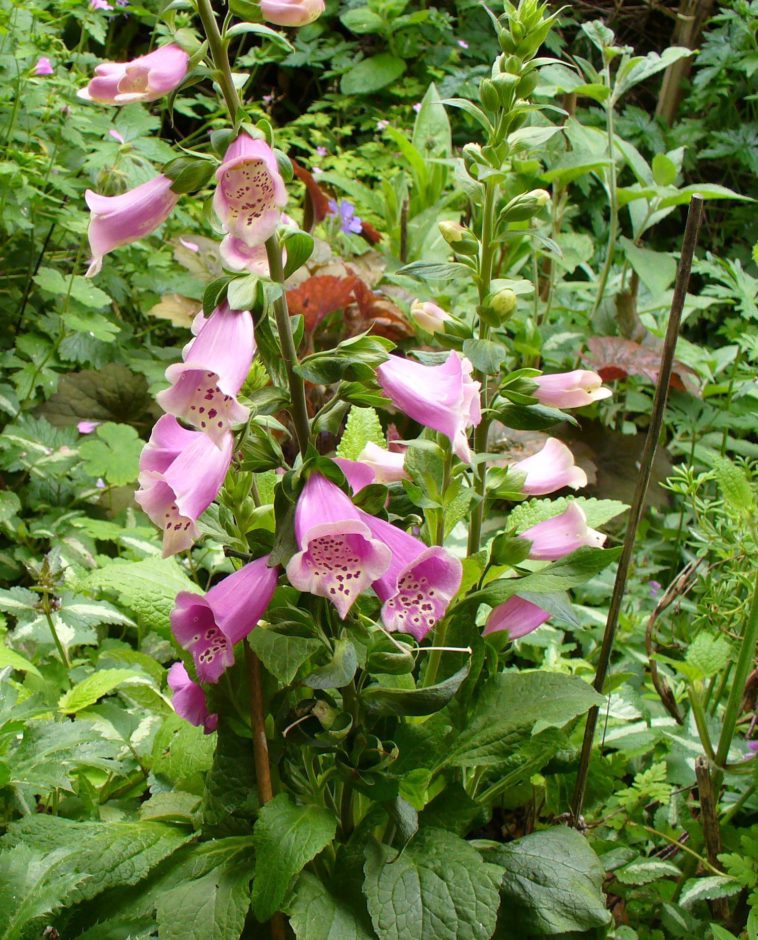 Toxicity
This most beautiful of wildflowers is quite toxic, to humans and animals, from cats and dogs to all manner of poultry. Something to keep in mind when planting where children can reach the thimbles. For details on the poisonous nature of this plant, go to WIKIPEDIA:  https://en.wikipedia.org/wiki/Digitalis
The Foxglove was found by William Withering to contain digitalis, a substance useful in the treatment of heart conditions.  An Account of the Foxglove, Dr Wm Withering, 1785.
Folklore
When the Foxglove nods its head it was believed, in Wales and Southern England, that this was to acknowledge that a fairy was passing by. In Ireland, however, it was thought that the Foxglove would nod its head if one of 'the gentry' was passing by.
A Foxglove grown in the garden was believed to keep evil at bay, but bringing the blooms inside was thought unlucky as it might bring the fairies inside as well.
A Norse tradition told of spirits giving Foxglove blooms to foxes; worn on their paws, they were to muffle any sound they might make when entering a henhouse…
"In medieval gardens, the plant was believed to be sacred to the Virgin Mary, and. in the earliest recordings of the 'Language of Flowers', foxgloves symbolised riddles, conundrums, and secrets. However, we are told that by the time the Victorian era came along, they had been devolved into the more negative symbol of insincerity.
They say that in the Scottish borders, foxgloves leaves were strewn about babies' cradles for protection from Foxglove bewitchment, while in Shropshire they were put in children's shoes for the same reason; not forgetting that the leaves were considered as a cure for Scarlet Fever."
   Foxgloves: Beauty and Danger! – Norfolk Tales, Myths and More!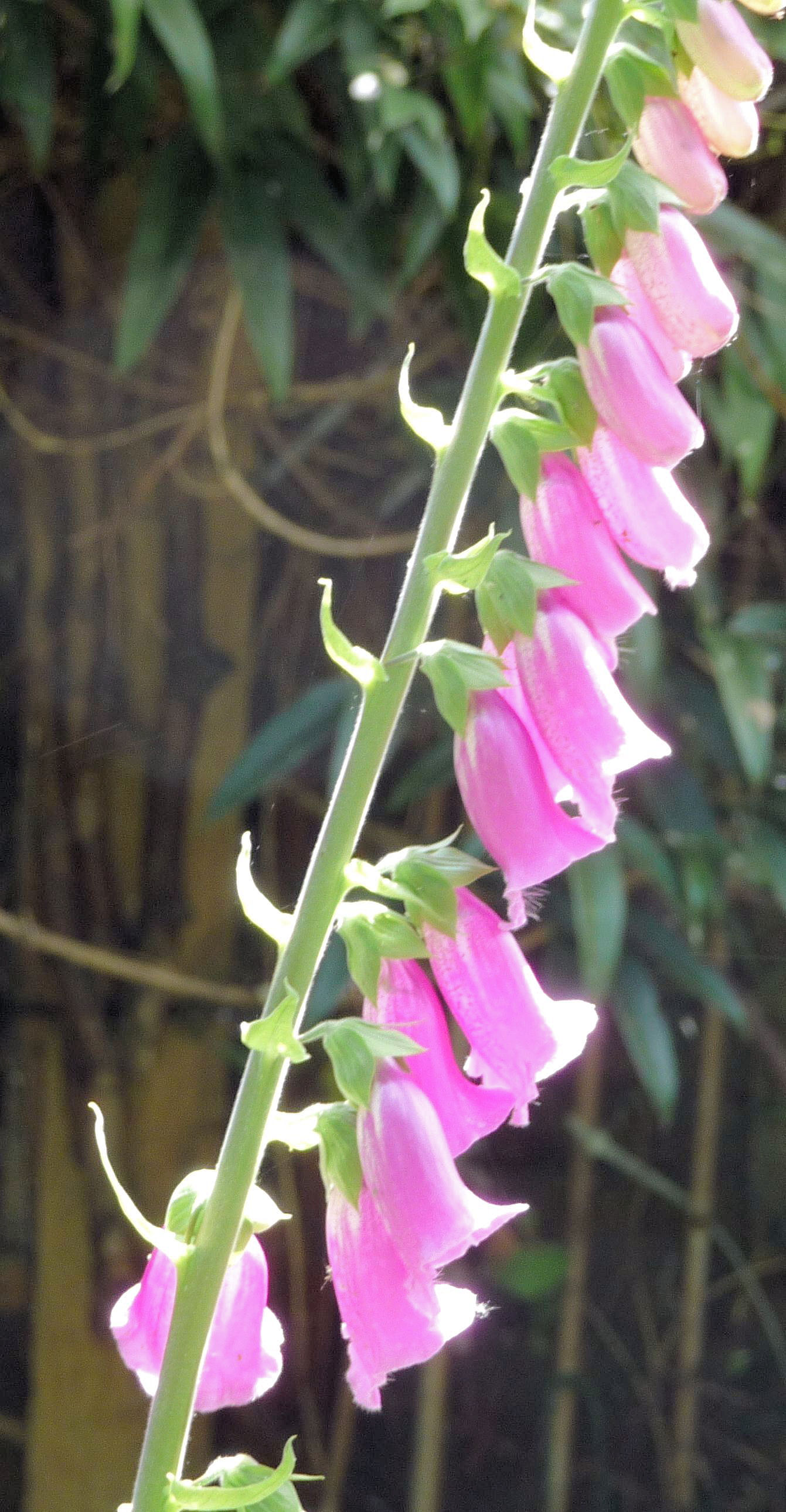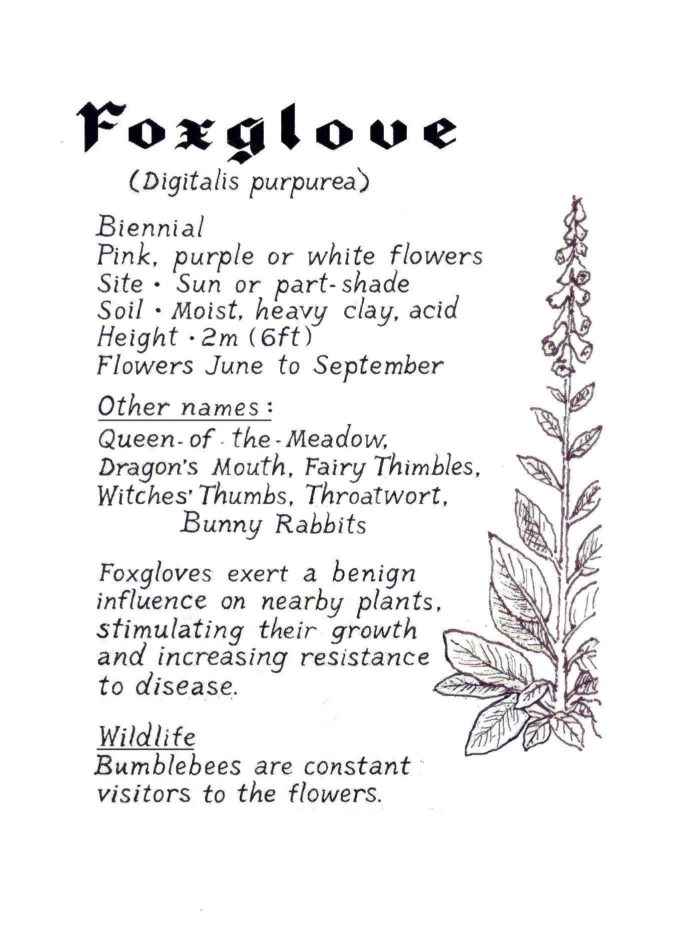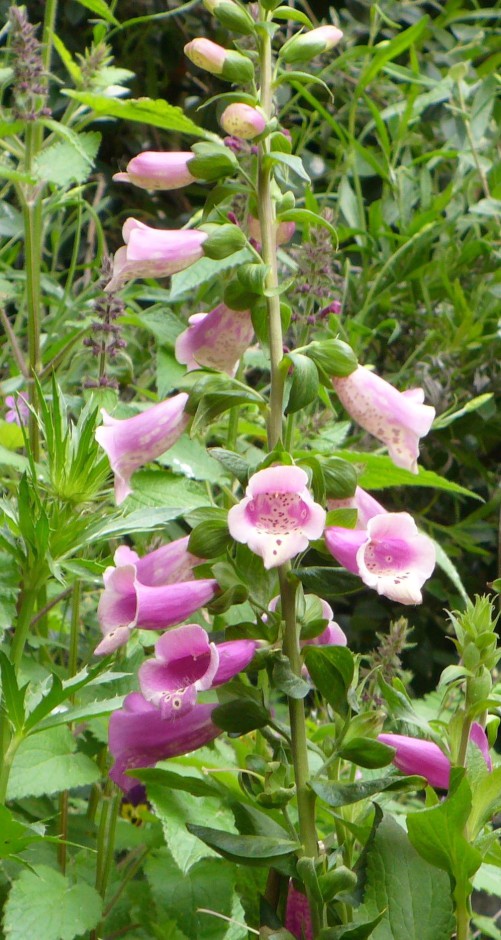 http://www.kew.org/science-conservation/plants-fungi/digitalis-purpurea-common-foxglove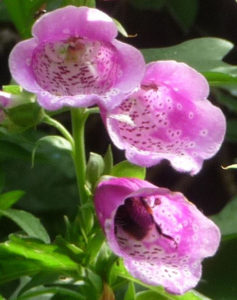 Bees' Favourite.
Bumblebees are the chief pollinators of the Foxglove. The joy of having this wildflower in your garden is seeing the bumblebees buzzing slowly in and out of the thimbles.
One year we had a hybrid Digitalis; it produced beautiful blooms for months, but not a single bee came to visit its fairy thimbles. In a small garden, a Foxglove that is not bee-friendly is a waste of garden space.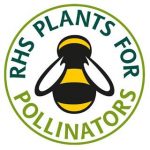 Dave Goulson's lab at Sussex University has a selection of flowers (including the Foxglove) rated best for bees :http://www.sussex.ac.uk/lifesci/goulsonlab/resources/flowers
Wildlife
The flowers of the Foxglove are eaten by the larva of the Foxglove Pug Moth, while its leaves are consumed by the larva of the Lesser Yellow Underwing; it is a secondary foodplant for the Heath Fritillary.
 Foxgloves in The Garden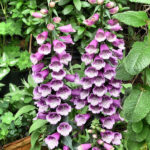 Because it seeds prolifically – one plant is capable of producing over a million seeds – one plant can make many more Foxgloves. We have had a number of Foxgloves, but we have had no dynasties. Any seeds must have been eaten by our North London wildlife.
Doctor Foxglove
"They will improve the storage qualities of such things as potatoes, tomatoes and apples grown near them."   THE COMPLETE OLD WIVES' LORE FOR GARDENERS, Maureen and Bridget Boland, The Bodley Head, London 1977
"Although we associate it with woodland, the foxglove is essentially a hedgerow plant. It thrives best in dappled shade and is perfectly adapted to cope in sites where light varies throughout the day. It is an invaluable asset in a country where most gardens are small and separated from each other by hedges, fences or walls: perimeters are the most awkward areas of the garden but exactly the sort of venue this plant would choose for itself."   www.grownintheUK.co.uk
.
Other names: Bee Hives, Bunny Mouths, Bunny Rabbits, Cowflop, Dead Man's Bells, Dead Man's Thimbles, Dragon Mouth, Duck's Mouths, Fairy Bells, Fairy Fingers, Fairy Gloves, Fairies' Petticoats, Ffion (Welsh), Fingerhut (German), Flap Dick, Flap Dock, Flappy Dock, Flock, Flop-poppy, Flop-top, Gap-mouth, Goblin's Gloves, Goose Flops, Granny's Bonnets, Granny's Gloves, Hedge Poppy, Hill Poppy, Lady's Slipper, Lady'sThimble, Lus Mor (Gaelic – 'The Great Herb'), Maneg Ellyllyn (Welsh – 'The Good People's Glove'), Popdock, Purple Foxglove, Rabbit's Mouth, Rabbit's Flowers, Revbielde (Norwegian), Scabbit dock, Throatwort, Tiger's Mouth, Tod-tails.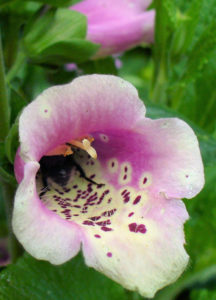 "If you want a foxglove that will last more than two years, then Digitalis x mertonensis may fit the bill…  'the progeny of a mixed marriage between Digitalis purpurea and Digitalis grandiflora – it was raised in 1926 at the John Innes Horticultural Institution in Surrey.
The flowers are the colour of strawberry sorbet made from fresh berries and each bell is slightly squashed and broadened, an inheritance from Digitalis grandiflora. The basal leaves are large with a slight sheen. And it breeds true from seed."
Carol Klein in The Telegraph      http://www.telegraph.co.uk/gardening/howtogrow/3300521/How-to-grow-Foxgloves.html
Foxgloves in Highbury
We have had foxgloves over a number of years. Digitalis x Mertonensis has done well for us.
Foxgloves 2016 
This season, when our Foxglove had gone over, we planted a Chinese Foxglove from Camden Garden Centre next to the spot it had occupied. Rehmannia 'Magic Dragon' was said to be attractive to bees, & its MAGENTA PINK flowers do look like palatial versions of our native Foxglove. Bees who had visited the thimbles of the native Foxglove did find those of the Magic Dragon's equally attractive, & the new plant bloomed on until October.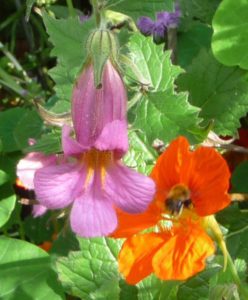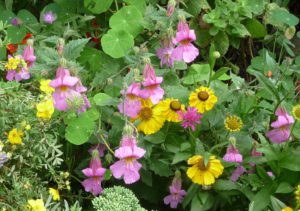 Rehmannia Walberton's Magic Dragon: http://magicdragonplant.info/
2020 Lockdown Foxgloves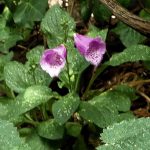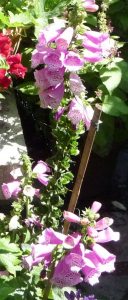 After lockdown eased, these foxgloves were bought from the fruiterer nearest us on Blackstock Road. They were planted in a spot at the back of the garden near the birdfeeders.
Bumblebees were happy to visit the flowers, especially the large buzzy one who lives nearby in the rodent hole by the compost heap. One morning when dawn was at 6.30 am this bumblebee was already at work… at 7.30 pm as dusk approached, it was still going.
Morning Glories, Foxgloves & Salvia Hotlips were our garden's best bumblebee blooms this season. Today, 10th October 2020, one foxglove trumpet remains.