GERANIUM 'PHILIPPE VAPELLE' (Cranesbill)
Caucasus
 Geranium Philippe Vapelle is an evergreen perennial from the Caucasus. Leaves of this Cranesbill form a velvety mound of soft, blue-green foliage.
 LAVENDER BLUE flowers with deeply notched, heavily veined petals appear in June. They are in bloom all too briefly here, from June to July.
This easy-to-grow plant enjoys moist but well-drained soil, in sun or light shade.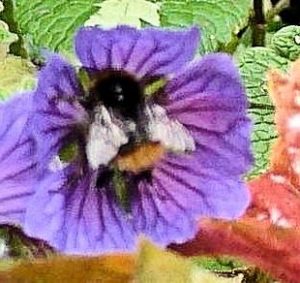 How Did it Get Its Name
Philippe Vapelle was the grandfather of the plant's raiser Ivan Louette, who crossed Geranium Renardii with Geranium Platypetalum.  "Ivan Louette formerly worked as a municipal official in Chaumont-Gistaux (Belgium). He was permitted to grow his trials of geraniums in the gardens of the town hall."     Saya, The Netherlands, Dave's Garden May 12, 2008.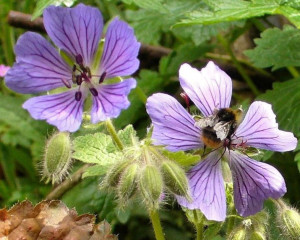 Bees' Favourite.
Throughout its all too brief flowering time (usually only a few months here in London), Geranium 'Philippe Vapelle' is sought out and visited by attentive pollinators, especially bumblebees.
'Philippe Vappelle' at Highbury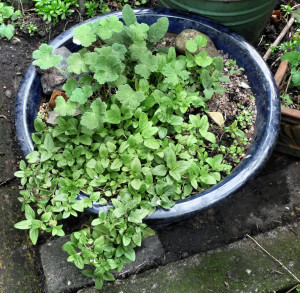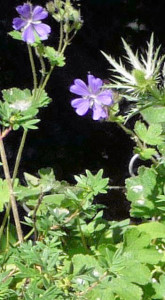 Like our other Hardy Geraniums, Philippe Vapelle has proved trouble-free. It has suffered with no pests or diseases, coming back year after year. When its foliage and flowers are spent, they are trimmed back. Before long, fresh evergreen growth rises at the base of the plant, growth which usually lasts through the winter.
RF the gardener may have brought this plant back from the Colombia Road Sunday Market. For years its name was unknown to us, & we referred to it by the shape of its leaf: the Kidney Geranium.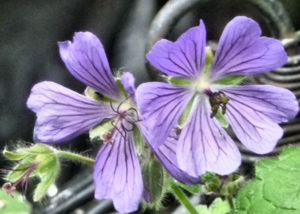 Val Bourne in SAGA magazine recommends 'Philippe Vapelle' with other Geraniums for its summer flowering.
'Philippe Vapelle'  Green scalloped leaves topped by gappy violet-blue flowers. The soft foliage is very pretty so the fact that it flowers once shouldn't put you off (15in/ 35cm).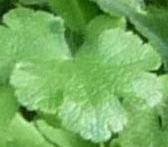 "When the plant begins to look ragged, typically after a couple of months, its possible to chop it back hard. Hardy Geraniums respond within days, sending out new leaves and then flowering four weeks later. This makes them versatile and useful with roses, peonies and other herbaceous plants.