GERANIUM x Oxonianum (Cranesbill) 'Wargrave Pink'
G Endresii (Pyrenees, Spain) x G versicolor (Mediterranean)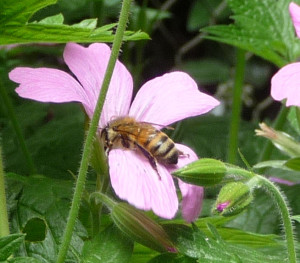 This Hardy Geranium has been called 'robust', 'vigorous' & 'a prolific flowerer'. Its PINK funnel-shaped flowers with notched petals appear in springtime above a cloud of soft green foliage. Pests & diseases do not trouble it.
Planted in full sun or part shade, in any but waterlogged soil, 'Wargrave Pink' will  bloom into autumn. Pinch off flowers that have gone over to prolong its blooming season. Cut back hard in midsummer -' RF relied on doing 'The Chelsea Chop'. If soil is kept moist, the plant should make more flowers.
When its flower seed is ripe the fruit capsule springs open, flinging seeds some distance away. Come springtime, new plantlets of HG 'Wargrave Pink' appear some distance from the parent plant.
Geranium x Oxonianum is the name given to hybrids between G. endressii and G. versicolor by Dr. Peter Yeo (Hardy Geraniums 1985). 'Wargrave Pink' was introduced in 1930 by Waterer, Sons & Crisp; it was found in their nursery by their foreman, Mr W. Wright.
 For RHS trials of Hardy Geraniums see:  https://www.rhs.org.uk/plants/pdfs/plant-trials-and-awards/plant-bulletins/geranium-stage-1