HONEYSUCKLE (Lonicera periclymenum)
Europe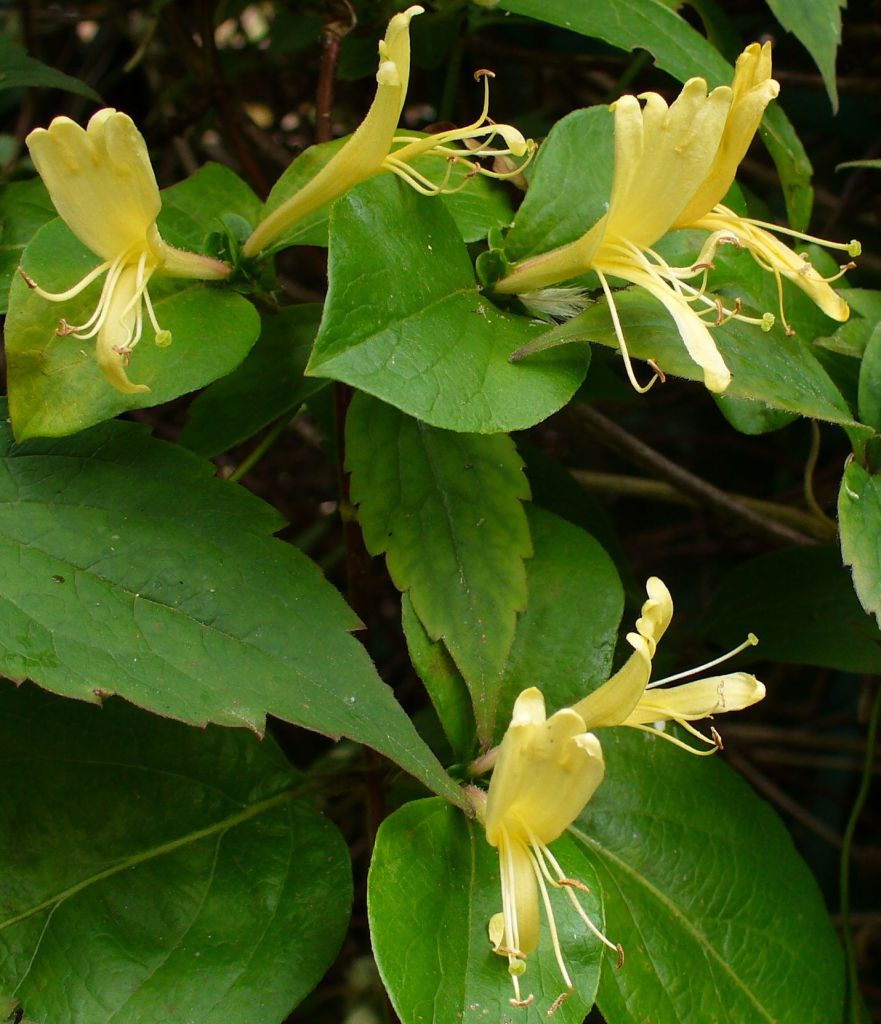 There are other cultivars of this climber, but it is this native Honeysuckle, with its fragrant, creamy YELLOW flowers, that spills over the walls of front gardens in our neighbourhood. When the season favours Lonicera periclymenum, every Honeysuckle will be a mass of delicate flowers that invite passerby to come closer and breathe in their fragrance. Flowers appear from May/June to August, followed by red berries in autumn. These turn black and are available for the birds.

Bees' Favourite.
Honeysuckle is wildlife-friendly; its nectar attracts bumblebees and night-flying moths. Bumblebees whose tongues are too short may resort to biting a hole in the base of the flower tube to reach the nectar. Moths visiting the flowers include Convolvulus Hawk-moth, Privet Hawk-moth, Elephant Hawk-moth, Small Elephant Hawk-moth, Lime Hawk-moth, Shark, Lychnis, Silver Y and Puss Moth. When no insects visit the flower it may be self-pollinated.
The RHS and The Wildlife Trusts' Wild About the Garden website has a list of the 30 best plants for all bumblebees, whatever the length of their tongues. Honeysuckle is among the top 30.
http://www.wildaboutgardens.org.uk/index.aspx
Used as an antiseptic, Lonicera periclymenum ' in small doses, is a useful addition to cough mixtures.'

RHS ENCYCLOPEDIA of HERBS and THEIR USES, Demi Bown
 It was believed that if honeysuckle grew around the entrance to a house it prevented a witch from entering. If it grows well in your garden, then you will be protected from evil.
The black berries of Honeysuckle are highly toxic. The leaves have anti-inflammatory properties. Flowers and flower buds are used in various infusions and tinctures to treat coughs, catarrh, asthma, headaches and food poisoning. The leaves and flowers are rich in salicylic acid and are used to relieve headaches, colds, flu, fever, aches, pains, arthritis and rheumatism.
Other names: Evening Pride, Irish vine, Fairy trumpets, Goat's Leaf, Gramophone Horns, Kettle Smocks, Lamps of Scent, Honeybind, Sweet suckle and Trumpet flowers.
silentowl: Folklore of the Hedgerow Part Ten
http://amayodruid.blogspot.co.uk/2011/04/folklore-of-hedgerow-part-ten.html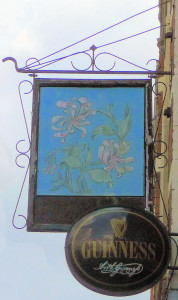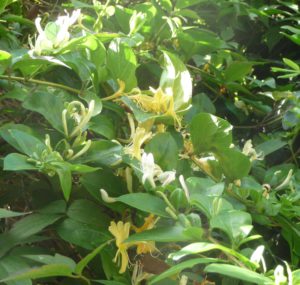 The native Honeysuckle, also known as Woodbine, is enjoyed in the countryside now as it has been for centuries:
'Oh how sweete and pleasant is Woodbinde, in Woodes or Arbours, after a tender soft rayne, and how friendly doth this herbe if I may so name it, imbrace the bodies, armes, and braunches of trees wyth his long winding stalkes and tender leaves, opening or spreading forth his sweete Lillies, like ladies fingers, among the thornes or bushes.'
Bulwarke of defence against all sicknesse, soareness, and woundes that doe dayly assault mankinde, gathered and practised by William Bullein, Doctor of Physicke, 1562, London.
GREEN MAGIC – FLOWERS, PLANTS & HERBS in LORE & LEGEND, Lesley Gordon