MORNING GLORY (Ipomoea tricolor) 'Heavenly Blue'

South & Central America
This elegant climber has heart-shaped leaves, SKY BLUE trumpet flowers with CREAM throats & buds like furled satin brollies. Flowers open in the morning, lasting for only a day.  In our climate, Ipomoeas bloom from springtime till first frosts.
https://www.gardenersworld.com/plants/ipomoea-tricolor-heavenly-blue/
https://www.thespruce.com/morning-glory-flowers-2132143
This is The Royal Horticultural Society's listing for pollinators/Morning Glory ipomoea 'Heavenly Blue'. The RHS obviously holds a wealth of information about the plant somewhere, but not on this website.

RHS Plants for Pollinators – "This plant will provide nectar and pollen for bees and the many other types of pollinating insects."  https://www.rhs.org.uk/Plants/106149/i-Ipomoea-i-Heavenly-Blue/Details
 Bees' Favourite.
On sunny summer's days, bees and other pollinators drift slowly from one sky blue flower to the next. As the insect disappears into the trumpet, it remains visible – seen through the flower as a shadow silhouette.
RF our gardener raised Morning Glories from seed in his airing cupboard. He kept a gardening journal – noting what was flowering & when, the date he acquired a plant, the weather… His father raised Morning Glories in his greenhouse. In the growing season, when they spoke on the phone, Morning Glory numbers were compared – 'The MG Count.' 'Twenty-three today!' RF consulted journals from previous years for the MG count of the day.
Years ago I tried growing Morning Glories from seed, on a windowsill. I had a rescue kitten at the time; the sound of seeds rattling in the packet (they are the size of peas) caught her attention, and she batted most of them into crevices behind the kitchen skirting boards. Those I managed to retrieve and plant did grow, but in that damp kitchen it was a race against time to see which plants could avoid death by damping off.
If you can grow Morning Glory from seed where I could not, or if you can find a young MG on sale in spring, do have a go. The buds unfurling, the  opening of the flowers, that dazzling colour – even in a windowbox with a few canes as a makeshift trellis, on a day when the MG count is only one, everything about this plant is worth it.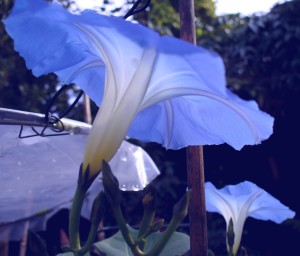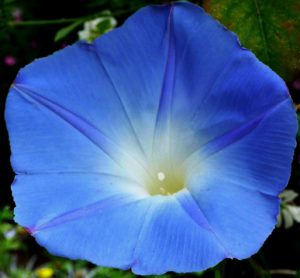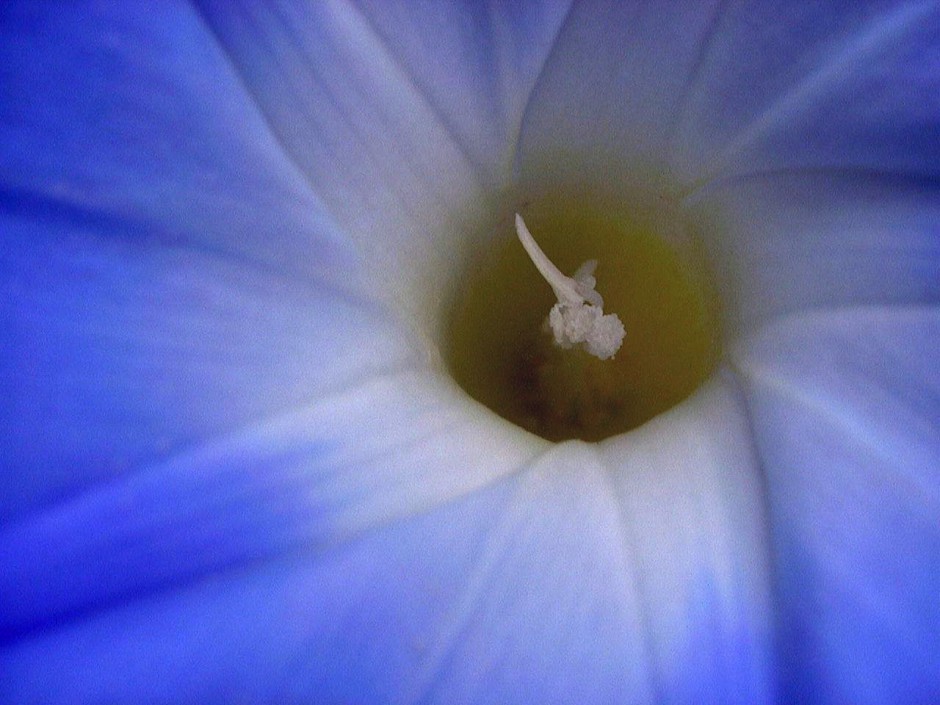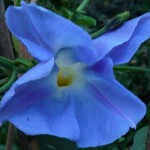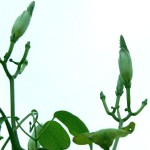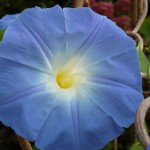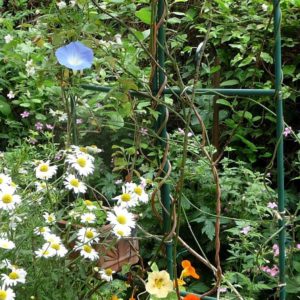 When we stopped using the blue snail pellets, slugs and snails savaged any MGs planted out in the ground. Our solution was to plant them in pots and hang them on the rose arch, wrapping copper tape round its uprights, close to the ground.
I now also use small bits of copper pipe, left after a plumbing job. An electric charge is said to surge through the slug or snail as they come into contact with copper, making them drop off.