LESSER KNAPWEED (Centaurea nigra)
Europe
Lesser Knapweed is a perennial, found on clay soils throughout Europe. It grows to a height of 3ft on poor ground, reaching 4ft in enriched garden soil.
At Highbury it overwinters with a circle of green leaves at ground level & the dry brown stems of last year's plant, which we leave in place. In spring, new stems rise from fresh leaves & masses of knobbly brown buds form at the stem-tips.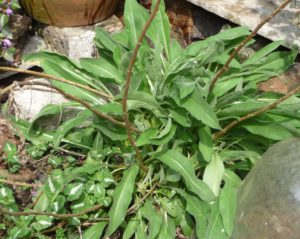 By June these dusty buds open into small 'shaving brushes' with shaggy LAVENDER heads. They are pollinated by bees, flies, moths & butterflies.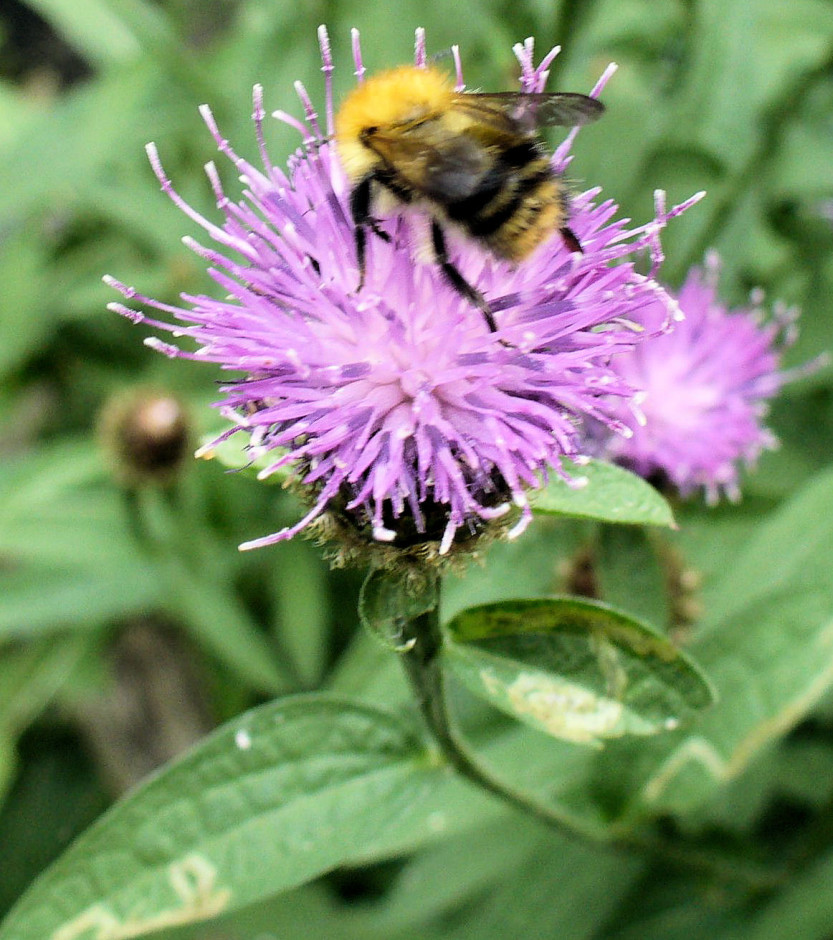 Although Centaurea nigra can flower until September, it usually only blooms until late August here in North London. But for every day a flower blooms it is a magnet for insects. You can almost hear the bees sigh as they fly in to find that the last shaving brush has gone over.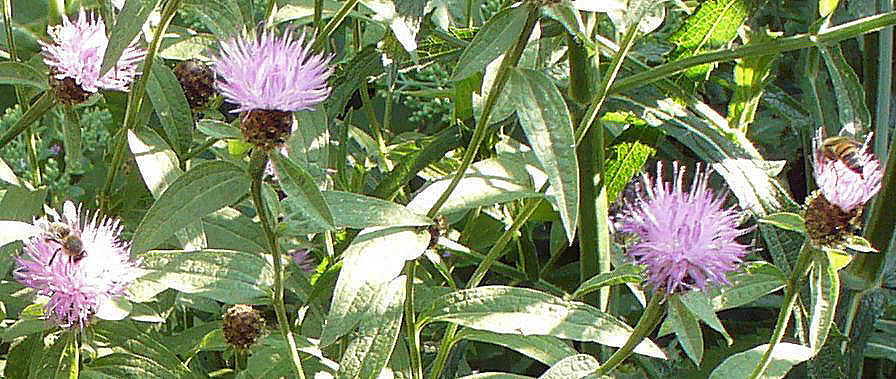 Bees' Favourite
It is as though bees overfly the garden in spring, keeping watch on the Knapweed. When its brown buds have at last become shaving brushes, the pollinators come. Soon the air above the Knapweed is alive with insects seeking pollen and nectar. Around the UK bees, moths, hoverflies & butterflies – including Brimstone, Comma, Common Blue, Large Skipper, Marbled White, Meadow Brown, Painted Lady, Peacock & Small Tortoiseshell – visit this wildflower.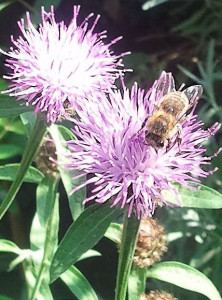 Wildlife Drawn to Knapweed's Nectar

Pollinators come for the nectar the plant provides. " It was rated in the top 5 for most nectar production (nectar per unit cover per year) in a UK plants survey conducted by the AgriLand project which is supported by the UK Insect Pollinators Initiative. It also placed second as a producer of nectar sugar per floral unit among the meadow perennials, in another study in Britain.
In Europe, the plant is an important source of food for the European goldfinch, honey bee, lime-speck pug moth, and the following butterflies: large skipper, meadow brown, small heath, painted lady, peacock, red admiral, small copper and small skipper."
wikipedia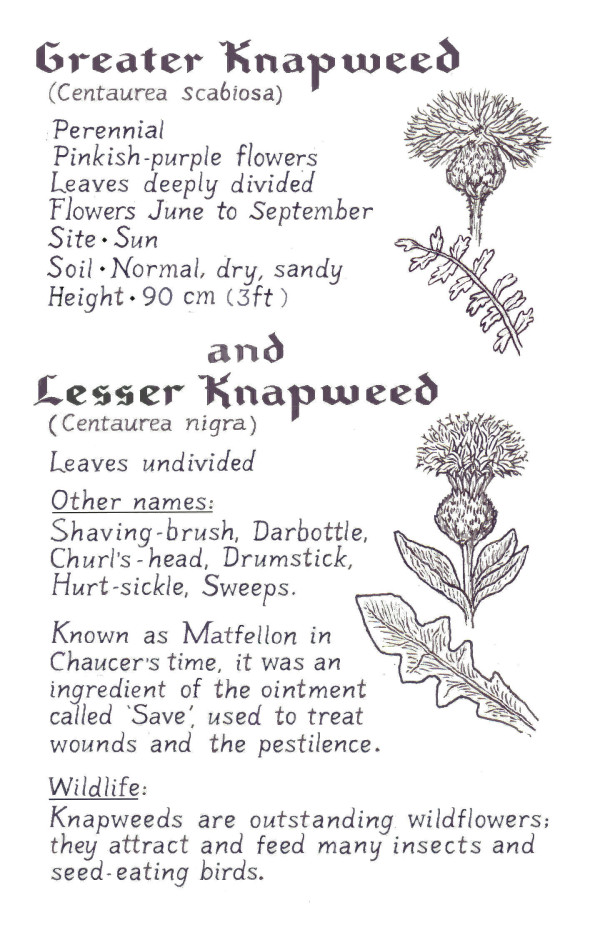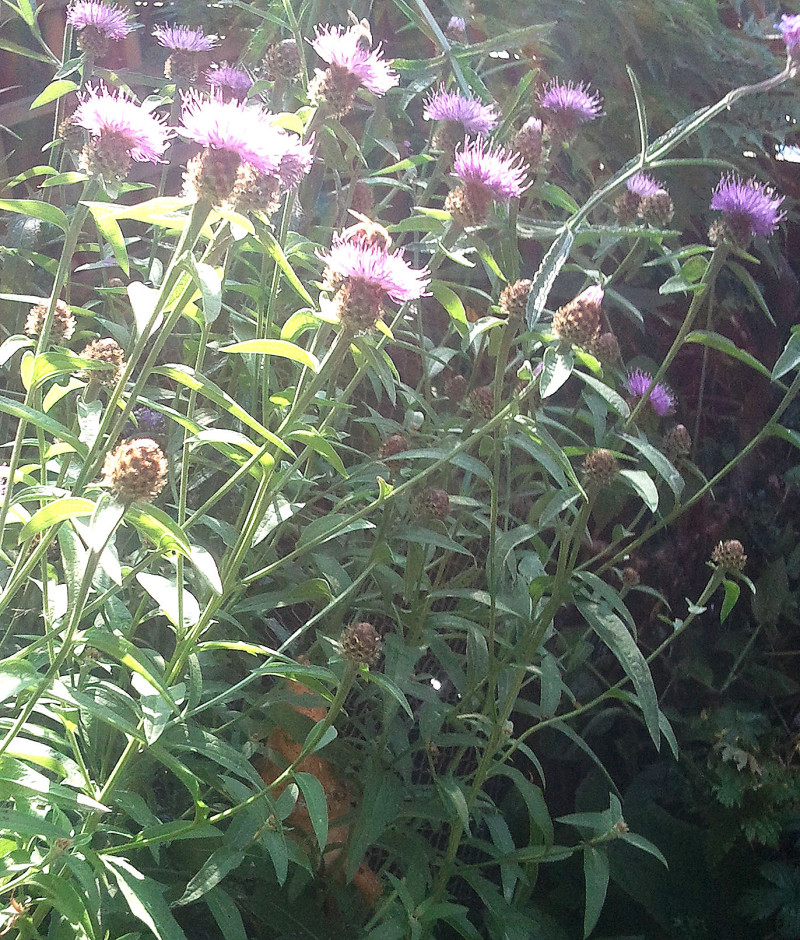 Other names: Bachelors Buttons, Black Knapweed, Blue Bottle, Bunds, Centauree Noire,  Dromedary, Drummer Boys, Drummer Heads, Gnat-flower, Hackymore, Hairy Head, Hard Hack, Hardheads, Hickymore, Horse Hardhead, Horsehoof, Horse Knot, Iron Knobs, Ironweed, Isenheard (Old English), Knot-weed, Lady's Cushion, Spanish Buttons, Yronhard & Zwarte Knoop.

http://www.blissfulbees.com/the-wildflowers
Soil Conditioner
"It is one of the most amazing Bee plants around. with its late fall blooms bees can forage on it when nothing else is around. I have a big patch of it on our property. we were worried because we were told that it will take over and its "invasive" we left it for the bees and found out that it is a miracle plant! the poor soil 8 years ago is now rich and so much grows in it now! plus once the soil gets to nutrient rich the knapweed dies back!! so not only did it provide food for our bees, replenish the soil with its tap roots pulling nutrients up it then dies back once its completed this process….now I find out we can eat it! YAY."
ABBAS, http://herbs-treatandtaste.blogspot.com/2011/10/knapweed-almost-forgotten-medicinal.html
Greater Knapweed (Centaurea scabiosa) is also a magnet for pollinators. Find UK grown knapweed, available from :
British Wild Flower Plants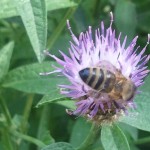 This Norfolk company began in 1986 & now has over 300 species of native wildflowers, all grown peat and pesticide free. They have supplied wildflowers for our local nature reserve, Gillespie Park, for Ecology Centre wildflower sales & planting on the reserve.
Plant plugs, in trays of 52 or 104, & plants in half-litre pots are available most of the year. Download their list, updated daily, of what is available. Today, 7th December 2018, their list has both Greater Knapweed (51 in 9cm pots & 1791 plugs) & Lesser Knapweed (17 in 9cm pots & 6606 plugs.)
http://www.wildflowers.co.uk/plants.html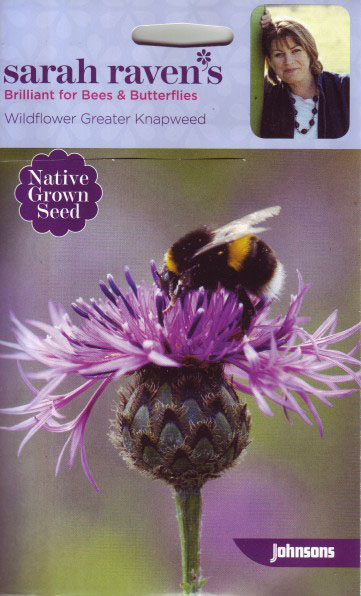 Sarah Raven's Wildlife Attracting Flower Range on the Johnsons Seeds website,
Also available from a garden centre near you.
https://www.johnsons-seeds.com/Flower-Seed_0/Brilliant-for-Bees-Butterflies/
Plantlife Shop, working with John Chambers Wildflower Seeds, have a species-rich mix, "Perfect for pollinators:  Packed with nectar and pollen rich flowers to keep the bees, hoverflies, butterflies and other pollinators happy from spring to autumn. Contains 12 British Native Wildflower species suitable for most conditions, including betony, wild carrot, greater knapweed, wild marjoram, mustard garlic, field scabious, teasel and viper's-bugloss."
https://shop.plantlife.org.uk/collections/wildflower-seeds