LOVAGE (Ligustrum vulgare)
C Asia, The Mediterranean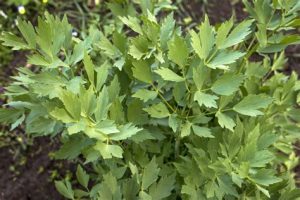 Each year this aromatic perennial from RF's sunny herb garden grew to a height of six feet. In June and July umbels of YELLOW flowers appear at the top of the hollow stems. A most impressive plant.

Lovage smells of celery when its stems are damaged, as happened often during the nightly catfights. ('What happened here?' RF The Gardener, hands on hips, found inspecting broken Lovage stalks & overturned pots near the herb garden.  'Catfight. 3AM. Woke me up'.)
"Lovage is a bit of a bruiser – it will grow to two metres in five years & spread similarly so give it space & be prepared to cut it down regularly. It likes partial shade (given a choice, let it have shaded roots & head in the sun, like clematis) & will prefer a moist soil."            Leigh Sexton, Forgotten Herbs to Grow, http://www.herbexpert.co.uk/forgotten-herbs-grow-sorrel-lovage-summer-savory-angelica.html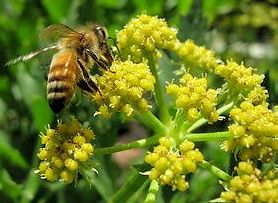 Bees' Favourite.
Bees love Lovage. The large yellow umbellifers act as landing pads & bees forage across the flowers taking in the nectar.
If your garden has space enough in which to grow some Lovage, bees will find it.
Medicinal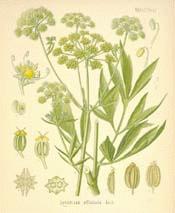 Ligustrum vulgare was deemed one of the wonder drugs of the day (1597) by John Gerard and used to treat jaundice, colic and fever in children. An alcoholic cordial, made from Lovage, sugar and brandy, was used to soothe stomach upsets. The plant has been made into a herbal remedy for sore throats as well as an aphrodisiac.
'An infusion of the root was recommended by old writers for gravel, jaundice and urinary troubles, and the cordial, sudorific nature of the roots and seeds caused their use to be extolled in 'pestilential disorders.' In the opinion of Culpeper, the working of the seeds was more powerful than that of the root; he tells us that an infusion 'being dropped into the eyes taketh away their redness or dimness…. It is highly recommended to drink the decoction of the herb for agues…. The distilled water is good for quinsy if the mouth and throat be gargled and washed therewith…. The decoction drunk three or four times a day is effectual in pleurisy…. The leaves bruised and fried with a little hog's lard and laid hot to any blotch or boil will quickly break it.'          Maud Grieve, A Modern Herbal, 1931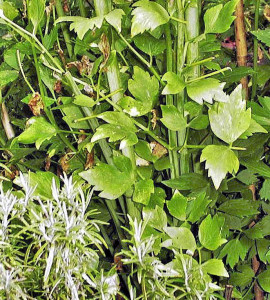 Herbs were grown in Monastery gardens and used for dying, strewing, culinary and medicinal purposes. At Norton Priory Monastic Gardens in Cheshire, Europe's most excavated monastic site, archaeologists have uncovered some 900 years of history. In the recreated herb garden, herbs are grown that monks would have used to treat diseases suffered by those living at the Priory. One malady, tuberculosis, was treated with coriander, garlic, elecampane – and lovage.
 The herb garden was made as part of the BBC's 'Hidden Gardens' programme. The Norton Priory site is a haven for wildlife, and  over a thousand different species have been recorded here.
Visit the website: http://nortonpriory.org/
Culinary
"The Romans brought with them spices such as ginger, pepper and cinnamon, and herbs including borage, chervil, dill, fennel, lovage, sage and thyme, all of which have remained staples of the British kitchen."  Monty Don, Herbal Remedies, The Telegraph, 2006. https://www.theguardian.com/lifeandstyle/2006/ma/19/gardens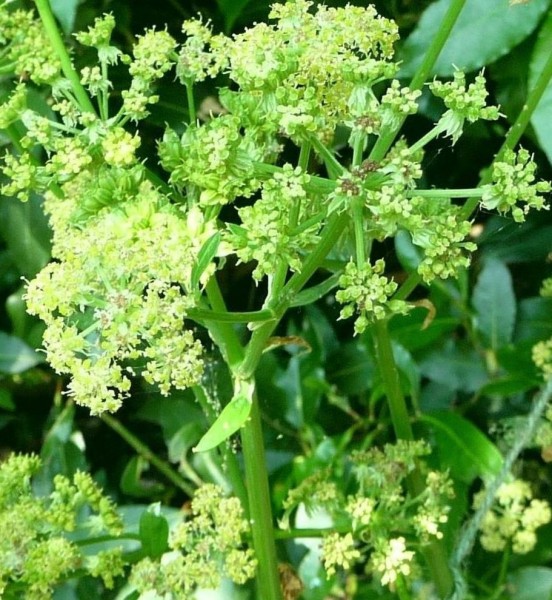 Lovage was used in cooking by the ancient Greeks and the Romans. Today Levisticum vulgare is a popular flavouring for potato dishes in Germany, and for tomato sauces in Italy. It was set down in a 9thC edict by Charlemagne as one of the culinary and medicinal herbs to be grown in every Imperial garden in his empire.      Gernot Katzer's Spice pages: http://gernot-katzers-spice-pages.com/engl/Levi_off.html
'Lovage is a perennial herb that has been long cultivated in Europe, the leaves being used as an herb, the roots as a vegetable, and the seeds as a spice, especially in southern European cuisine. It brings fresh taste to soups, beans, fish, tomato sauces, pickles, etc.  …   a wonderful way to anchor a dish with deep, verdant flavour, like adding a bass line to a piece of music. It has something of the same deep, savory character as celery, but is also spicy, peppery and pungent.'http://www.seedaholic.com/lovage-levisticum-officinale.html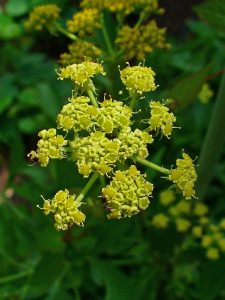 'The flavour is like parsley and celery combined with a hint of aniseed and curry… So why aren't we all using it by the handful and why is it virtually impossible to buy?… Today I'd like to redress the balance a bit. I want you to feel the lovage – give it a small corner of your garden, find it a place in your kitchen, and it might find a place in your heart…' Recipes: Lovage, Lettuce, Pea and Cucumber Soup & Courgette and Lovage Pasta.   Hugh Fearnley-Whitingstall www.theguardian.com/lifeandstyle/2011/jun/24/lovage-recipes-hugh-fearnley-whittingstall
Other names: Ache de Montagne (French), Apio de Monte (Spanish), Badekraut (German), Bladder Seed, Celeri batard (French), Celery perpetual, Cornish Lovage, Echte liveche, Guljavitsa, Harilik, Krovavnik, Lavas, Leeskputk (Estonian), Lestyan (Hungarian), Leustean (Romanian); Levistiko (Greek), Libecek (Czech), Libbsticka (Swedish), Liebstockel (German), Ligustico (Italian), Liperi (Finnish), Listikka (Finnish), Liveche, Loevstikke (Danish), Lopstikke,  Love Parsley, Loveache (Middle English), Lubbestok, Lekarski (Polish), Luststock, Lyubystok (Ukrainian), Maggi, Maggikraut, Maggiplant, Mankracht (Dutch), Mountain Celery (Italy), Mountain Hemlock, Sedano di Monte, Seseli, Skessujurt (Icelandic), Zorya (Russian).