CREEPING BUTTERCUP (Ranunculus repens)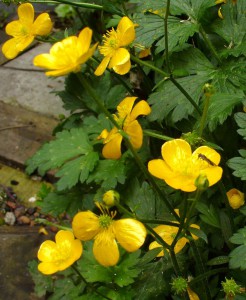 Europe, Asia, NW Africa
"Creeping Buttercup is our most familar Buttercup – the buttery-yellow flowers are like little drops of sunshine peppering garden lawns, parks, woods and fields."  The Wildlife Trusts
Widespread throughout Britain, Ireland & most of mainland Europe, Creeping Buttercup  is also native to North Africa & Asia. This native perennial wildflower is found in parks & gardens, damp, shady spots, meadows & woodland edges: it also grows by roadsides where it tolerates strong winds.
Although it is a delight to see the yellow cups sprinkled over a green lawn, the plant puts out a formidable network of roots & runners –  it can be a weed & a nuisance in gardens.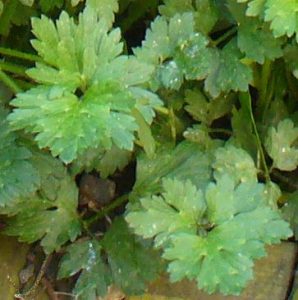 Ranunculus repens is 2 to 3 inches tall; its hairy, lightly spotted leaves are divided into three lobes with frayed edges. Between May and August the flowers appear on short stems, glossy five-petaled YELLOW cups.
Bees Favourite
Nectar & pollen from the Creeping Buttercup attracts flies, beetles & short-tongued bees.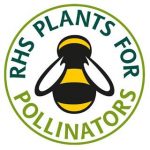 '… Buttercups are more than just pretty faces. These flowers are an important source of food for pollinators like bees and wasps, and they also provide natural pest control. …an ideal choice for window boxes, as they are compact and easy to care for. Plus, their cheerful blooms will brighten up your outdoor space.
Creeping Buttercup – Uses and Folklore,  Permaculture Apartment, Naomi Stephens, Mozilla Firefox. 
Creeping Buttercup at Highbury
Ours is a shy and retiring Buttercup. It has grown here against a strip of wood from the old greenhouse for decades, only ever managing a few flowers per season. When moved across the path to the shady border in 2013, it roused itself & flowered prolifically.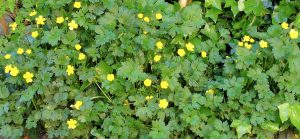 In 2014 the neighbouring Ivy had a good year and overgrew the Buttercup. During 2015, only a few morsels of Ranunculus repens remained.
Other names: Crazy Moir, Creeping Crowfoot, Devil, Sitfast, Yellow Cups.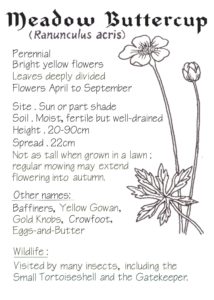 Here in our Highbury garden we also had Meadow Buttercup (Ranunculus acris) for a season. This plant's flowers are similar to those of our resident Buttercup, but its leaves are deeply divided.
Other names: Gil Cup, Golden Seal, Golden Stands, Goldy, Hop o' My Thumb, Lady's Slipper, Tall Buttercup.