POTENTILLA (Cinquefoil)
Northern hemisphere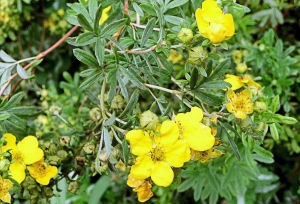 Potentilla, the Shrubby Cinquefoil, prefers full sun or light shade. It grows here in clay soil, but will tolerate rocky, alkaline, dry or poor soils as well.
In winter this perennial shrub is a pitiful sight – a mass of dry, brown, twiggy sticks. It really does look as though it will bloom no more. But in late spring small, neat sprays of mid-green leaves appear on the twiggery, & it comes back to life again.
Bees' Favourite.
Buds that look like tidy individually-wrapped parcels appear at the tips of the sprays in May, & open into bright YELLOW  flowers. They bloom to mid-autumn, visited by a succession of Bees & other pollinators.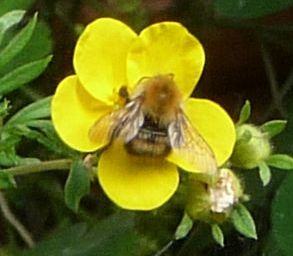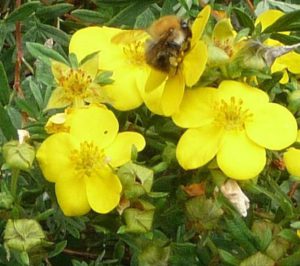 Low Maintenance
This was one of RF's plants, possibly from Highgate Garden Centre. It suffers from no pests or diseases & demands no special treatment, which makes it a reliable street shrub.
2013: Very few bees this year for the Potentilla. The long cold winter and wet spring have taken their toll.
2015: The Potentilla is having a good season. Many blooms, many pollinators, as witness the Hoverfly below.
2016: Another good year for the Potentilla. Winter and Spring may have been hard on some of its neighbours, but its many flowers had many visitors.