RED VALERIAN (Centranthus ruber)
S Europe, Mediterranean to Turkey, N Africa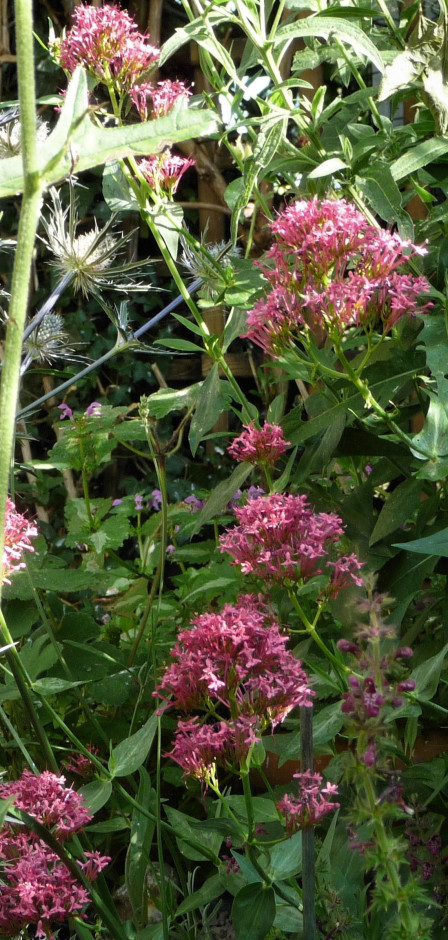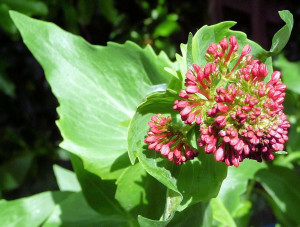 Matt RED flowers and grey-green leaves have helped this import from the Mediterranean find a place in our cottage gardens. Red Valerian flowers from April to October, when it spills over walls and stony banks. It prefers full sun, and adapts to soils that are poor, alkaline, moist or dry/well-drained, sandy or chalky.
Bees' Favourite.
Bees and butterflies are attracted to this plant. Centranthus is not to be confused with herbal Valerian (Valeriana officinalis), used by humans suffering from insomnia and loved by cats.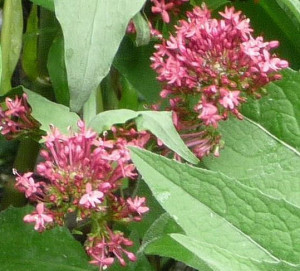 Our first Valerian, 'St George', was a mix of white and red flowers grown from seed. It struggled with invading Bindweed tendrils from the concrete garden next door, and was moved onto the earthwork.
Remove spent flowerheads to encourage more blooms. This will also prevent the formation of dandelion-like seed parachutes.  Here in the Highbury garden, we suspect that our plants' seeds are eaten by wildlife before they can become Valerian plantlets.
Other names: Drunkards, Drunkard's Nose, Drunken Sailor, Drunken Willy, Drunkits, Fox's Brush, Gipsy Lace, Good Neighbourhood, Good Neighbours, Jupiter's Beard, Keys to Heaven, Kiss Behind the Pantry, Kiss Me Quick, Kissing Kind, Kiss the Garden Door, Lady's Needlework, Pretty Betsy, Red Spur Valerian, Scarlet Lightning, Spur Valerian.