SWEET WOODRUFF (Galium odoratum)
Europe
The tough, shiny green leaves of Sweet Woodruff form a low-growing, carpeting mat. This is a plant which thrives in shade, looking lush & green. In May, tiny WHITE flowers that smell of honey & vanilla appear. They are used in potpourri, and as a moth deterrent. (Carpeting mat: A ground cover & green blanket to some, a thug to others.)
In a woodland garden, or near plants able to withstand its dense carpet, Galium Odoratum can look green & perfect. As no slugs or snails fancy it, the perfect leaves are never shot with holes. Plantlets appearing where they are unwanted can easily be pulled up in spring & planted elsewhere. When the sun shone on it, our garden cat Tiggy would throw himself, paws outstretched, onto a carpet of Sweet Woodruff for a fragrant nap.
'Woodruff is an herbaceous perennial plant native to Europe, N. Africa and Western Asia. The flower's sweet smell is due to the presence of coumarin… used mainly in Germany to flavour May wine… as syrup for beer (Berliner Weisse), ice cream, and medicinally as a herbal tea with gentle sedative properties… but beware, high doses can cause headaches, due to the toxicity of coumarin.'
http://theresagreen.me/category/flower-folklore/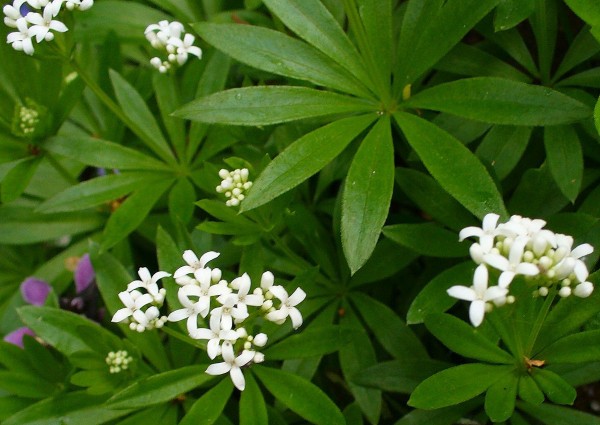 Other names: Asperula odorata, Hay Plant, Herb Walter, Kiss Me Quick, Ladies in the Hay, Lady's Needlework, Madder, Mugwet, Musc de bois (French, 'Wood Musk'), Our Lady's Bedstraw, Our Lady's Lace, Sweet Grass, Waldmeister (German, 'Master of the Forest'), Wood Rove, (Old English, 'Wuderove').
http://www.seedaholic.com/galium-odoratum-sweet-woodruff.html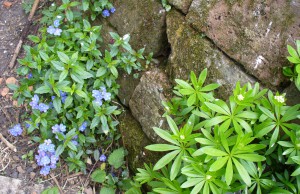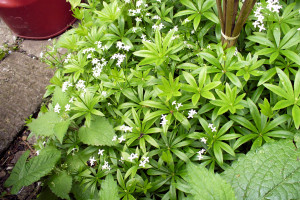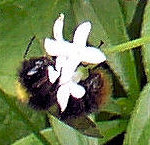 Sweet Woodruff has had many uses over time. Powdered leaves were put into potpourri & mixed with snuff; in the Middle Ages its fresh leaves, bruised & applied to cuts and wounds, were said to have a healing effect.
'The plant when newly gathered has but little odour, but when dried, has a most refreshing scent of new-mown hay, which is retained for years. Gerard tells us:

'The flowers are of a very sweet smell as is the rest of the herb, which, being made up into garlands or bundles, and hanged up in houses in the heat of summer, doth very well attemper the air, cool and make fresh the place, to the delight and comfort of such as are therein.'

In Germany, one of the favourite hockcups is still made by steeping the fresh sprigs in Rhine wine. This forms a specially delightful drink, known as Maibowle, and drunk on the first of May.

The dried herb may be kept among linen, like lavender, to preserve it from insects. In the Middle Ages it used to be hung and strewed in churches, and on St. Barnabas Day and on St. Peter's, bunches of box, Woodruff, lavender and roses found a place there. It was also used for stuffing beds.'

Maud Grieve, A Modern Herbal
  written to cope with medicinal needs of the First World War, published 1931.

https://www.botanical.com/botanical/mgmh/w/wooswe31.html