TEASEL (Dipsacus fullonum)
Europe, N Africa, W Asia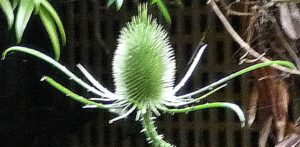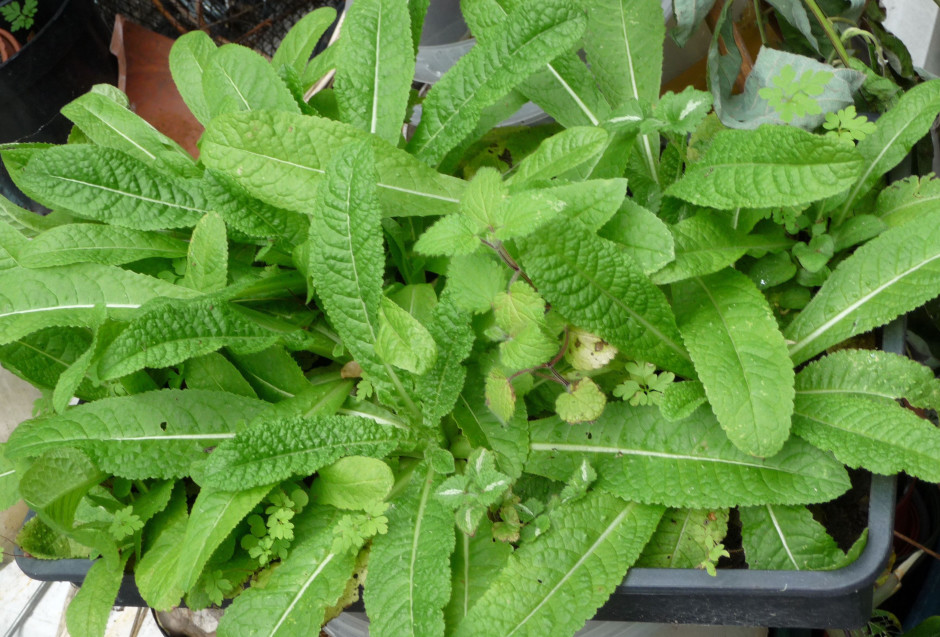 The Teasel is a tall, dramatic wildflower. It is a biennial that begins life as a rosette of leaves lying flat to the ground. The surface of each rounded leaf is a pattern of folds and bumps. In its first year, the Teasel can easily be pulled up and moved to a sunny spot where passing humans will not brush against it.
'Grow Teasel Plants in any fertile, moist soil, including heavy clay soils. Water Teasel plants regularly until fully established. Dipsacus fullonum will self-seed freely. If seedlings are not wanted, deadhead stems of Teasel flowers as the blooms fade.'  GOOGLE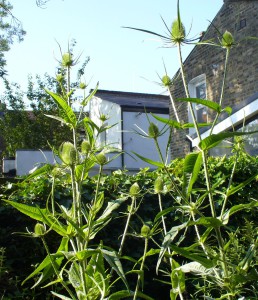 In its second year the Teasel grows like Jack's beanstalk. The rounded leaves become daggers, with prickles running from the spiny stem down to the now-pointy leaf tips.
Rainwater collects in the joins where the leaves clasp the stem, a feature of this plant ; its botanical name comes from the Greek 'dipsa', for thirst.
Barbed & protected from grazing animals, the prickly Teasel is free to grow, & can reach a height of 2.5 metres (8.2 feet). Spiky green, eggshaped 'thistles' appear at its stem tips.
Bees' Favourite.
Tiny LAVENDER PINK flowers appear in bands around these egg-shaped 'thistles' attracting bees, and butterflies such as the Red Admiral and the Comma. Seeds form later, enjoyed by Goldfinches and other birds.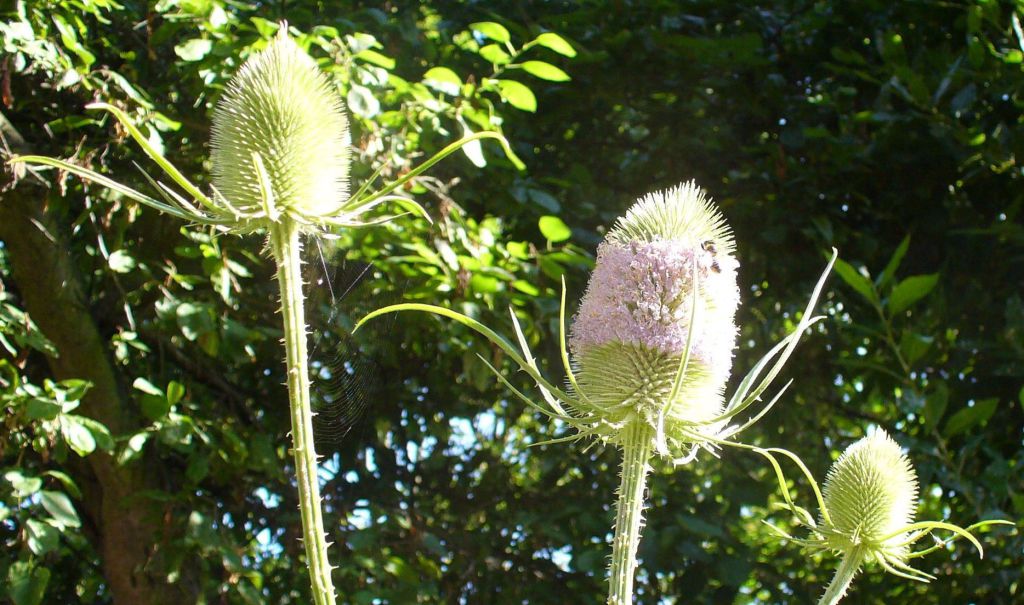 'The prickly heads were used for combing – 'teasing' – the knots out of sheep's wool.'

A LITTLE GUIDE TO WILD FLOWERS, Charlotte Voake

https://www.edenproject.com/shop/A-Little-Guide-to-Wild-Flowers.aspx
Other names:
 Gypsy-combs, Hair-Brush, Johnny-prick-the-finger, Lady's Brush and Comb, Lady's Brushes, Little Brushes, Teazel, Teazle, Venus' Basin, Venus' Cup. France: Cabaret des oiseaux, Cardaire sauvauge, Cardere des bois, Cardere sylvestre, Chardon des fores. Germany: Wilde karde. Sweden: Kardvadd.

Medicinal and Historical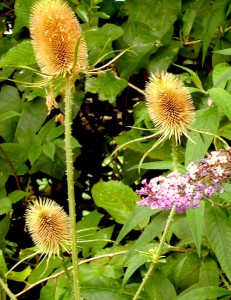 'Teasel helps with joint and tendon injuries, muscle pain and inflammation, chronic arthritis and lower back weakness. It is now being used for Lyme disease, ME and fibromyalgia.'Hedgerow Medicine
http://www.hedgerowmedicine.com/?herb=Teasel
DANUTeazles were employed in the cloth-making industry at least as far back as the Middle Ages, as they are mentioned in John Langland's "Piers Plowman" of 1377." A rough translation – "Cloth that comes from the weaving is in no way good to wear until it is fulled… and with the teazel scratched."
 http://herbs-treatandtaste.blogspot.co.uk/2011/07/teazle-brushes-and-combs-history-of-use.html
Other Uses:
A blue dye obtained from the dried plant is an indigo substitute. It is water soluble. A yellow is obtained when the plant is mixed with alum. Teasels are also occasionally grown as ornamental plants, and the dried heads are used in floristry.
PFAF Plants for a Future database – Mozilla Firefox. Dipsacus fullonum teasel, Fuller's Teasel.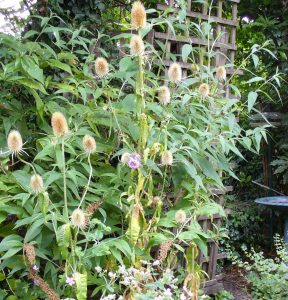 Warning – Prolific Maker of Seeds  
Dipsacus fullonum will grow in most soils, & each prickly head can produce as many as 2,000 seeds. In this garden our wildlife eats most of the plant's seeds, but a few usually survive to become new Teasels the following spring. In the USA, where it was introduced, Teasel is now an invasive species in some states.
In Christopher Lloyd's garden at Great Dixter, Teasels planted in the massive flowerbeds are left – dried, brown and dramatic – after the plants have finished flowering.
Here, in our somewhat more modest garden, we too leave the dried remains of our Teasels to stand through the coming winter.
VIDEO – COMMA BUTTERFLY ON TEASEL
VIDEO – TEASEL IN BLOOM, LATE AFTERNOON
VIDEO – SPENT TEASELS AT GREAT DIXTER