Cats! Cats! And Still More CATS!

CATS are much loved pets in Highbury, as elsewhere. Dogs must be kept on leads, and now must be microchipped… but cats are free to roam where they like, and some of them have an effect on the local wildlife.
After the little woodland behind our house was cut down, the neighbourhood cats began to visit our gardens. They balance on the fencetops like circus performers on a high wire, not looking down, walking nonchalantly along a surface only as wide as one paw. Often one of them will sit on the fence, all of its legs tucked in, looking totally relaxed as though it were resting on a soft cushion. You see this with dancers and figure skaters; while doing something incredibly difficult, they smile and make it all look so easy…
Summer 2014: this cat appeared on the wall of a Blackstock Road shop overnight. The grim reaper could have been asking 'Do you know who I am?' and the cat answering 'Ha! I have nine lives, you know.' The wall art disappeared under a coat of grey paint after a few days…
VIDEO – ZOOM CAT
This elegant mushroom tabby moved into our garden when builders were working on our neighbour's house. It found a sunny spot on our Clematis mound, and curled up just above the bank where suet feeders are visited by the birds.
The cat was seen waking from a snooze – it yawned, stretched, and pounced at a woodpigeon sitting on our hedge who just managed to flap of harm's way. Other birds, including one young starling, were not so lucky. When old Tiggy was alive, he would not have tolerated this cat in his garden. He would have seen it off.
For more on the life and times of  neighbourhood Top Cat Tiggy, go to the Matchday Cat page.
I.D. OF OUR LOCAL CATS
Neighbours whose cats have gone missing hang laminated appeals on the street trees with the cat's description, asking us to check our sheds & get in touch. Other than these named cats, we've only known a few local moggies by name… Freddie and McGuire. But, during repairs to one of our brick walls, a collar was found entangled in the old chainlink fence & dense Ivy that had grown over it.
Obviously a cat named Oscar got snagged climbing in and managed to rid himself of his collar rather than be strangled by it. His owners must have been cheesed off when he returned home collarless. We've no idea whether this happened decades ago or more recently – whether Oscar still prowls the gardens, has left the area, or is in Cat Valhalla with Tiggy.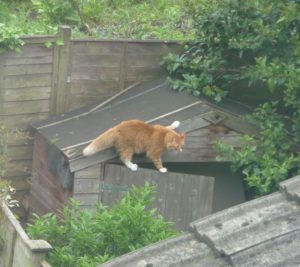 CAT DETERRENTS
Any of these cats may catch some of the unwary birdlife… Some of them persist in getting into our garden, stalking the birds at the feeders. Because everything is overgrown with a number of containers, there are places a cat can conceal itself. Electronic cat deterrents require flat spaces rather than nooks and crannies to reach the intruders.
Water
In New Zealand, friends Maureen and Ken were told by a neighbour that their new kitten was unwelcome in her garden and would feel the wrath of her garden hose when he transgressed. They have since moved, but Pepper would regularly appear with a drenched, soaking tail and back end…
Other Substances
Looking through the internet for ecological methods of deterring but not harming cats, we found this one from Wikipedia a contender. It is clearly illustrated, with a selection of substances easily obtained and applied. Rosemary, Witch Hazel, Cinnamon, Lemon, Citronella and others are combined in four possible mixtures. 'While it's difficult to convince cats to do anything they don't want to do, you can make homemade cat repellent that may convince cats to take their business elsewhere. Homemade cat spray is safe and environmentally friendly.'
We will look into the effectiveness of homemade cat repellents. (To be used on the garden surfaces, NOT the neighbours' much-loved cats.)
http://www.wikihow.com/Make-Homemade-Cat-Repellent
2019 – Highbury Cats