DINOSAURS
DINOSAURS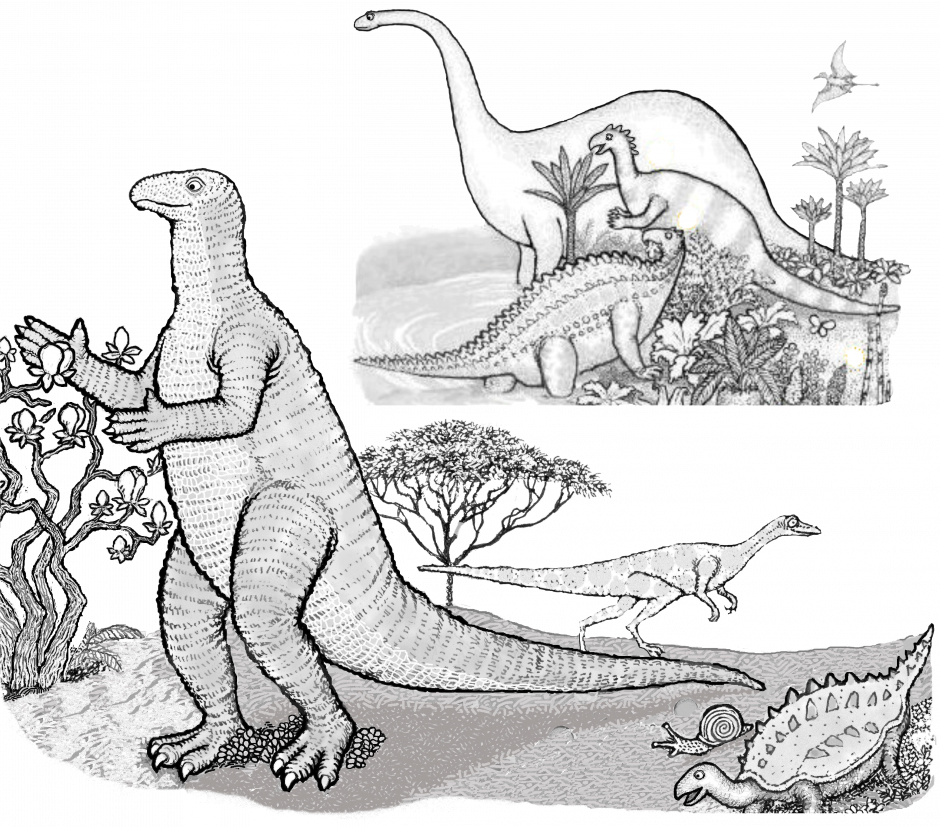 There was a time when the southeast of the UK, including what is now Highbury, was covered with warm shallow seas & swamps. Wildlife of the time evolved to suit the changing conditions. (See drop-down menu above for Highbury's Past/ to get some idea of life in the Jurassic & Cretaceous eras.)
Many Dinosaurs may once have roamed over Highbury.  Now only one local land-based Dinosaur remains – a working Dinosaur called Gunnersaurus. Could this be a  subspecies of Iguanodon? Possibly. A vegan or herbivore Dinosaur? Gunnersaurus gravitates towards crowds of humans in general & football fans in particular, with his work for Arsenal Football Club (27 years with the club) taking up much of his time.
We wondered if his predecessors might have played any sport similar to football, kicking around blobs of primordial ooze.  Gunnersaurus' answer to the question was 'no comment'. He is in demand for personal appearances, as in these photos from the FA Cup parade through Highbury & the Gillespie Festival, in addition to his work on the pitch.
Gunnersaurus on the pitch, at Gillespie Park Festival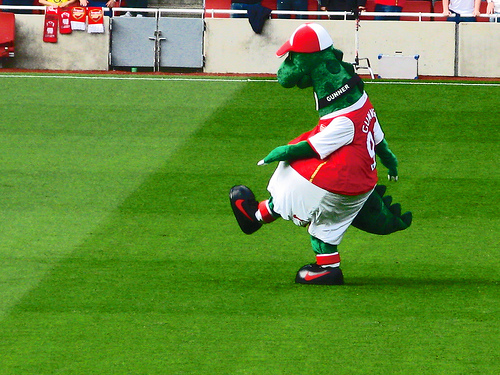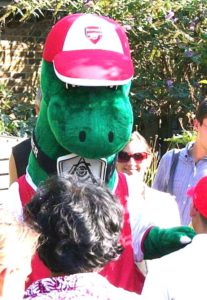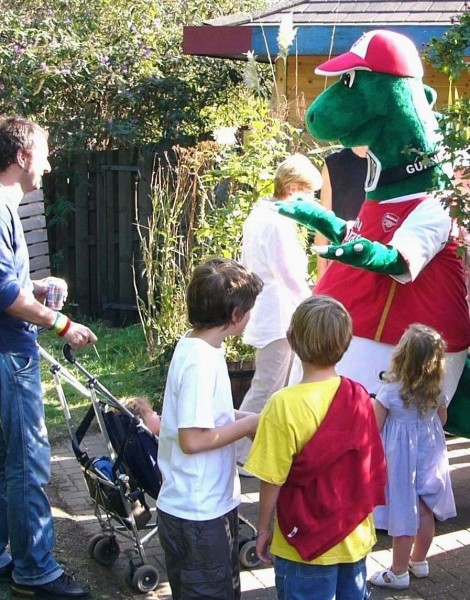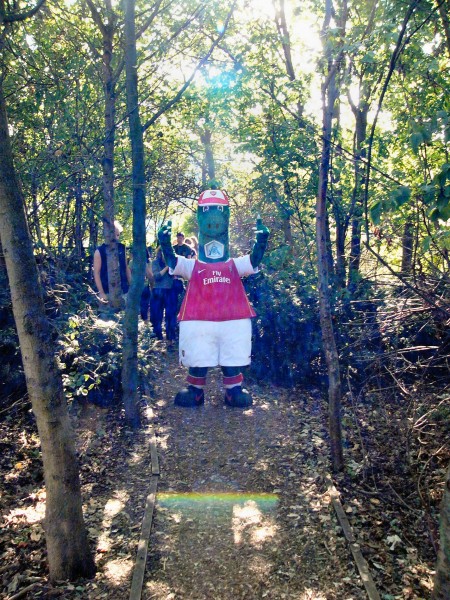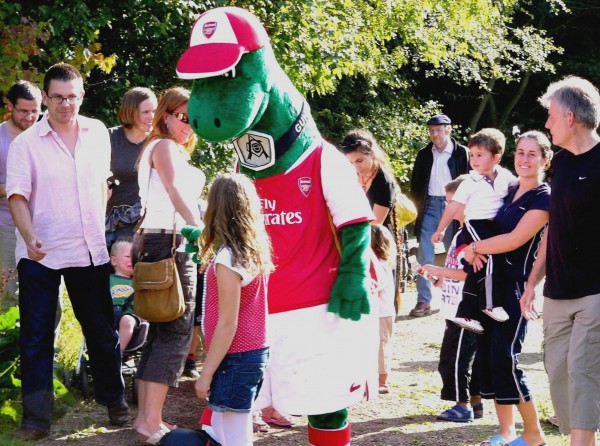 Note: August 2021… Released by the club in October, along with 55 others because of lockdown, the Highbury dinosaur has been rehired. Not extinct yet!
Mesut Ozil, one of soccer's highest-paid stars, has offered to save the club's beloved dinosaur mascot, who has been delighting supporters and players for 27 years. "I was so sad that Jerry Quy aka our famous & loyal mascot @Gunnersaurus and integral part of our club was being made redundant after 27 years," Ozil, a midfielder, wrote on Twitter on Tuesday. "As such, I'm offering to reimburse @Arsenal with the full salary of our big green guy as long as I will be an Arsenal player."

The response from Arsenal supporters was overwhelmingly positive, as measured by the more than 11,000 comments fans had posted to Ozil's offer as of Tuesday afternoon. One man who said he had recently had the team's beloved green mascot tattooed on his arm seemed particularly relieved.

The New York Times, Heather Murphy and Tariq Panja, Oct 6 2020
Arsenal's seven foot tall, bright green, smiling dinosaur is back!

Gunnersaurus, the club's mascot, has made a return to the Emirates Stadium, tweeting a picture of himself on Tuesday at the club's home ground and writing: "Back at Emirates Stadium today". The post has received over 80,000 likes with Arsenal player Mesut Ozil replying, saying: "Happy to see you back where you belong."

CBBC Newsround, 11 Nov 2020