MAGPIES
MAGPIES (Pica pica)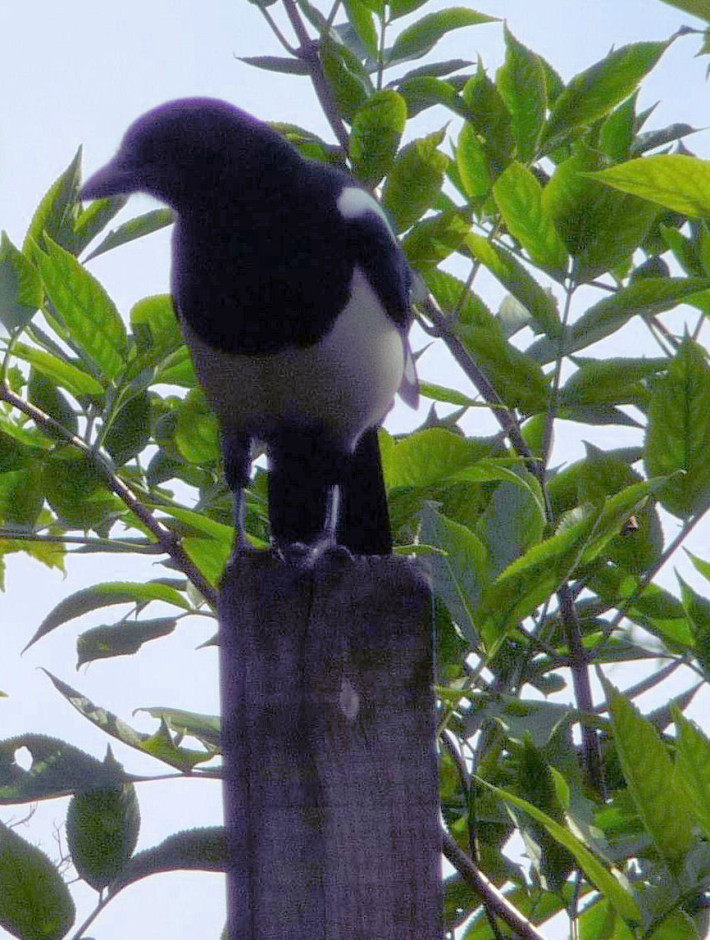 In our small garden Magpies are feared & respected by the other birds. These smaller members of the Crow family are at the top of the pecking order. We see them in the surrounding trees & shrubbery, as they are too large for our feeders. But they have landed on the roof of the garden flat in snowy weather, bouncing across it for soaked bread, grated cheese & cooked rice.
The omnivore Magpie's diet includes wild fruits (our Damson plums), berries, insects, spiders & worms. But other birds fear for their own eggs & chicks when a Magpie appears. Suddenly small birds are pelting out of the trees, leaving the Magpie alone in the garden.
Magpies rattle & chatter, practicing mimicry of other birds. Their appearance is like that of some Birds of Paradise, with their iridescent plumage, exceptionally long tail & quirky flight. They mate for life & are said to gather together to grieve when one of them dies.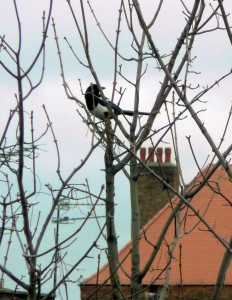 Magpie lore
General Attributes
Magpies are like poets in that they have a voice which can express words with distinct sounds, like human speech. Even if they cannot speak, they imitate the sound of the human voice. They hang from branches and chatter annoyingly.
Medieval Bestiary, Beasts; Magpies, https://bestiary.ca/beasts/beastgallery248.htm      Metropolitan Museum of Art
The magpie is known as the Pie bavarde in French, the Urraca in Spanish, the Elster in German, the Gazza in Italian & the Snag breac in Irish.              yahoo ~  https://uk.answers.yahoo.com/question/index?qid=20070203112349AAYpJPy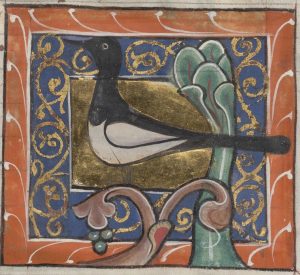 https://bestiary.ca/beasts/beastgallery248.htm
Seeing a single Magpie is now considered bad luck : 'One for sorrow, two for joy, three for a girl, four for a boy, five for silver, six for gold, seven for a secret never to be told.' At sight of a Magpie, one is advised to bow & doff one's hat to it, greet it & wish its family well, to ward off any bad luck.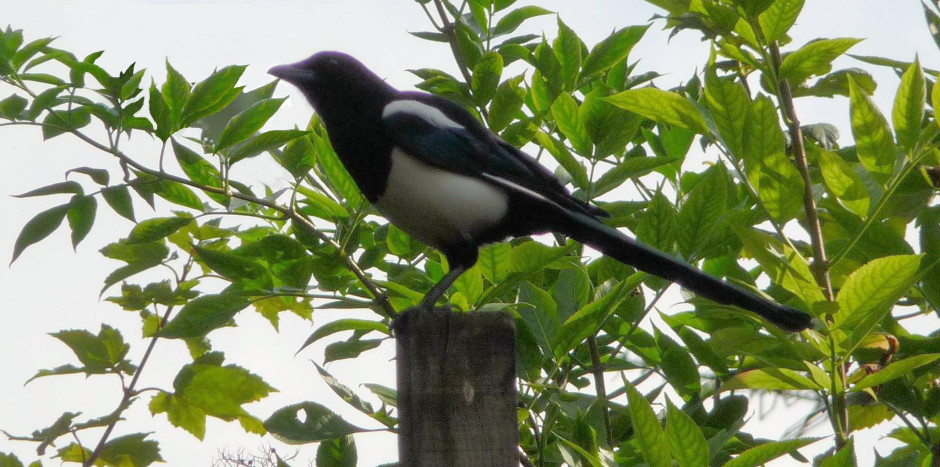 In Celtic tradition the Magpie was sacred to the god Magog; in Ancient Greece it was sacred to Bacchus, god of wine. In China it is a symbol of good fortune & its singing foretells happiness & good luck. In Italy, the plot of Rossini's opera 'The Thieving Magpie' turns on the bird's reputation for collecting shiny objects, including jewellery…
These birds were called pyes until the 16th century, when the prefix 'mag' (chatterer) was added.
'Whan pyes chatter vpon a house it is a sygne of ryghte euyll tydynges. [1507]'
Online Etymology Dictionary
'In recent years, unlike other species, their numbers have increased & they are often seen in our parks, gathering in large flocks of up to 20 birds, known as 'parliaments'.
Richard Meyers, Nature's Forgotten Folklore : Myths and Magic in Islington, Islington Council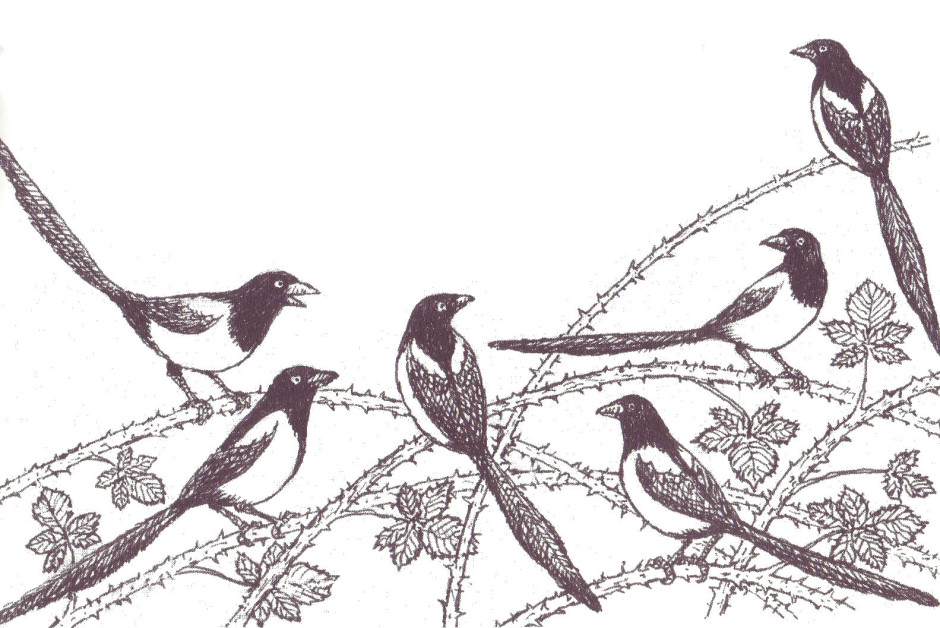 Debunking myths about Magpies (BBC) Discovering Wildlife:
http://www.discoverwildlife.com/british-wildlife/debunking-myths-about-magpies